MO&CO. - Trademark Details
Status: 630 - New Application - Record Initialized Not Assigned To Examiner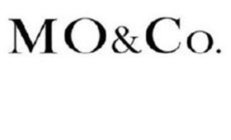 Status
630 - New Application - Record Initialized Not Assigned To Examiner
Statements
Indication of Colors claimed
Color is not claimed as a feature of the mark.
Description of Mark
The mark consists of the stylized wording, "MO&Co.".
Goods and Services
Cosmetics; Potpourri; Toothpaste; Air fragrancing preparations; Cleaning preparations; Cleansing milk for toilet purposes; Cosmetics for animals; Essential oils; Laundry detergent; Shining preparations being polish; Skin abrasive preparations
Goods and Services
Camcorders; Batteries, electric; Cases for photographic apparatus; Cases for telephones; Dog whistles; Electric resistances; Electronic notice boards; Electronic parking lot ticket dispensers; Electronic regulating and control devices for the operation of light emitting diodes; Fire extinguishing apparatus; Fluorescent screens; Hemline markers; Lap-counting devices, namely, counters for use during sporting activities; Lightning conductors; Measuring cups; Optical fibres; Phototelegraphy apparatus; Protective clothing, namely, heated garments in the nature of apparel consisting of carbon fiber which produces heat; Remote controls for motors; Safety tarpaulins; Scientific and technical apparatus, namely, optical mirrors; Technical measuring, testing and checking apparatus and instruments for measuring, testing and checking the temperature, pressure, quantity and concentration of gas and liquids; Telephone wires; Wafers for integrated circuits; Weighing apparatus and instruments; X-ray apparatus not for medical purposes; X-ray photographs, other than for medical purposes
Goods and Services
Wristwatches; Alloys of precious metal; Cases adapted for holding watches; Clocks and watches, electric; Jewellery cases; Jewelry brooches; Key chains of precious metal; Tie-pins of precious metal; Watch straps
Goods and Services
Haversacks; Canvas shopping bags; Imitation leather; Leather credit card cases; Leather key cases; Leather shoulder belts; Trimmings of leather for furniture; Umbrella covers
Goods and Services
Accounting services; Advertising agencies, namely, promoting the services of automobile dealerships through the distribution of printed and audio promotional materials and by rendering sales promotion advice; Advertising services; Business administrative services for the relocation of businesses; Commercial administration of the licensing of the goods and services of others; Providing television home shopping services in the field of general consumer merchandise; Rental of vending machines; Secretarial services; Sponsorship search; Talent agency services
Goods and Services
Bookbinding; Dressmaking; Engraving; Woodworking; Air freshening; Applying finishes to textiles; Custom steel rolling and fabrication to the order and specification of others; Framing of works of art; Fruit crushing; Metal casting; Optical glass grinding; Pattern printing; Pottery firing
Goods and Services
Authenticating works of art; Cosmetic research; Design of interior decor; Dress designing; Graphic arts designing; Packaging design; Quality control for others; Textile testing
Translation of Words in Mark
The wording MO&Co. has no meaning in a foreign language.
Classification Information
Current Trademark Owners
Party Type
10 - Original Applicant
Legal Entity Type
99 - Other (limited company (ltd.)).
Address
Please log in with your Justia account to see this address.
Correspondences
Address
Please log in with your Justia account to see this address.
Foreign Application Information
| | | | |
| --- | --- | --- | --- |
| Filing Date | Application Number | Country | Foreign Priority Claim In |
| | | China P.Rep. | False |
| | | China P.Rep. | False |
| | | China P.Rep. | False |
| | | China P.Rep. | False |
| | | China P.Rep. | False |
| | | China P.Rep. | False |
| | | China P.Rep. | False |
Trademark Events
| | |
| --- | --- |
| Event Date | Event Description |
| 2022-09-23 | NEW APPLICATION ENTERED IN TRAM |