STAY SPACELY CO - Trademark Details
Status: 641 - Non-Final Action - Mailed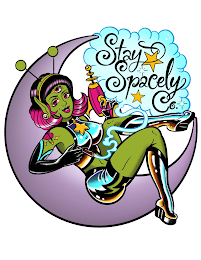 Status
641 - Non-Final Action - Mailed
Mark Drawing
3000 - Illustration: Drawing or design which also includes word(s)/ letter(s)/number(s) Typeset
Design Searches
010110, 010112, 011102, 011505, 011506, 020904, 020906, 040107, 090706, 100102, 230305 - Three or more stars. More than one star with four points. Partial moons, including half moons and crescent moons. Smoke, steam and vapor. Clouds, fog. Sitting or kneeling. Carrying items such as buckets or bags. Mythological beings, superbeings, ghosts, aliens. Other women's shoes. Cigarettes, cigarette holders. Other firearms such as bazookas.
Law Office Assigned Location Code
M30
Employee Name
JENKINS JR, CHARLES L
Statements
Indication of Colors claimed
The color(s) Purple, blue, green, pink, black, white, teal, yellow, silver, brown, and violet is/are claimed as a feature of the mark.
Description of Mark
The mark consists of A green alien pin-up with pink, purple, green, yellow, black, and silver outfit and body sitting against the violet-purple moon smoking a brown joint with blue smoke turning into a cloud with black lettering spelling out Stay Spacely Co.
Goods and Services
Customized imprinting of company names and logos on the goods of others, namely, on promotional merchandise, apparel and corporate gifts
Pseudo Mark
STAY SPACEY COMPANY
Classification Information
International Class
040
- Treatment of materials. - Treatment of materials.
US Class Codes
100, 103, 106
Class Status Code
6 - Active
Class Status Date
2021-06-07
Current Trademark Owners
Party Type
10 - Original Applicant
Legal Entity Type
01 - Individual
Address
Please log in with your Justia account to see this address.
Correspondences
Name
FRANKLIN-SANTACROSE, ALAINA T
Address
Please log in with your Justia account to see this address.
Trademark Events
| | |
| --- | --- |
| Event Date | Event Description |
| 2021-03-11 | NEW APPLICATION ENTERED IN TRAM |
| 2021-06-07 | NEW APPLICATION OFFICE SUPPLIED DATA ENTERED IN TRAM |
| 2021-06-08 | NOTICE OF DESIGN SEARCH CODE E-MAILED |
| 2021-09-28 | ASSIGNED TO EXAMINER |
| 2021-10-13 | NON-FINAL ACTION WRITTEN |
| 2021-10-13 | NON-FINAL ACTION E-MAILED |
| 2021-10-13 | NOTIFICATION OF NON-FINAL ACTION E-MAILED |