Q QUALITY ASSURANCE INTERNATIONAL CERTIFIED ORGANIC IF IT'S ORGANIC IT'S NON GMO - Trademark Details
Status: 661 - Response After Non-Final Action - Entered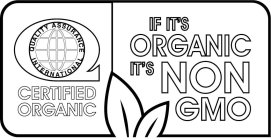 Word Mark
Q QUALITY ASSURANCE INTERNATIONAL CERTIFIED ORGANIC IF IT'S ORGANIC IT'S NON GMO
Status
661 - Response After Non-Final Action - Entered
Mark Drawing
3000 - Illustration: Drawing or design which also includes word(s)/ letter(s)/number(s) Typeset
Design Searches
010702, 050308, 260117, 261102, 261701, 261704 - Globes with meridians and parallel lines only. More than one leaf, including scattered leaves, bunches of leaves not attached to branches. Two concentric circles. Plain single line rectangles. Straight line(s), band(s) or bar(s). Vertical line(s), band(s) or bar(s).
Law Office Assigned Location Code
N90
Employee Name
TOPLAK, RIO NICE
Statements
Certification Mark Statement
The certification mark, as used or intended to be used by persons authorized by the certifier, certifies or is intended to certify that the goods provided meet standards for organic production of the certifier and contain no genetically modified components.
Disclaimer with Predetermined Text
"QUALITY ASSURANCE INTERNATIONAL", "CERTIFIED ORGANIC", "ORGANIC", AND "NON GMO"
Description of Mark
The mark consists of a divided rectangle with three rounded corners. The left side of the rectangle contains a stylized letter "Q" containing two concentric circles. The inner circle is a stylized globe design with three latitude and three longitude lines, and the outer circle contains the words "QUALITY", "ASSURANCE" and "INTERNATIONAL" in stylized lettering. The right side of the rectangle contains the words "IF IT'S ORGANIC IT'S NON GMO" in stylized lettering. The bottom line of the rectangle features a stylized design of two leaves extending up towards the center of the rectangle.
Goods and Services
Non-medicated cosmetics and toiletry preparations; non-medicated dentifrices; perfumery, essential oils; bleaching preparations and other substances for laundry use; cleaning, polishing, scouring and abrasive preparations; pharmaceuticals and medical preparations; sanitary preparations for medical purposes; dietetic food and substances adapted for medical use; food for babies; dietary, nutritional an sports supplements; bandages, materials for dressings; disinfectants; meat, fish, poultry and game; meat extracts; preserved, frozen, dried and cooked fruits and vegetables; jellies, jams, compotes; eggs; milk, cheese, butter, yogurt and other milk products; oils and fats for food; coffee, tea, cocoa and substitutes therefor; rice, pasta and noodles; tapioca and sago; flour and preparations made from cereals; bread, pastries and confectionery; chocolate; ice cream, sorbets and other edible ices; sugar, honey, treacle; yeast, baking powder; salt, seasonings, spices, preserved herbs; vinegar, sauces and other condiments; ice; raw and unprocessed agricultural, aquacultural, horticultural and forestry products; raw and unprocessed grains and seeds; fresh fruits and vegetables, fresh herbs; natural plants and flowers; bulbs, seedlings and seeds for planting; live animals; foodstuffs and beverages for animals; malt; beers; non-alcoholic beverages; mineral and aerated waters; fruit beverages and fruit juices; syrups and other preparations for making non-alcoholic beverages; alcoholic beverages, except beers; alcoholic preparations for making beverages
Pseudo Mark
Q QUALITY ASSURANCE INTERNATIONAL CERTIFIED ORGANIC IF IT IS ORGANIC IT IS NON GMO
Classification Information
International Class
A
- Goods Certification Mark. - Goods Certification Mark.
Class Status Code
6 - Active
Class Status Date
2021-02-09
Current Trademark Owners
Correspondences
Address
Please log in with your Justia account to see this address.
Prior Registrations
| | |
| --- | --- |
| Relationship Type | Reel Number |
| Prior Registration | 1815298 |
Trademark Events
| | |
| --- | --- |
| Event Date | Event Description |
| 2020-12-07 | NEW APPLICATION ENTERED IN TRAM |
| 2021-02-09 | NEW APPLICATION OFFICE SUPPLIED DATA ENTERED IN TRAM |
| 2021-02-10 | NOTICE OF DESIGN SEARCH CODE E-MAILED |
| 2021-05-20 | ASSIGNED TO EXAMINER |
| 2021-07-01 | NON-FINAL ACTION WRITTEN |
| 2021-07-01 | NON-FINAL ACTION E-MAILED |
| 2021-07-01 | NOTIFICATION OF NON-FINAL ACTION E-MAILED |
| 2021-12-22 | TEAS RESPONSE TO OFFICE ACTION RECEIVED |
| 2021-12-27 | ASSIGNED TO LIE |
| 2021-12-27 | CORRESPONDENCE RECEIVED IN LAW OFFICE |
| 2021-12-27 | TEAS/EMAIL CORRESPONDENCE ENTERED |