STICKER PLANET - Trademark Details
Status: 688 - Notice Of Allowance - Issued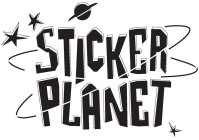 Status
688 - Notice Of Allowance - Issued
Mark Drawing
3000 - Illustration: Drawing or design which also includes word(s)/ letter(s)/number(s) Typeset
Design Searches
010110, 010113, 010707, 010901 - Three or more stars. More than one star with five points. Globes with rings or orbits. Saturn or other planets with rings.
Published for Opposition Date
2021-11-02
Law Office Assigned Location Code
L30
Employee Name
MARTIN, CHRISTINA L
Statements
Disclaimer with Predetermined Text
"STICKER"
Description of Mark
The mark consists of The stylized wording "STICKER PLANET" with representations of a planet, stars and orbital rings surrounding it.
Goods and Services
(Based on Use in Commerce) Stickers; Sticker albums; Sticker storage boxes; Sticker storage books; Sticker storage albums; Sticker sets; Sticker activity kits comprised of stickers and sticker albums; Sticker activity kits comprised of stickers and sticker books; Sticker activity kits comprised of stickers and game boards; Sticker activity kits comprised of stickers, sticker albums, and sticker books; Sticker activity kits comprised of stickers, sticker books and game boards; Sticker activity kits comprised of stickers, sticker albums and game boards; Sticker activity kits comprised of stickers and sticker albums, sticker books, and game boards; 3-dimensional stickers; Cardstock stickers; Scratch and sniff stickers; Glow-in-the-dark stickers; Puffy stickers; Gel stickers; Gem stickers; Embellishment stickers; Enamel stickers; Fuzzy stickers; Sparkly stickers; Laser-cut stickers; Stickers containing liquid elements; Sticker books; Printed puzzles in the nature of sticker puzzles; Sticker activity kits comprised of stickers; Decals; Vinyl stickers in the nature of vinyl static cling or adhesive decals on which words, phrases, poems, drawings, photographs, cartoons or artwork are printed for affixation to windshields, windows, vehicles, structures, or personal and household objects; Wall stickers in the nature of vinyl static cling or adhesive decals on which words, phrases, poems, drawings, photographs, cartoons or artwork are printed for affixation to walls, cabinets and flat surfaces; Window stickers in the nature of vinyl static cling or adhesive decals on which words, phrases, poems, drawings, photographs, cartoons or artwork are printed for affixation to windows, windshields, mirrors, shower doors and glass surfaces; Rub-on stickers and transfers; Temporary tattoo transfers; Personalized stickers; Bumper stickers; Magnetic stickers; Removable stickers; Adhesive paper labels; Collectable sticker trading cards; Iron-on transfers of paper; stick-on patches for clothing in the nature of self-adhesive plastic transfers; stick-on patches for clothing in the nature of iron-on transfers; Decorative adhesive tape for stationery or household purposes; Adhesive note paper and adhesive tape page flags for stationery or household purposes; Handmade sticker art in the nature of posters, greeting cards, scrapbook pages, paper placemats, paper doorknob hangers, bookmarks, picture framing mat boards, and household decorative items made of paper; Photo albums; Printed day planners; Scrapbooking albums
Goods and Services
(Based on Use in Commerce) Business consultation services in the field of stickers; Advertising and business management consultancy in the field of stickers; Brand concept and brand development services for corporate and individual clients in the field of stickers; Wholesale and retail store services featuring stickers
Goods and Services
(Based on Use in Commerce) Sticker printing services; Sticker manufacturing process consulting
Goods and Services
(Based on Intent to Use) Educational services, namely, tutorials, lessons in the field of sticker art and home decoration; Entertainment services, namely, providing podcasts in the field of sticker art and home decoration; Education services, namely, providing live and on-line classes and tutorials in the field of sticker art
Goods and Services
(Based on Use in Commerce) Sticker design services
Classification Information
Current Trademark Owners
Party Type
20 - Owner at Publication
Legal Entity Type
16 - Limited Liability Company
Trademark Owner History
Party Type
20 - Owner at Publication
Legal Entity Type
16 - Limited Liability Company
Party Type
10 - Original Applicant
Legal Entity Type
16 - Limited Liability Company
Trademark Events
| | |
| --- | --- |
| Event Date | Event Description |
| 2020-10-22 | NEW APPLICATION ENTERED IN TRAM |
| 2020-12-07 | NEW APPLICATION OFFICE SUPPLIED DATA ENTERED IN TRAM |
| 2020-12-08 | NOTICE OF DESIGN SEARCH CODE E-MAILED |
| 2021-03-18 | ASSIGNED TO EXAMINER |
| 2021-03-19 | NON-FINAL ACTION WRITTEN |
| 2021-03-19 | NON-FINAL ACTION E-MAILED |
| 2021-03-19 | NOTIFICATION OF NON-FINAL ACTION E-MAILED |
| 2021-07-19 | TEAS RESPONSE TO OFFICE ACTION RECEIVED |
| 2021-07-26 | ASSIGNED TO LIE |
| 2021-07-27 | CORRESPONDENCE RECEIVED IN LAW OFFICE |
| 2021-07-27 | TEAS/EMAIL CORRESPONDENCE ENTERED |
| 2021-09-29 | EXAMINERS AMENDMENT -WRITTEN |
| 2021-09-29 | EXAMINERS AMENDMENT E-MAILED |
| 2021-09-29 | NOTIFICATION OF EXAMINERS AMENDMENT E-MAILED |
| 2021-09-29 | EXAMINER'S AMENDMENT ENTERED |
| 2021-09-29 | APPROVED FOR PUB - PRINCIPAL REGISTER |
| 2021-10-13 | NOTIFICATION OF NOTICE OF PUBLICATION E-MAILED |
| 2021-11-02 | PUBLISHED FOR OPPOSITION |
| 2021-11-02 | OFFICIAL GAZETTE PUBLICATION CONFIRMATION E-MAILED |
| 2021-12-28 | NOA E-MAILED - SOU REQUIRED FROM APPLICANT |