ADPLANET - Trademark Details
Status: 602 - Abandoned-Failure To Respond Or Late Response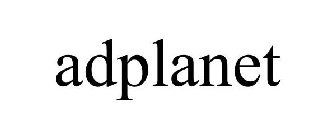 Status
602 - Abandoned-Failure To Respond Or Late Response
Mark Drawing
4000 - Standard character mark Typeset
Law Office Assigned Location Code
L50
Employee Name
CANFIELD III, JOSEPH J
Statements
Indication of Colors claimed
The color(s) orange and black is/are claimed as a feature of the mark.
Description of Mark
The mark consists of The letters "ad" in "adplanet" are orange and "planet" is black.
Goods and Services
Customized imprinting of company names and logos on the goods of others, namely, on promotional merchandise, apparel and corporate gifts
Classification Information
International Class
040
- Treatment of materials. - Treatment of materials.
US Class Codes
100, 103, 106
Class Status Code
6 - Active
Class Status Date
2020-07-30
First Use Anywhere Date
1999-02-13
First Use In Commerce Date
1999-02-22
Correspondences
Address
Please log in with your Justia account to see this address.
Trademark Events
| | |
| --- | --- |
| Event Date | Event Description |
| 2020-07-04 | NEW APPLICATION ENTERED IN TRAM |
| 2020-07-30 | NEW APPLICATION OFFICE SUPPLIED DATA ENTERED IN TRAM |
| 2020-10-06 | ASSIGNED TO EXAMINER |
| 2020-10-13 | NON-FINAL ACTION WRITTEN |
| 2020-10-13 | NON-FINAL ACTION E-MAILED |
| 2020-10-13 | NOTIFICATION OF NON-FINAL ACTION E-MAILED |
| 2020-12-03 | TEAS RESPONSE TO OFFICE ACTION RECEIVED |
| 2020-12-03 | CORRESPONDENCE RECEIVED IN LAW OFFICE |
| 2020-12-04 | TEAS/EMAIL CORRESPONDENCE ENTERED |
| 2021-01-05 | EXAMINERS AMENDMENT AND/OR PRIORITY ACTION - COMPLETED |
| 2021-01-05 | COMBINED EXAMINER'S AMENDMENT/PRIORITY ACTION AUTOMATIC ENTRY |
| 2021-01-05 | EXAMINER'S AMENDMENT/PRIORITY ACTION E-MAILED |
| 2021-01-05 | NOTIFICATION OF EXAMINER'S AMENDMENT/PRIORITY ACTION E-MAILED |
| 2021-01-07 | TEAS RESPONSE TO OFFICE ACTION RECEIVED |
| 2021-01-07 | CORRESPONDENCE RECEIVED IN LAW OFFICE |
| 2021-01-08 | TEAS/EMAIL CORRESPONDENCE ENTERED |
| 2021-01-29 | NON-FINAL ACTION WRITTEN |
| 2021-01-29 | NON-FINAL ACTION E-MAILED |
| 2021-01-29 | NOTIFICATION OF NON-FINAL ACTION E-MAILED |
| 2021-08-12 | ABANDONMENT - FAILURE TO RESPOND OR LATE RESPONSE |
| 2021-08-12 | ABANDONMENT NOTICE E-MAILED - FAILURE TO RESPOND |