SERIES X - Trademark Details
Status: 688 - Notice Of Allowance - Issued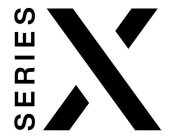 Status
688 - Notice Of Allowance - Issued
Mark Drawing
3000 - Illustration: Drawing or design which also includes word(s)/ letter(s)/number(s) Typeset
Design Searches
261706 - Diagonal line(s), band(s) or bar(s).
Published for Opposition Date
2021-08-10
Law Office Assigned Location Code
M70
Employee Name
KING, LINDA M
Statements
Indication of Colors claimed
Color is not claimed as a feature of the mark.
Disclaimer with Predetermined Text
"SERIES"
Description of Mark
The mark consists of the word "SERIES" in a vertical formation to the right of which appears a stylized letter "X".
Goods and Services
Downloadable video and computer game programs; downloadable and recorded software for operating game controllers; electronic devices, namely, computer hardware for accessing global computer and communication networks; computer hardware and peripherals
Goods and Services
Accent lights for indoor use; lighting fixtures
Goods and Services
Watches; jewelry; keychains
Goods and Services
Printed matter, namely, books and manuals in the fields of video and computer game industries, general video game and computer game information, and video and computer game hardware, software and accessories; publications, namely, magazines and newsletters in the fields of video and computer game industries, general video game and computer game information, and video and computer game hardware, software and accessories; posters, calendars, books about video games, computer games, software and accessories, stationery, school supplies, namely, notebooks, agendas, pencil cases, magazines, newsletters, manuals and printed periodicals in the fields of video and computer game industries, general video game and computer game information, and video and computer game hardware, software and accessories; trading cards other than for games; writing implements, graphic art reproductions, art pictures on canvas, art pictures
Goods and Services
Sports bags; backpacks; luggage; travel bags; tote bags; all-purpose athletic bags; attache cases; business cases; duffel bags; fanny packs; school bags; wallets, purses, messenger bags, gym bags, rucksacks
Goods and Services
Glassware, namely, drinking glasses, shot glasses, mugs, beer mugs, cocktail glasses, wine glasses, insulated mugs, water bottles sold empty, coffee mugs
Goods and Services
Headwear; footwear; shoes; clothing, namely, shirts, vests, sweatshirts, sweaters, sweatpants, shorts, jackets, caps being headwear, bathrobes, night shirts, suspenders, coats, sweatbands, scarves, gloves, mittens, socks, ties, visors, wrist bands, pajamas
Goods and Services
Cloth patches for clothing
Goods and Services
Video game consoles; interactive video game devices comprised of video game consoles and controllers for game consoles; video game consoles for use with an external display screen or monitor; video game interactive remote control units; game controllers in the nature of keyboards for computer games; controllers for game consoles; home video game machines; video game machines for use with televisions; arcade games and board games; video games machines; games, toys and playthings, namely, dolls, electronic action toys, molded toy figures, toy action figures, model toy vehicles, stuffed and plush toys, and accessories and playsets thereof; toys, games and sporting goods, namely, playground balls, sport balls, basketballs, action skill games, board games, card games, golf balls, golf ball markers, tennis balls, baseballs, rubber action balls, rubber sports balls, and rubber playing balls, squeezable stress relief exercise balls, kites, plush toys, soft sculptured toys, dolls, action figures; bags specially adapted for sports equipment, namely, golf, basketball, baseball and tennis equipment; flying disc toys, yo-yos, jigsaw puzzles, manipulative puzzles, construction toys
Goods and Services
Providing online chat rooms for transmission of messages among computer users for use in connection with interactive games played over computer networks and global communications networks
Goods and Services
Providing temporary use of non-downloadable game software; providing online non-downloadable game software; entertainment services, namely, providing electronic interactive multiplayer games services for games played over computer networks and global communications networks; providing online computer games; entertainment services, namely, providing online video games; and providing entertainment information in the fields of video game and computer game industries, general video game and computer game information, and providing entertainment information about computer games and video games
Goods and Services
Video game development services; designing and developing computer game software and video game software for use with computers, video game program systems, and computer networks
Classification Information
Current Trademark Owners
Party Type
20 - Owner at Publication
Legal Entity Type
03 - Corporation
Trademark Owner History
Party Type
20 - Owner at Publication
Legal Entity Type
03 - Corporation
Party Type
10 - Original Applicant
Legal Entity Type
03 - Corporation
Madrid International Filings
Original Filing Date USPTO
2020-10-12
International Registration Number
1586379
International Registration Date
2020-10-12
International Status Code
480
International Renewal Date
2030-10-12
Madrid History Events
Date
Code
Description
2021-01-24
IRRRJ
RESPONSE TO IRREGULARITY REVIEWED AND REJECTED
2020-10-23
MCERT
MANUALLY CERTIFIED
2020-10-23
APPST
IR CERTIFIED AND SENT TO IB
2021-03-02
IRREG
IRREGULARITY NOTICE RECEIVED FROM IB
2020-11-16
IRREG
IRREGULARITY NOTICE RECEIVED FROM IB
2021-01-15
IRRCV
IRREGULARITY RESPONSE RECEIVED FROM APPLICANT
2021-01-29
IRRCV
IRREGULARITY RESPONSE RECEIVED FROM APPLICANT
2021-04-16
CREAT
APPLICATION FOR IR REGISTERED BY IB
2021-02-16
IRRAC
RESPONSE TO IRREGULARITY REVIEWED AND ACCEPTED
2021-02-16
IRSNT
IRREGULARITY RESPONSE SENT TO IB
2021-02-04
IRRRJ
RESPONSE TO IRREGULARITY REVIEWED AND REJECTED
2020-10-12
NEWAP
NEW APPLICATION FOR IR RECEIVED
2021-02-10
IRRCV
IRREGULARITY RESPONSE RECEIVED FROM APPLICANT
Trademark Events
| | |
| --- | --- |
| Event Date | Event Description |
| 2020-04-20 | NEW APPLICATION ENTERED IN TRAM |
| 2020-04-27 | NEW APPLICATION OFFICE SUPPLIED DATA ENTERED IN TRAM |
| 2020-07-07 | ASSIGNED TO EXAMINER |
| 2020-07-09 | NON-FINAL ACTION WRITTEN |
| 2020-07-09 | NON-FINAL ACTION E-MAILED |
| 2020-07-09 | NOTIFICATION OF NON-FINAL ACTION E-MAILED |
| 2020-09-29 | TEAS RESPONSE TO OFFICE ACTION RECEIVED |
| 2020-09-29 | CORRESPONDENCE RECEIVED IN LAW OFFICE |
| 2020-09-30 | TEAS/EMAIL CORRESPONDENCE ENTERED |
| 2020-10-10 | TEAS CHANGE OF OWNER ADDRESS RECEIVED |
| 2020-10-10 | TEAS REVOKE/APP/CHANGE ADDR OF ATTY/DOM REP RECEIVED |
| 2020-10-10 | ATTORNEY/DOM.REP.REVOKED AND/OR APPOINTED |
| 2020-10-10 | TEAS CHANGE OF CORRESPONDENCE RECEIVED |
| 2020-10-10 | APPLICANT/CORRESPONDENCE CHANGES (NON-RESPONSIVE) ENTERED |
| 2020-10-20 | FINAL REFUSAL WRITTEN |
| 2020-10-20 | FINAL REFUSAL E-MAILED |
| 2020-10-20 | NOTIFICATION OF FINAL REFUSAL EMAILED |
| 2020-12-29 | TEAS REQUEST FOR RECONSIDERATION RECEIVED |
| 2020-12-29 | CORRESPONDENCE RECEIVED IN LAW OFFICE |
| 2020-12-30 | TEAS/EMAIL CORRESPONDENCE ENTERED |
| 2021-01-11 | NON-FINAL ACTION WRITTEN |
| 2021-01-11 | NON-FINAL ACTION E-MAILED |
| 2021-01-11 | NOTIFICATION OF NON-FINAL ACTION E-MAILED |
| 2021-04-08 | EXAMINERS AMENDMENT -WRITTEN |
| 2021-04-08 | EXAMINERS AMENDMENT E-MAILED |
| 2021-04-08 | NOTIFICATION OF EXAMINERS AMENDMENT E-MAILED |
| 2021-04-08 | EXAMINER'S AMENDMENT ENTERED |
| 2021-04-12 | APPROVED FOR PUB - PRINCIPAL REGISTER |
| 2021-04-27 | WITHDRAWN FROM PUB - OG REVIEW QUERY |
| 2021-07-02 | PREVIOUS ALLOWANCE COUNT WITHDRAWN |
| 2021-07-02 | EXAMINERS AMENDMENT -WRITTEN |
| 2021-07-02 | EXAMINERS AMENDMENT E-MAILED |
| 2021-07-02 | NOTIFICATION OF EXAMINERS AMENDMENT E-MAILED |
| 2021-07-02 | EXAMINER'S AMENDMENT ENTERED |
| 2021-07-02 | APPROVED FOR PUB - PRINCIPAL REGISTER |
| 2021-07-06 | ASSIGNED TO LIE |
| 2021-07-06 | LAW OFFICE PUBLICATION REVIEW COMPLETED |
| 2021-07-21 | NOTIFICATION OF NOTICE OF PUBLICATION E-MAILED |
| 2021-08-10 | PUBLISHED FOR OPPOSITION |
| 2021-08-10 | OFFICIAL GAZETTE PUBLICATION CONFIRMATION E-MAILED |
| 2021-10-05 | NOA E-MAILED - SOU REQUIRED FROM APPLICANT |