NASTY - Trademark Details
Status: 604 - Abandoned - After Inter-Partes Decision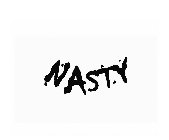 Status
604 - Abandoned - After Inter-Partes Decision
Mark Drawing
5000 - Illustration: Drawing with word(s)/letter(s)/number(s) in Stylized form Typeset
Published for Opposition Date
2020-07-21
Law Office Assigned Location Code
M60
Employee Name
REED, MAUREEN J
Statements
Indication of Colors claimed
Color is not claimed as a feature of the mark.
Description of Mark
The mark consists of "NASTY", in bold, chunky, and distorted free form hand drawn letters.
Goods and Services
Short sleeved shirts, long sleeved shirts, crewneck sweatshirts, sweatpants, leggings, bandanas
Classification Information
International Class
025
- Clothing, footwear, headgear. - Clothing, footwear, headgear.
Class Status Code
8 - Abandoned
Class Status Date
2020-12-22
First Use Anywhere Date
2019-12-18
First Use In Commerce Date
2020-01-09
Correspondences
Name
DEBRALYSS GARCIA- SERRANO
Address
Please log in with your Justia account to see this address.
Trademark Events
| | |
| --- | --- |
| Event Date | Event Description |
| 2020-03-27 | NEW APPLICATION OFFICE SUPPLIED DATA ENTERED IN TRAM |
| 2020-06-16 | ASSIGNED TO EXAMINER |
| 2020-06-16 | EXAMINERS AMENDMENT -WRITTEN |
| 2020-06-16 | EXAMINERS AMENDMENT E-MAILED |
| 2020-06-16 | NOTIFICATION OF EXAMINERS AMENDMENT E-MAILED |
| 2020-06-16 | EXAMINER'S AMENDMENT ENTERED |
| 2020-06-16 | APPROVED FOR PUB - PRINCIPAL REGISTER |
| 2020-07-01 | NOTIFICATION OF NOTICE OF PUBLICATION E-MAILED |
| 2020-07-21 | PUBLISHED FOR OPPOSITION |
| 2020-07-21 | OFFICIAL GAZETTE PUBLICATION CONFIRMATION E-MAILED |
| 2020-08-18 | EXTENSION OF TIME TO OPPOSE RECEIVED |
| 2020-09-18 | OPPOSITION INSTITUTED NO. 999999 |
| 2020-12-22 | OPPOSITION SUSTAINED NO. 999999 |
| 2020-12-22 | OPPOSITION TERMINATED NO. 999999 |
| 2020-12-22 | ABANDONMENT - AFTER INTER PARTES DECISION |
| 2020-12-22 | ABANDONMENT NOTICE E-MAILED - INTER PARTES DECISION |