AUCTIONS INTERNATIONAL INC. - Trademark Details
Status: 602 - Abandoned-Failure To Respond Or Late Response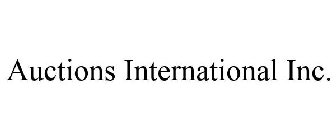 Word Mark
AUCTIONS INTERNATIONAL INC.
Status
602 - Abandoned-Failure To Respond Or Late Response
Mark Drawing
4000 - Standard character mark Typeset
Law Office Assigned Location Code
N90
Employee Name
NEPTUNE, EVONNE MARIE
Statements
Goods and Services
Auction services; Auction services featuring impounded goods; Auctioneering; Auctioneering of property; Auctioneering provided on the Internet; Auctioning of vehicles; Auctioning via telecommunication networks; Arranging and conducting auctions; Arranging and conduction of auction sales; Arranging of auction sales; Carrying out auction sales; Conducting of auction sales; Industrial asset management services, namely, auctioning, liquidating and remarketing industrial assets of others; On-line auction bidding for others; On-line auction services; On-line auctioneering; On-line auctioneering services via the Internet; On-line consignment services whereby goods are received on consignment for auction on an online auction site; On-line trading services in which seller posts products to be auctioned and bidding is done via the Internet; Organisation of internet auctions; Providing a web site that features an on-line market for users to list offered or wanted personal and business assets and skills for hire, rent, sale or auction transacted on the basis of predefined performance and closing terms and conditions; Providing on-line auction services; Real estate auctions; Telephone and television auctions
Classification Information
International Class
035
- Advertising; business management; business administration; office functions. - Advertising; business management; business administration; office functions.
US Class Codes
100, 101, 102
Class Status Code
6 - Active
Class Status Date
2020-03-28
First Use Anywhere Date
2002-08-23
First Use In Commerce Date
2002-08-23
Correspondences
Address
Please log in with your Justia account to see this address.
Trademark Events
| | |
| --- | --- |
| Event Date | Event Description |
| 2020-03-27 | NEW APPLICATION ENTERED IN TRAM |
| 2020-03-28 | NEW APPLICATION OFFICE SUPPLIED DATA ENTERED IN TRAM |
| 2020-06-15 | ASSIGNED TO EXAMINER |
| 2020-07-13 | NON-FINAL ACTION WRITTEN |
| 2020-07-13 | NON-FINAL ACTION E-MAILED |
| 2020-07-13 | NOTIFICATION OF NON-FINAL ACTION E-MAILED |
| 2021-01-28 | ABANDONMENT - FAILURE TO RESPOND OR LATE RESPONSE |
| 2021-01-28 | ABANDONMENT NOTICE E-MAILED - FAILURE TO RESPOND |