ALBAZMEX - Trademark Details
Status: 731 - Second Extension - Granted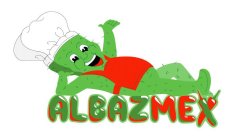 Status
731 - Second Extension - Granted
Mark Drawing
3000 - Illustration: Drawing or design which also includes word(s)/ letter(s)/number(s) Typeset
Design Searches
020134, 051109, 051306, 090314, 090506, 270304 - Other grotesque men including men formed by plants or objects. Peppers. Cacti, including prickly pears. Bibs, aprons. Chef's hat. Representations of plants or parts of plants forming letters or numerals, including punctuation.
Published for Opposition Date
2020-09-29
Law Office Assigned Location Code
O10
Employee Name
SOLANO, CARLITA JAYE
Statements
Indication of Colors claimed
The color(s) red, green, white, black is/are claimed as a feature of the mark.
Description of Mark
The mark consists of the image of a green anthropomorphized cactus laying on its side smiling, wearing a white chef's hat with black outlining and a red apron with black outlining, having white and black eyes, a white, black and red mouth, and green cactus needles all over the body. The cactus image is lying over the stylized wording "ALBAZMEX" with one arm behind himself holding him upright and the other arm in the air with the hand extended indicating an inviting or welcoming gesture. The "ALBAZMEX" lettering is surrounded with a green border, the "ALBAZ" lettering is in green, with white and red highlighting, and the "ME" letters are in red with white and green highlighting. The letter "X" in "MEX" instead of being a normal letter is the image of two crisscrossing chiles with the left chile being green with white and red highlighting and a red stem, and the right chile is red with green and white highlighting and a green stem, completing the word in its entirety. The color white in between the letters in the wording, between the wording and the figure, and in between the arms and legs of the design figure represents background only and is not claimed as a feature of the mark.
Goods and Services
Cheese; Chorizo; Meat and meat extracts; Meat, frozen; All natural meats; Dried beans; Dried meat; Fresh meat; Packaged meats; Preserved meats and sausages; Processed meat; Sausage meat; Stuffed olives with feta cheese in sunflower oil
Goods and Services
Spices; Dry spice rub for meats and fish
Goods and Services
Wholesale food distributorship services
Goods and Services
Food processing
Classification Information
Current Trademark Owners
Party Type
20 - Owner at Publication
Legal Entity Type
03 - Corporation
Trademark Owner History
Party Type
20 - Owner at Publication
Legal Entity Type
03 - Corporation
Party Type
10 - Original Applicant
Legal Entity Type
03 - Corporation
Trademark Events
| | |
| --- | --- |
| Event Date | Event Description |
| 2020-02-24 | NEW APPLICATION ENTERED IN TRAM |
| 2020-02-27 | NEW APPLICATION OFFICE SUPPLIED DATA ENTERED IN TRAM |
| 2020-02-28 | NOTICE OF DESIGN SEARCH CODE E-MAILED |
| 2020-05-11 | ASSIGNED TO EXAMINER |
| 2020-05-12 | NON-FINAL ACTION WRITTEN |
| 2020-05-12 | NON-FINAL ACTION E-MAILED |
| 2020-05-12 | NOTIFICATION OF NON-FINAL ACTION E-MAILED |
| 2020-07-30 | TEAS RESPONSE TO OFFICE ACTION RECEIVED |
| 2020-08-19 | ASSIGNED TO LIE |
| 2020-08-20 | CORRESPONDENCE RECEIVED IN LAW OFFICE |
| 2020-08-20 | TEAS/EMAIL CORRESPONDENCE ENTERED |
| 2020-08-21 | EXAMINERS AMENDMENT -WRITTEN |
| 2020-08-21 | EXAMINERS AMENDMENT E-MAILED |
| 2020-08-21 | NOTIFICATION OF EXAMINERS AMENDMENT E-MAILED |
| 2020-08-21 | EXAMINER'S AMENDMENT ENTERED |
| 2020-08-21 | APPROVED FOR PUB - PRINCIPAL REGISTER |
| 2020-09-09 | NOTIFICATION OF NOTICE OF PUBLICATION E-MAILED |
| 2020-09-29 | PUBLISHED FOR OPPOSITION |
| 2020-09-29 | OFFICIAL GAZETTE PUBLICATION CONFIRMATION E-MAILED |
| 2020-11-24 | NOA E-MAILED - SOU REQUIRED FROM APPLICANT |
| 2021-01-06 | TEAS EXTENSION RECEIVED |
| 2021-01-06 | EXTENSION 1 FILED |
| 2021-01-06 | EXTENSION 1 GRANTED |
| 2021-01-08 | NOTICE OF APPROVAL OF EXTENSION REQUEST E-MAILED |
| 2021-12-27 | ABANDONMENT - NO USE STATEMENT FILED |
| 2021-12-27 | ABANDONMENT NOTICE E-MAILED - NO USE STATEMENT FILED |
| 2021-12-28 | TEAS PETITION TO REVIVE RECEIVED |
| 2021-12-28 | PETITION TO REVIVE-GRANTED |
| 2021-12-28 | EXTENSION RECEIVED WITH TEAS PETITION |
| 2021-12-29 | NOTICE OF REVIVAL - E-MAILED |
| 2022-02-02 | CASE ASSIGNED TO INTENT TO USE PARALEGAL |
| 2021-11-24 | EXTENSION 2 FILED |
| 2022-02-04 | EXTENSION 2 GRANTED |
| 2022-02-05 | NOTICE OF APPROVAL OF EXTENSION REQUEST E-MAILED |