ALL ELITE AEW WRESTLING ALL OUT - Trademark Details
Status: 731 - Second Extension - Granted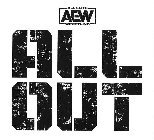 Word Mark
ALL ELITE AEW WRESTLING ALL OUT
Status
731 - Second Extension - Granted
Mark Drawing
3000 - Illustration: Drawing or design which also includes word(s)/ letter(s)/number(s) Typeset
Design Searches
261101, 261103, 261108 - Rectangles as carriers or rectangles as single or multiple line borders. Incomplete rectangles. Letters, numerals or punctuation and letters, numerals or punctuation forming the perimeter of a rectangle, bordering the perimeter of a rectangle or forming a rectangle.
Published for Opposition Date
2020-09-15
Law Office Assigned Location Code
N20
Employee Name
WRIGHT, MARCO JABBAR
Statements
Indication of Colors claimed
Color is not claimed as a feature of the mark.
Disclaimer with Predetermined Text
"WRESTLING"
Description of Mark
The mark consists of the stylized, bold wording "ALL OUT" with the word "ALL" on top of the word "OUT." At the top center of the letters is the stylized wording "ALL ELITE AEW WRESTLING" where "AEW" is housed inside a rectangular border, the words "ALL ELITE" are superimposed on the top of the border, and the word "WRESTLING" is superimposed at the bottom of the border.
Goods and Services
Pre-recorded dvds and pre-recorded audio cassettes, all featuring sports, entertainment and subjects of general human interest; downloadable interactive video game programs and computer game cartridges
Goods and Services
Posters; photographs, collector albums for photographs; trading cards, namely, collectible trading cards and sports trading cards; labels, namely, printed labels of paper not of textile; folders; brochures about sports entertainment; packaging, namely, paper bags for packaging, paper pouches for packaging, cardboard boxes for packaging, cardboard containers for packaging; souvenir programs concerning sports entertainment
Goods and Services
Backpacks; luggage, barrel bags, beach bags, duffel bags, gym bags, athletic bags, all-purpose sport bags, book bags, school bags, tote bags, travel bags, carry-on bags, cosmetic bags sold empty, garment bags for travel, fanny packs; wallets; credit card cases; change purses; soft luggage identification tags
Goods and Services
Beverage ware, namely, cups, drinking glasses, mugs; non-electric portable coolers; lunch boxes; commemorative plates; decorative plates; plastic coasters; thermal insulated containers for food and beverages; cookie jars; dinnerware, namely, plates, cups, saucers, bowls; toothbrushes; serving trays for snacks; sports bottles sold empty; non-metal piggy banks; plates of paper or cardboards
Goods and Services
Clothing, namely, tank tops, t-shirts, shirts, sport shirts, dress shirts, polo shirts, undershirts, sweatshirts, sweaters, pullovers, blouses, jackets, raincoats, overcoats, topcoats, trousers, pants, jean pants, jogging suits, exercise pants, exercise suits, sweatpants, shorts, underwear, boxer shorts, socks, clothing ties in the nature of ties as clothing, pajamas, belts, gloves, Halloween and masquerade costumes, wrist bands, bandanas; footwear, namely, shoes, sneakers, boots, slippers; headwear, namely, hats, caps; leather belts; thongs, namely, thong underwear, all in relation to a television series regarding professional wrestling
Goods and Services
Toy action figures and accessories therefor; cases for action figures; toy vehicles; board games; playing cards; toy spinning tops; stand-alone video output game machines featuring wrestling; arcade games related to wrestling; pinball games related to wrestling; hand-held units for playing electronic game; tabletop action skill games related to wrestling; jigsaw puzzles; kites; toy wrestling rings; dolls; bobble-head dolls; puppets; stuffed toy animals; card games; Christmas tree decorations; costume masks; toy belts, doll furniture; party favors in the nature of crackers and noisemakers; skateboards; bowling balls; windup toys; toy scooters; knee and elbow pads for athletic use; yo-yos; novelty toys, namely, toy banks made of tin; toy gum machines; toy candy bowl mechanical dispensers; toy stick gum dispensers; toy foam hands; video output game machines for use with televisions; coin-fed amusement gaming machines; paper party favors, paper party hats
Goods and Services
Entertainment business services, namely, promotional sponsorship of exhibitions and performances of professional wrestling events rendered live and through broadcast media, namely, television and radio, and via the internet or commercial online service
Goods and Services
Live video streaming of video pay-per-view events on the internet; communication services, namely, transmitting streamed sound and audio-visual recordings via the internet; streaming of audio material on the internet; streaming of video material on the internet; transmission of information in the audio-visual field; mobile media services in the nature of electronic transmission of entertainment media content; podcasting services; webcasting services; video-on-demand transmission services
Goods and Services
Entertainment services, namely, an ongoing television show about professional wrestling; entertainment services, namely, the production in the nature of organization of exhibitions and performances of professional wrestling events rendered live and through broadcast media, namely, television and radio, and via the internet or commercial online service; providing wrestling news and information via a global computer network; sports entertainment, namely, wrestling events rendered live and through broadcast media including television and radio, and via the internet or commercial online service; providing information in the fields of professional wrestling via an online community portal; providing a website featuring information, non-downloadable text, audio, video, images and photographs in the field of professional wrestling; fan club services, namely, organizing and staging entertainment events with wrestling fan club members; providing online newsletters in the fields of professional wrestling; online journals, namely, blogs, in the fields of professional wrestling; Providing online non-downloadable video and computer game software in the field of professional wrestling; providing on-line news, information, and publications in the nature of non-downloadable electronic books, newsletters, journals, periodicals, articles, brochures, on-line journals, namely, blogs in the field of professional wrestling; providing a website featuring entertainment information in the field of professional wrestling; providing an interactive website featuring news, information and entertainment in the nature of non-downloadable text, audio, video, images and photographs in the field of professional wrestling; providing on-line magazine in the field of professional wrestling; entertainment services, namely, providing information, news, commentary, and online non-downloadable text, audio, video, images and photographs in the field of professional wrestling via global computer networks, mobile telephones, and other digital communication networks and devices; online journals, namely, weblogs in the field of professional wrestling; publishing of electronic publications that are delivered through one or more electronic mediums to registered customers in the field of professional wrestling; non-downloadable electronic publications in the nature of books, magazines and newsletters in the field of in the field of professional wrestling
Classification Information
Current Trademark Owners
Party Type
20 - Owner at Publication
Legal Entity Type
16 - Limited Liability Company
Trademark Owner History
Party Type
20 - Owner at Publication
Legal Entity Type
16 - Limited Liability Company
Party Type
10 - Original Applicant
Legal Entity Type
16 - Limited Liability Company
Trademark Events
| | |
| --- | --- |
| Event Date | Event Description |
| 2020-02-07 | NEW APPLICATION ENTERED IN TRAM |
| 2020-02-08 | NEW APPLICATION OFFICE SUPPLIED DATA ENTERED IN TRAM |
| 2020-02-11 | NOTICE OF DESIGN SEARCH CODE E-MAILED |
| 2020-03-04 | ASSIGNED TO EXAMINER |
| 2020-03-06 | NON-FINAL ACTION WRITTEN |
| 2020-03-06 | NON-FINAL ACTION E-MAILED |
| 2020-03-06 | NOTIFICATION OF NON-FINAL ACTION E-MAILED |
| 2020-07-13 | TEAS RESPONSE TO OFFICE ACTION RECEIVED |
| 2020-07-13 | CORRESPONDENCE RECEIVED IN LAW OFFICE |
| 2020-07-14 | TEAS/EMAIL CORRESPONDENCE ENTERED |
| 2020-07-17 | APPROVED FOR PUB - PRINCIPAL REGISTER |
| 2020-07-20 | ASSIGNED TO LIE |
| 2020-08-04 | WITHDRAWN FROM PUB - OG REVIEW QUERY |
| 2020-08-10 | PREVIOUS ALLOWANCE COUNT WITHDRAWN |
| 2020-08-11 | EXAMINERS AMENDMENT -WRITTEN |
| 2020-08-11 | EXAMINERS AMENDMENT E-MAILED |
| 2020-08-11 | NOTIFICATION OF EXAMINERS AMENDMENT E-MAILED |
| 2020-08-11 | EXAMINER'S AMENDMENT ENTERED |
| 2020-08-11 | APPROVED FOR PUB - PRINCIPAL REGISTER |
| 2020-08-26 | NOTIFICATION OF NOTICE OF PUBLICATION E-MAILED |
| 2020-09-15 | PUBLISHED FOR OPPOSITION |
| 2020-09-15 | OFFICIAL GAZETTE PUBLICATION CONFIRMATION E-MAILED |
| 2020-11-10 | NOA E-MAILED - SOU REQUIRED FROM APPLICANT |
| 2021-05-10 | TEAS EXTENSION RECEIVED |
| 2021-05-10 | EXTENSION 1 FILED |
| 2021-05-10 | EXTENSION 1 GRANTED |
| 2021-05-12 | NOTICE OF APPROVAL OF EXTENSION REQUEST E-MAILED |
| 2021-11-09 | TEAS EXTENSION RECEIVED |
| 2021-11-17 | CASE ASSIGNED TO INTENT TO USE PARALEGAL |
| 2021-11-09 | EXTENSION 2 FILED |
| 2021-11-17 | EXTENSION 2 GRANTED |
| 2021-11-18 | NOTICE OF APPROVAL OF EXTENSION REQUEST E-MAILED |