79 HEART STOPPER - Trademark Details
Status: 602 - Abandoned-Failure To Respond Or Late Response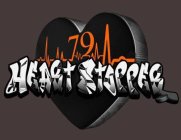 Word Mark
79 HEART STOPPER
Status
602 - Abandoned-Failure To Respond Or Late Response
Mark Drawing
3000 - Illustration: Drawing or design which also includes word(s)/ letter(s)/number(s) Typeset
Design Searches
021113, 210325, 261710 - Hearts used as background or carriers. Other sporting articles including gymnastic apparatus, face masks, scuba masks, diving boards, badminton shuttlecocks, punching bags, hockey pucks. Zig-zag line(s).
Law Office Assigned Location Code
L30
Employee Name
HARMON, RAYMOND E
Statements
Indication of Colors claimed
The color(s) orange, red, white, and gray is/are claimed as a feature of the mark.
Description of Mark
The mark consists of A hockey puck shaped like a heart colored black with the number "79" in the upper middle third in orange color with a zig zagging orange line underlining the number "79", with the word "Heart Stopper" in the lower third with capitalized white letters with gray and black accents appearing in the lettering, appearing across the entire portion of the hockey puck and extending on both the left and right sides.
Goods and Services
Athletic apparel, namely, shirts, pants, jackets, footwear, hats and caps, athletic uniforms
Pseudo Mark
SEVEN NINE HEART STOPPER; SEVEN NINE HEART STOPPER
Classification Information
International Class
025
- Clothing, footwear, headgear. - Clothing, footwear, headgear.
Class Status Code
6 - Active
Class Status Date
2019-12-12
Correspondences
Address
Please log in with your Justia account to see this address.
Trademark Events
| | |
| --- | --- |
| Event Date | Event Description |
| 2019-12-11 | NEW APPLICATION ENTERED IN TRAM |
| 2019-12-12 | NEW APPLICATION OFFICE SUPPLIED DATA ENTERED IN TRAM |
| 2019-12-13 | NOTICE OF DESIGN SEARCH CODE E-MAILED |
| 2020-03-09 | ASSIGNED TO EXAMINER |
| 2020-03-12 | NON-FINAL ACTION WRITTEN |
| 2020-03-12 | NON-FINAL ACTION E-MAILED |
| 2020-03-12 | NOTIFICATION OF NON-FINAL ACTION E-MAILED |
| 2020-09-23 | ABANDONMENT - FAILURE TO RESPOND OR LATE RESPONSE |
| 2020-09-23 | ABANDONMENT NOTICE E-MAILED - FAILURE TO RESPOND |