TURQUOISE MOUNTAIN - Trademark Details
Status: 700 - Registered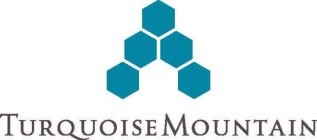 Registration Number
6231432
Word Mark
TURQUOISE MOUNTAIN
Registration Number
6231432
Registration Date
2020-12-29
Mark Drawing
3000 - Illustration: Drawing or design which also includes word(s)/ letter(s)/number(s) Typeset
Design Searches
261509, 261513 - Polygons made of geometric figures, objects, humans, plants or animals. More than one polygon.
Published for Opposition Date
2020-10-13
Law Office Assigned Location Code
L60
Employee Name
KON, ELISSA GARBER
Statements
Indication of Colors claimed
The color(s) black and turquoise is/are claimed as a feature of the mark.
Disclaimer with Predetermined Text
"TURQUOISE" AS TO CLASS 14
Description of Mark
The mark consists of six hexagons in turquoise color displayed in a vertical design with a single hexagon above two hexagons and each of the two hexagons above one hexagon, above the words "TURQUOISE MOUNTAIN" in black. The color white represents background and is not a feature of the mark.
Goods and Services
Jewelry, watches, clocks, baskets of precious metal
Goods and Services
Wall art, namely, posters, lithographs and paintings; art pictures, photographs, calendars, postcards, non-magnetically coded gift cards, calligraphy art, printed matter, namely, greetings cards; printed publications, namely, magazines, newsletters, and books in the field of art, jewelry, textile, arts and crafts; stationery, printed teaching, educational and instructional material in the field of art, jewelry, textiles, arts and crafts; letter trays, desk file trays, document file trays, pen and pencil trays and drawing trays
Goods and Services
Furniture, picture frames; wooden boxes; non-metallic storage boxes; figurines, statues, sculptures and ornaments, not being Christmas tree ornaments, made of wood or plaster; decorative bead curtains, decorative mobiles; bread baskets; cushions; fitted chair covers
Goods and Services
Ceramics for household purposes, namely, decorative centerpieces, ceramic sculptures, vases, candle holders, vessels, bowls, plates and pots; ornaments of ceramics glass, earthenware, china or porcelain, not for Christmas trees; vases, plates, dishes, cups, saucers, bowls, mugs, candle holders, beverage glassware, glassware, namely, bottles; porcelain and earthenware, namely, mugs, cups, saucers, pots, plates and bowls; trays, namely, serving trays, trays for domestic use and trays for domestic purposes not of metal; baskets of wicker, metal, wood or cloth for household purposes
Goods and Services
Textiles and textile piece goods, namely, textile table napkins and table cloths; household linen, bed linen, table linen and bathroom linen in the nature of towels, flannels, shower curtains; soft furnishings in the nature of cushion covers, unfitted chair covers not of paper; embroidery goods, namely, tapestry wall hangings of textile, textile wall hangings; blankets, namely, bed blankets
Goods and Services
Clothing, namely, t-shirts, shirts, sweatshirts, sweaters, cardigans, blouses, dresses, tunics, skirts, swimwear, head scarves, neckscarfs, shawls, ties, underwear, trousers, hosiery, socks, pajamas, nighties; footwear; headwear
Goods and Services
Rugs; floor mats; bath mats; carpets; wall art in the nature of non-textile wall hangings; floor coverings
Goods and Services
Educational and training services, namely, conducting classes, seminars and workshops in the fields of art, jewelry, textiles, arts and crafts; cultural activities, namely, organizing and providing community cultural and sporting events; entertainment services in the nature of live musical performances; educational workshops in the fields of art, jewelry, textiles, arts and crafts; provision of entertainment information and information about education; advice and consultancy relating to all the aforesaid
Classification Information
Current Trademark Owners
Party Type
30 - Original Registrant
Legal Entity Type
03 - Corporation
Trademark Owner History
Party Type
30 - Original Registrant
Legal Entity Type
03 - Corporation
Party Type
20 - Owner at Publication
Legal Entity Type
03 - Corporation
Party Type
10 - Original Applicant
Legal Entity Type
03 - Corporation
Correspondences
Name
Alexander P. Montgomery
Foreign Application Information
| | | | |
| --- | --- | --- | --- |
| Filing Date | Application Number | Country | Foreign Priority Claim In |
| 2019-11-11 | 018150394 | EU | True |
| 2019-11-11 | 018150394 | EU | True |
Trademark Events
| | |
| --- | --- |
| Event Date | Event Description |
| 2019-12-05 | NEW APPLICATION ENTERED IN TRAM |
| 2019-12-06 | NEW APPLICATION OFFICE SUPPLIED DATA ENTERED IN TRAM |
| 2019-12-07 | NOTICE OF DESIGN SEARCH CODE E-MAILED |
| 2019-12-16 | TEAS VOLUNTARY AMENDMENT RECEIVED |
| 2020-01-07 | ASSIGNED TO LIE |
| 2020-01-09 | APPLICANT AMENDMENT PRIOR TO EXAMINATION - ENTERED |
| 2020-03-03 | ASSIGNED TO EXAMINER |
| 2020-03-03 | NON-FINAL ACTION WRITTEN |
| 2020-03-03 | NON-FINAL ACTION E-MAILED |
| 2020-03-03 | NOTIFICATION OF NON-FINAL ACTION E-MAILED |
| 2020-09-01 | TEAS RESPONSE TO OFFICE ACTION RECEIVED |
| 2020-09-04 | CORRESPONDENCE RECEIVED IN LAW OFFICE |
| 2020-09-04 | TEAS/EMAIL CORRESPONDENCE ENTERED |
| 2020-09-09 | EXAMINERS AMENDMENT -WRITTEN |
| 2020-09-09 | EXAMINERS AMENDMENT E-MAILED |
| 2020-09-09 | NOTIFICATION OF EXAMINERS AMENDMENT E-MAILED |
| 2020-09-09 | EXAMINER'S AMENDMENT ENTERED |
| 2020-09-09 | APPROVED FOR PUB - PRINCIPAL REGISTER |
| 2020-09-23 | NOTIFICATION OF NOTICE OF PUBLICATION E-MAILED |
| 2020-09-23 | TEAS REVOKE/APP/CHANGE ADDR OF ATTY/DOM REP RECEIVED |
| 2020-09-23 | ATTORNEY/DOM.REP.REVOKED AND/OR APPOINTED |
| 2020-09-23 | TEAS WITHDRAWAL OF ATTORNEY RECEIVED-FIRM RETAINS |
| 2020-09-23 | TEAS CHANGE OF CORRESPONDENCE RECEIVED |
| 2020-10-13 | PUBLISHED FOR OPPOSITION |
| 2020-10-13 | OFFICIAL GAZETTE PUBLICATION CONFIRMATION E-MAILED |
| 2020-12-29 | REGISTERED-PRINCIPAL REGISTER |