HIGHBALL 7% CANADIAN WHISKY SODA - Trademark Details
Status: 602 - Abandoned-Failure To Respond Or Late Response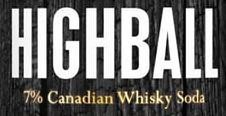 Word Mark
HIGHBALL 7% CANADIAN WHISKY SODA
Status
602 - Abandoned-Failure To Respond Or Late Response
Mark Drawing
5000 - Illustration: Drawing with word(s)/letter(s)/number(s) in Stylized form Typeset
Law Office Assigned Location Code
M50
Employee Name
OH, WON TEAK
Statements
Indication of Colors claimed
The color(s) white, black, and yellow is/are claimed as a feature of the mark.
Description of Mark
The mark consists of the wording "HIGHBALL" in all caps with the wording "7% Canadian Whisky Soda" underneath.
Goods and Services
Advertising leaflets; advertising signs of cardboard; advertising signs of paper; catalogues; coasters of paper; coasters of cardboard; coupons; disposable napkins; event programs; flyers; gift boxes; gift cards; gift certificates; leaflets; newsletters; pamphlets; paper bags; paper napkins; placards of paper or cardboard
Goods and Services
All-purpose carrying bags; backpacks; baggage tags; canvas bags for shopping; keycases; reusable shopping bags; tote bags; wallets and handbags
Goods and Services
Beverage containers; beverage glassware; beverage stirrers; bottle openers; cups and mugs; decanters; drink coasters; drinking flasks; electric bottle openers; electric corkscrews; glass stoppers; ice buckets; insulating sleeve holder for beverage cups; plastic bottles; travel mugs; tumbler drinking glasses
Goods and Services
Banners of textile and plastic; cloth coasters; cloth towels
Goods and Services
Aprons; athletic apparel; caps; casual clothing; gloves; Halloween costumes; hats; headbands; hooded sweatshirts; jackets; scarves; shirts; sport jerseys; sweaters; sweatshirts; swimwear; t-shirts; tank tops; toques
Goods and Services
Candied nuts; flavoured nuts; fruit and vegetable salads; meat; milk; pickles; preserved vegetables in oil; roasted nuts
Goods and Services
Candy; chocolate; coffee and tea; coffee based beverages; frozen confectionery; ice cream; non-alcoholic coffee-based beverages; non-alcoholic tea-based beverages; noodle-based prepared meals; noodles; pastries; sugar confectionery
Goods and Services
Beer; beer-based beverages; beer-based cocktails; fruit flavoured drinks; non-alcoholic aperitifs; non-alcoholic beer; non-alcoholic cocktail mixes; non-alcoholic cocktails; preparations for making beer; syrups for making beverages; syrups for making non-alcoholic beverages; tonic water
Goods and Services
Alcoholic beverages, namely, aperitifs, alcoholic bitters, alcoholic cocktails, alcoholic coolers, alcoholic fruit cocktail drinks, alcoholic fruit drinks, alcoholic punch, bitters, gin, vodka, whiskey, wine, wine-based drinks
Goods and Services
Nightclub and entertainment services
Goods and Services
Bar and cocktail lounge services; bar information services; bar services; bartending services; bistro services; catering for the provision of food and beverages; providing information about bar services; providing information about bartending; providing information in the nature of recipes for drinks; pubs; restaurant services
Pseudo Mark
HIGHBALL SEVEN PERCENT CANADIAN WHISKY SODA
Classification Information
Correspondences
Address
Please log in with your Justia account to see this address.
Foreign Application Information
| | | | |
| --- | --- | --- | --- |
| Filing Date | Application Number | Country | Foreign Priority Claim In |
| 2019-11-14 | 1,996,088 | Canada | True |
Trademark Events
| | |
| --- | --- |
| Event Date | Event Description |
| 2019-11-22 | NEW APPLICATION ENTERED IN TRAM |
| 2019-11-26 | NEW APPLICATION OFFICE SUPPLIED DATA ENTERED IN TRAM |
| 2020-02-22 | ASSIGNED TO EXAMINER |
| 2020-03-01 | NON-FINAL ACTION WRITTEN |
| 2020-03-01 | NON-FINAL ACTION E-MAILED |
| 2020-03-01 | NOTIFICATION OF NON-FINAL ACTION E-MAILED |
| 2020-03-04 | AUTOMATIC UPDATE OF ASSIGNMENT OF OWNERSHIP |
| 2020-10-01 | ABANDONMENT - FAILURE TO RESPOND OR LATE RESPONSE |
| 2020-10-01 | ABANDONMENT NOTICE E-MAILED - FAILURE TO RESPOND |