PAY DIRT - Trademark Details
Status: 606 - Abandoned - No Statement Of Use Filed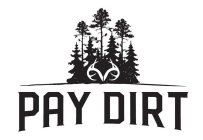 Status
606 - Abandoned - No Statement Of Use Filed
Mark Drawing
3000 - Illustration: Drawing or design which also includes word(s)/ letter(s)/number(s) Typeset
Design Searches
031303, 050101, 050110, 050125, 261701, 261705 - Horns (alone, not part of heads), antlers. Evergreens and other trees or bushes of triangular or conical shape. More than one tree or bush; thicket; group of trees. Other trees or bushes. Straight line(s), band(s) or bar(s). Horizontal line(s), band(s) or bar(s).
Published for Opposition Date
2020-07-28
Law Office Assigned Location Code
M80
Employee Name
ORTIGA PALMER, RAMONA
Statements
Indication of Colors claimed
Color is not claimed as a feature of the mark.
Description of Mark
The mark consists of tall pine trees on line with a cutout of a stylized drawing of deer antlers in the midst of the trees. The words "PAY DIRT" appear in large font below the drawing.
Goods and Services
Clothing, namely, hats and shirts
Classification Information
International Class
025
- Clothing, footwear, headgear. - Clothing, footwear, headgear.
Class Status Code
6 - Active
Class Status Date
2019-09-26
Correspondences
Address
Please log in with your Justia account to see this address.
Trademark Events
| | |
| --- | --- |
| Event Date | Event Description |
| 2019-09-23 | NEW APPLICATION ENTERED IN TRAM |
| 2019-09-26 | NEW APPLICATION OFFICE SUPPLIED DATA ENTERED IN TRAM |
| 2019-09-27 | NOTICE OF DESIGN SEARCH CODE E-MAILED |
| 2019-12-18 | ASSIGNED TO EXAMINER |
| 2019-12-20 | NON-FINAL ACTION WRITTEN |
| 2019-12-20 | NON-FINAL ACTION E-MAILED |
| 2019-12-20 | NOTIFICATION OF NON-FINAL ACTION E-MAILED |
| 2020-06-01 | TEAS RESPONSE TO OFFICE ACTION RECEIVED |
| 2020-06-01 | CORRESPONDENCE RECEIVED IN LAW OFFICE |
| 2020-06-02 | TEAS/EMAIL CORRESPONDENCE ENTERED |
| 2020-06-18 | APPROVED FOR PUB - PRINCIPAL REGISTER |
| 2020-06-22 | ASSIGNED TO LIE |
| 2020-07-08 | NOTIFICATION OF NOTICE OF PUBLICATION E-MAILED |
| 2020-07-28 | PUBLISHED FOR OPPOSITION |
| 2020-07-28 | OFFICIAL GAZETTE PUBLICATION CONFIRMATION E-MAILED |
| 2020-09-22 | NOA E-MAILED - SOU REQUIRED FROM APPLICANT |
| 2021-04-26 | ABANDONMENT - NO USE STATEMENT FILED |
| 2021-04-26 | ABANDONMENT NOTICE E-MAILED - NO USE STATEMENT FILED |