CERTIFIED RISK TAKER - Trademark Details
Status: 731 - Second Extension - Granted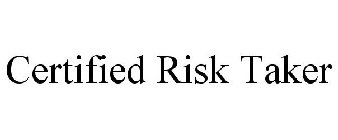 Word Mark
CERTIFIED RISK TAKER
Status
731 - Second Extension - Granted
Mark Drawing
4000 - Standard character mark Typeset
Published for Opposition Date
2020-11-24
Law Office Assigned Location Code
M40
Employee Name
KEELEY, ALISON REBECCA
Statements
Indication of Colors claimed
The color(s) blue, red is/are claimed as a feature of the mark.
Description of Mark
The mark consists of A blue dollar sign with red handcuffs laying on the lower half of the dollar sign. Below the blue dollar sign and red handcuffs are the words: CERTIFIED RISK TAKER in blue capital letters. Below Certified Risk Taker are the words : RISK with a equal sign after the word RISK and REWARD after the equal in capitalized red lettering.
Goods and Services
Unisex Clothing, namely, T-shirts, Sweatshirts, Collar shirts, Jerseys; Jackets, Coats, Hoodies, Windbreakers, Pullovers; Jeans, Leggings, Yoga pants, Cargo pants, Utility pants, Cargo shorts, Utility Shorts, Basketball Shorts, Sweatpants, Sweatshorts; Bathing suits, Swim Shorts; Socks, underwear, bras; Hats, headbands, bandanas, beanies
Classification Information
International Class
025
- Clothing, footwear, headgear. - Clothing, footwear, headgear.
Class Status Code
6 - Active
Class Status Date
2019-09-05
Current Trademark Owners
Party Type
20 - Owner at Publication
Legal Entity Type
01 - Individual
Party Type
20 - Owner at Publication
Legal Entity Type
01 - Individual
Trademark Events
| | |
| --- | --- |
| Event Date | Event Description |
| 2019-09-05 | NEW APPLICATION OFFICE SUPPLIED DATA ENTERED IN TRAM |
| 2019-11-20 | ASSIGNED TO EXAMINER |
| 2019-11-26 | NON-FINAL ACTION WRITTEN |
| 2019-11-26 | NON-FINAL ACTION E-MAILED |
| 2019-11-26 | NOTIFICATION OF NON-FINAL ACTION E-MAILED |
| 2020-01-06 | ASSIGNED TO EXAMINER |
| 2020-04-12 | TEAS RESPONSE TO OFFICE ACTION RECEIVED |
| 2020-04-12 | CORRESPONDENCE RECEIVED IN LAW OFFICE |
| 2020-04-13 | TEAS/EMAIL CORRESPONDENCE ENTERED |
| 2020-04-16 | EXAMINERS AMENDMENT -WRITTEN |
| 2020-04-16 | EXAMINERS AMENDMENT E-MAILED |
| 2020-04-16 | NOTIFICATION OF EXAMINERS AMENDMENT E-MAILED |
| 2020-04-16 | EXAMINER'S AMENDMENT ENTERED |
| 2020-04-16 | SUSPENSION LETTER WRITTEN |
| 2020-04-16 | LETTER OF SUSPENSION E-MAILED |
| 2020-04-16 | NOTIFICATION OF LETTER OF SUSPENSION E-MAILED |
| 2020-10-16 | APPROVED FOR PUB - PRINCIPAL REGISTER |
| 2020-11-04 | NOTIFICATION OF NOTICE OF PUBLICATION E-MAILED |
| 2020-11-24 | PUBLISHED FOR OPPOSITION |
| 2020-11-24 | OFFICIAL GAZETTE PUBLICATION CONFIRMATION E-MAILED |
| 2021-01-19 | NOA E-MAILED - SOU REQUIRED FROM APPLICANT |
| 2021-07-18 | TEAS EXTENSION RECEIVED |
| 2021-07-23 | CASE ASSIGNED TO INTENT TO USE PARALEGAL |
| 2021-07-18 | EXTENSION 1 FILED |
| 2021-07-23 | EXTENSION 1 GRANTED |
| 2021-07-24 | NOTICE OF APPROVAL OF EXTENSION REQUEST E-MAILED |
| 2022-01-16 | TEAS EXTENSION RECEIVED |
| 2022-01-16 | EXTENSION 2 FILED |
| 2022-01-16 | EXTENSION 2 GRANTED |
| 2022-01-18 | NOTICE OF APPROVAL OF EXTENSION REQUEST E-MAILED |