HAMMOCK ISLE - Trademark Details
Status: 602 - Abandoned-Failure To Respond Or Late Response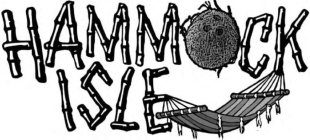 Status
602 - Abandoned-Failure To Respond Or Late Response
Mark Drawing
3000 - Illustration: Drawing or design which also includes word(s)/ letter(s)/number(s) Typeset
Design Searches
050925, 090125, 270304 - Other fruits including coconuts. Other textile articles which are not generally recognized as clothing, such as chamois cloths, dust cloths and hammocks. Representations of plants or parts of plants forming letters or numerals, including punctuation.
Published for Opposition Date
2019-12-03
Law Office Assigned Location Code
L80
Employee Name
DAWE III, WILLIAM H
Statements
Indication of Colors claimed
Color is not claimed as a feature of the mark.
Description of Mark
The mark consists of the word "Hammock" above the word "Isle" where the letters of "Hammock Isle" are stylized in the nature of bamboo, the "O" in "Hammock" is a coconut, a hammock hangs from the "K" in "Hammock" to the "E" in "Isle" and the letters "RTTO" appear underneath the image of the hammock.
Goods and Services
Clothing, namely, tops, shirts, jackets, sweatshirts and hoodies; outerwear, namely, coats; bottoms as clothing, pants, shorts; footwear, namely, shoes, sneakers, slippers, sandals and flip flops; headwear, namely, hats and caps
Classification Information
International Class
025
- Clothing, footwear, headgear. - Clothing, footwear, headgear.
Class Status Code
6 - Active
Class Status Date
2019-08-06
First Use Anywhere Date
2020-04-30
First Use In Commerce Date
2020-04-30
Correspondences
Name
Christopher M. Verdini
Address
Please log in with your Justia account to see this address.
Trademark Events
| | |
| --- | --- |
| Event Date | Event Description |
| 2019-07-31 | NEW APPLICATION ENTERED IN TRAM |
| 2019-08-06 | NEW APPLICATION OFFICE SUPPLIED DATA ENTERED IN TRAM |
| 2019-08-07 | NOTICE OF DESIGN SEARCH CODE E-MAILED |
| 2019-10-21 | ASSIGNED TO EXAMINER |
| 2019-10-23 | APPROVED FOR PUB - PRINCIPAL REGISTER |
| 2019-11-13 | NOTIFICATION OF NOTICE OF PUBLICATION E-MAILED |
| 2019-12-03 | PUBLISHED FOR OPPOSITION |
| 2019-12-03 | OFFICIAL GAZETTE PUBLICATION CONFIRMATION E-MAILED |
| 2020-01-28 | NOA E-MAILED - SOU REQUIRED FROM APPLICANT |
| 2020-06-25 | TEAS STATEMENT OF USE RECEIVED |
| 2020-07-16 | CASE ASSIGNED TO INTENT TO USE PARALEGAL |
| 2020-06-25 | USE AMENDMENT FILED |
| 2020-07-16 | STATEMENT OF USE PROCESSING COMPLETE |
| 2020-08-05 | SU - NON-FINAL ACTION - WRITTEN |
| 2020-08-05 | NON-FINAL ACTION E-MAILED |
| 2020-08-05 | NOTIFICATION OF NON-FINAL ACTION E-MAILED |
| 2020-08-20 | TEAS RESPONSE TO OFFICE ACTION RECEIVED |
| 2020-09-15 | ASSIGNED TO LIE |
| 2020-09-15 | CORRESPONDENCE RECEIVED IN LAW OFFICE |
| 2020-09-15 | TEAS/EMAIL CORRESPONDENCE ENTERED |
| 2020-10-06 | SU - NON-FINAL ACTION - WRITTEN |
| 2020-10-06 | NON-FINAL ACTION E-MAILED |
| 2020-10-06 | NOTIFICATION OF NON-FINAL ACTION E-MAILED |
| 2020-10-09 | DATA MODIFICATION COMPLETED |
| 2021-04-19 | ABANDONMENT - FAILURE TO RESPOND OR LATE RESPONSE |
| 2021-04-19 | ABANDONMENT NOTICE E-MAILED - FAILURE TO RESPOND |