BIOBOTS BIO PRINTER SERIES - Trademark Details
Status: 732 - Third Extension - Granted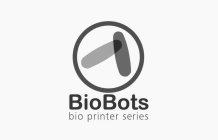 Word Mark
BIOBOTS BIO PRINTER SERIES
Status
732 - Third Extension - Granted
Mark Drawing
3000 - Illustration: Drawing or design which also includes word(s)/ letter(s)/number(s) Typeset
Design Searches
260101, 260316, 260321, 261127 - Circles as carriers or as single line borders. Ovals touching or intersecting. Ovals that are completely or partially shaded. Oblongs not being used as carriers for words, letters or designs.
Published for Opposition Date
2020-05-12
Law Office Assigned Location Code
M90
Employee Name
LE, KHUONG M
Statements
Indication of Colors claimed
Color is not claimed as a feature of the mark.
Disclaimer with Predetermined Text
"BIO PRINTER SERIES"
Description of Mark
The mark consists of a circle containing two intersecting oblong oval shapes, all of which is centered atop the literal elements "BioBots" in larger font with the literal element "bio printer series" centered below.
Goods and Services
three-dimensional (3-D) printers
Goods and Services
Laboratory equipment and instruments, namely, computer robotics-supported workstations, comprising three-dimensional printers, multi-axis robots, cartridges for containing printing material, dispensers, video cameras, downloadable software, and automated conveyance and controlled storage system for production of biological specimens
Goods and Services
Training in the fields of three-dimensional printing and computer robotics-supported workstations for production of biological specimens
Goods and Services
Scientific research consulting in the fields of three-dimensional printing and computer robotics-supported workstations for production of biological specimens
Classification Information
Current Trademark Owners
Party Type
20 - Owner at Publication
Legal Entity Type
16 - Limited Liability Company
Trademark Owner History
Party Type
20 - Owner at Publication
Legal Entity Type
16 - Limited Liability Company
Party Type
10 - Original Applicant
Legal Entity Type
16 - Limited Liability Company
Trademark Events
| | |
| --- | --- |
| Event Date | Event Description |
| 2019-06-14 | NEW APPLICATION ENTERED IN TRAM |
| 2019-06-24 | NEW APPLICATION OFFICE SUPPLIED DATA ENTERED IN TRAM |
| 2019-06-25 | NOTICE OF DESIGN SEARCH CODE E-MAILED |
| 2019-09-03 | ASSIGNED TO EXAMINER |
| 2019-09-09 | NON-FINAL ACTION WRITTEN |
| 2019-09-09 | NON-FINAL ACTION E-MAILED |
| 2019-09-09 | NOTIFICATION OF NON-FINAL ACTION E-MAILED |
| 2020-03-09 | TEAS RESPONSE TO OFFICE ACTION RECEIVED |
| 2020-03-09 | CORRESPONDENCE RECEIVED IN LAW OFFICE |
| 2020-03-10 | TEAS/EMAIL CORRESPONDENCE ENTERED |
| 2020-03-25 | EXAMINERS AMENDMENT -WRITTEN |
| 2020-03-25 | EXAMINERS AMENDMENT E-MAILED |
| 2020-03-25 | NOTIFICATION OF EXAMINERS AMENDMENT E-MAILED |
| 2020-03-25 | EXAMINER'S AMENDMENT ENTERED |
| 2020-03-25 | EXAMINERS AMENDMENT -WRITTEN |
| 2020-03-25 | EXAMINERS AMENDMENT E-MAILED |
| 2020-03-25 | NOTIFICATION OF EXAMINERS AMENDMENT E-MAILED |
| 2020-03-25 | EXAMINER'S AMENDMENT ENTERED |
| 2020-04-01 | APPROVED FOR PUB - PRINCIPAL REGISTER |
| 2020-04-22 | NOTIFICATION OF NOTICE OF PUBLICATION E-MAILED |
| 2020-05-12 | PUBLISHED FOR OPPOSITION |
| 2020-05-12 | OFFICIAL GAZETTE PUBLICATION CONFIRMATION E-MAILED |
| 2020-07-07 | NOA E-MAILED - SOU REQUIRED FROM APPLICANT |
| 2021-01-05 | TEAS EXTENSION RECEIVED |
| 2021-01-05 | EXTENSION 1 FILED |
| 2021-01-05 | EXTENSION 1 GRANTED |
| 2021-01-07 | NOTICE OF APPROVAL OF EXTENSION REQUEST E-MAILED |
| 2021-06-18 | TEAS EXTENSION RECEIVED |
| 2021-06-18 | EXTENSION 2 FILED |
| 2021-06-18 | EXTENSION 2 GRANTED |
| 2021-06-22 | NOTICE OF APPROVAL OF EXTENSION REQUEST E-MAILED |
| 2021-12-10 | TEAS EXTENSION RECEIVED |
| 2021-12-10 | EXTENSION 3 FILED |
| 2021-12-10 | EXTENSION 3 GRANTED |