HIGHLY CANADIAN. - Trademark Details
Status: 641 - Non-Final Action - Mailed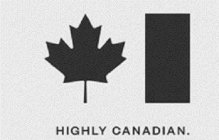 Word Mark
HIGHLY CANADIAN.
Status
641 - Non-Final Action - Mailed
Mark Drawing
3000 - Illustration: Drawing or design which also includes word(s)/ letter(s)/number(s) Typeset
Design Searches
050303, 050325, 240901, 261121 - Maple leaf. Other leaves. Rectangular or square flags excluding American flag or checkered flag. Rectangles that are completely or partially shaded.
Law Office Assigned Location Code
N30
Employee Name
MARINO, JENNIFER ELLEN
Statements
Indication of Colors claimed
Color is not claimed as a feature of the mark.
Disclaimer with Predetermined Text
"THE 11-POINT MAPLE LEAF"
Description of Mark
The mark consists of an 11-point maple leaf to the left of a rectangle with the words "HIGHLY CANADIAN.".
Goods and Services
all purpose carrying bags and back packs
Goods and Services
clothing, namely, t-shirts, pants, shorts, tank tops, jackets, sweaters, sweat shirts, caps, hats
Goods and Services
smoking pipes, electronic smoking pipes, oral vaporizers for smokers; cigarette paper
Goods and Services
providing a website in the field of medical cannabis and applicable regulations; educational services, namely, production of instructional videos in the field of medical cannabis for patients and health care professionals; volunteer and community service initiatives to provide public education with respect to medicinal cannabis
Goods and Services
medical counselling
Classification Information
Current Trademark Owners
Party Type
11 - 1st New Owner Before Publication
Legal Entity Type
03 - Corporation
Trademark Owner History
Party Type
11 - 1st New Owner Before Publication
Legal Entity Type
03 - Corporation
Party Type
10 - Original Applicant
Legal Entity Type
03 - Corporation
Foreign Application Information
| | | | |
| --- | --- | --- | --- |
| Filing Date | Application Number | Country | Foreign Priority Claim In |
| 2018-06-01 | 1902176 | Canada | True |
Trademark Events
| | |
| --- | --- |
| Event Date | Event Description |
| 2018-11-21 | NEW APPLICATION ENTERED IN TRAM |
| 2018-12-06 | NEW APPLICATION OFFICE SUPPLIED DATA ENTERED IN TRAM |
| 2018-12-07 | NOTICE OF DESIGN SEARCH CODE E-MAILED |
| 2018-12-11 | ASSIGNED TO EXAMINER |
| 2019-04-17 | AUTOMATIC UPDATE OF ASSIGNMENT OF OWNERSHIP |
| 2019-07-29 | ASSIGNED TO EXAMINER |
| 2019-08-06 | NON-FINAL ACTION WRITTEN |
| 2019-08-06 | NON-FINAL ACTION E-MAILED |
| 2019-08-06 | NOTIFICATION OF NON-FINAL ACTION E-MAILED |
| 2019-09-12 | TEAS CHANGE OF CORRESPONDENCE RECEIVED |