SNEAKERHEAD YOUTH EMPOWERMENT CENTER - Trademark Details
Status: 604 - Abandoned - After Inter-Partes Decision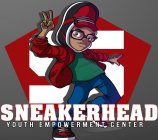 Word Mark
SNEAKERHEAD YOUTH EMPOWERMENT CENTER
Status
604 - Abandoned - After Inter-Partes Decision
Mark Drawing
3000 - Illustration: Drawing or design which also includes word(s)/ letter(s)/number(s) Typeset
Design Searches
020505, 020524, 090702, 090705, 090725, 160307, 261521 - Boy(s). Stylized children, including children depicted in caricature form. Sports footwear, including jogging and tennis shoes, shoes with spikes, skates, snow shoes, ski boots. Other men's shoes. Other stylized footwear. Eyeglasses, eyeglass frames, sunglasses, goggles and safety goggles. Polygons that are completely or partially shaded.
Published for Opposition Date
2019-05-28
Law Office Assigned Location Code
N50
Employee Name
STEDMAN, CORI ALEXA
Statements
Indication of Colors claimed
The color(s) red, white, brown, black, grey, green, and blue is/are claimed as a feature of the mark.
Disclaimer with Predetermined Text
"YOUTH" AND "CENTER"
Description of Mark
The mark consists of a brown boy with black and white eyes and black eyebrows wearing black glasses, a red coat, a green shirt, blue pants, and white, black, and red sneakers. The boy has the same red, black, and white sneaker around his head. The boy is outlined entirely in black and has a grey shadow. Behind the design of the boy is a white letter "S" on a red pentagon. Across the boy's legs is the term "SNEAKERHEAD" in white and outlined in red. Below is the phrase "YOUTH EMPOWERMENT CENTER" in white outlined in black. The entire mark is on a grey background.
Goods and Services
Education services, namely, training educators in the field of STEAM Based Education Curriculum built solely around sneaker and fashion design and providing curricula in connection therewith; Educational services, namely, developing curriculum for educators; Consulting services about education; Information on education
Classification Information
International Class
041
- Education; providing of training; entertainment; sporting and cultural activities. - Education; providing of training; entertainment; sporting and cultural activities.
US Class Codes
100, 101, 107
Class Status Code
8 - Abandoned
Class Status Date
2020-11-03
Correspondences
Address
Please log in with your Justia account to see this address.
Trademark Events
| | |
| --- | --- |
| Event Date | Event Description |
| 2018-11-17 | NEW APPLICATION ENTERED IN TRAM |
| 2018-12-01 | NEW APPLICATION OFFICE SUPPLIED DATA ENTERED IN TRAM |
| 2018-12-04 | NOTICE OF DESIGN SEARCH CODE E-MAILED |
| 2019-02-19 | ASSIGNED TO EXAMINER |
| 2019-02-25 | NON-FINAL ACTION WRITTEN |
| 2019-02-25 | NON-FINAL ACTION E-MAILED |
| 2019-02-25 | NOTIFICATION OF NON-FINAL ACTION E-MAILED |
| 2019-04-03 | TEAS RESPONSE TO OFFICE ACTION RECEIVED |
| 2019-04-03 | CORRESPONDENCE RECEIVED IN LAW OFFICE |
| 2019-04-03 | TEAS/EMAIL CORRESPONDENCE ENTERED |
| 2019-04-08 | APPROVED FOR PUB - PRINCIPAL REGISTER |
| 2019-04-22 | ASSIGNED TO LIE |
| 2019-05-08 | NOTIFICATION OF NOTICE OF PUBLICATION E-MAILED |
| 2019-05-28 | PUBLISHED FOR OPPOSITION |
| 2019-05-28 | OFFICIAL GAZETTE PUBLICATION CONFIRMATION E-MAILED |
| 2019-05-29 | OPPOSITION PAPERS RECEIVED AT TTAB |
| 2019-05-29 | OPPOSITION INSTITUTED NO. 999999 |
| 2020-11-03 | OPPOSITION SUSTAINED NO. 999999 |
| 2020-11-03 | OPPOSITION TERMINATED NO. 999999 |
| 2020-11-03 | ABANDONMENT - AFTER INTER PARTES DECISION |
| 2020-11-03 | ABANDONMENT NOTICE E-MAILED - INTER PARTES DECISION |