RRRRR REPUBLIC SERVICES - Trademark Details
Status: 700 - Registered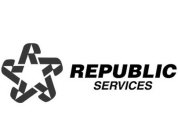 Registration Number
5743787
Word Mark
RRRRR REPUBLIC SERVICES
Registration Number
5743787
Registration Date
2019-05-07
Mark Drawing
3000 - Illustration: Drawing or design which also includes word(s)/ letter(s)/number(s) Typeset
Design Searches
010103, 270104 - A single star with five points. Letters or numerals, including punctuation, forming representations of objects, parts of objects, or maps.
Published for Opposition Date
2019-02-19
Law Office Assigned Location Code
L20
Employee Name
FERRAIUOLO, DOMINIC J
Statements
Indication of Colors claimed
Color is not claimed as a feature of the mark.
Disclaimer with Predetermined Text
"SERVICES"
Description of Mark
The mark consists of the words "REPUBLIC SERVICES" to the right of a design of a star formed by five letter "Rs".
Goods and Services
Landfill operation services, namely, business management and operation of solid waste landfills for others; Landfill operation services, namely, business management and operation of landfills for disposal of oilfield waste solids and contaminated soil for others; Landfill operation services, namely, business management and operation of landfills for disposal of coal combustion residuals for others
Goods and Services
Solid waste landfill services; Solid waste collection in the nature of trash clean-up; Waste removal in the nature of trash clean-up; Installation of environmental remediation equipment, emergency containment systems, air and water testing and monitoring equipment, oil and water separation equipment, air and water carbon filtration systems, vapor and fluid vacuum extraction systems, vapor recovery systems, groundwater pumps and treatment systems
Goods and Services
Garbage collection (trash pickup only); Solid waste collection in the nature of garbage collection and yard waste collection, none of the foregoing in the nature of cleaning services; Waste removal transport services; Transport of solid and liquid waste by truck and rail; Transport of oilfield and industrial liquid and solid waste by truck and rail; Hazardous waste transportation services; Household hazardous waste collection services; Rental of recycling containers; Trash services, namely, rental of dumpsters; Trash services, namely, rental of dump trailers and roll-off trailers; Collection of waste oil, paper, cardboard, plastics, glass, aluminum, metals, computers, electronics, appliances, televisions, telephones, and copiers for recycling; Collection centers for metal cans and other recyclable items
Goods and Services
Waste treatment services; Hazardous waste treatment services; Waste treatment of non-hazardous oilfield waste and industrial waste, drill cuttings, contaminated soil, processed solids and treated solids; Waste processing; Waste water treatment services; Water treatment services; Treatment of waste fluids generated in the oil and gas industries; Recycling; Recycling of waste; Recycling of waste and trash; Material treatment services in connection with recycling; Recycling of industrial waste, namely, coal combustion residuals; Environmental remediation services, namely, treatment of soil, solid waste and fluids generated in the oil and gas industries; Recycling and reclamation of usable materials from solid and liquid waste generated in the oil and gas industries; Consultation in the field of waste treatment; Consultation in the field of waste treatment for the oil and gas industries; Consultation in the field of waste treatment of coal combustion residuals; Rental of waste compactors
Classification Information
Current Trademark Owners
Party Type
30 - Original Registrant
Legal Entity Type
03 - Corporation
Trademark Owner History
Party Type
30 - Original Registrant
Legal Entity Type
03 - Corporation
Party Type
20 - Owner at Publication
Legal Entity Type
03 - Corporation
Party Type
10 - Original Applicant
Legal Entity Type
03 - Corporation
Prior Registrations
| | |
| --- | --- |
| Relationship Type | Reel Number |
| Prior Registration | 4084686 |
| Prior Registration | 4246843 |
| Prior Registration | 4246844 |
Trademark Events
| | |
| --- | --- |
| Event Date | Event Description |
| 2018-07-17 | NEW APPLICATION ENTERED IN TRAM |
| 2018-07-18 | NEW APPLICATION OFFICE SUPPLIED DATA ENTERED IN TRAM |
| 2018-07-19 | NOTICE OF DESIGN SEARCH CODE E-MAILED |
| 2018-10-10 | ASSIGNED TO EXAMINER |
| 2018-10-11 | APPROVED FOR PUB - PRINCIPAL REGISTER |
| 2018-10-31 | NOTIFICATION OF NOTICE OF PUBLICATION E-MAILED |
| 2018-10-31 | WITHDRAWN FROM PUB - OG REVIEW QUERY |
| 2018-11-20 | OFFICIAL GAZETTE PUBLICATION CONFIRMATION E-MAILED |
| 2018-12-11 | PREVIOUS ALLOWANCE COUNT WITHDRAWN |
| 2018-12-13 | NON-FINAL ACTION WRITTEN |
| 2018-12-13 | NON-FINAL ACTION E-MAILED |
| 2018-12-13 | NOTIFICATION OF NON-FINAL ACTION E-MAILED |
| 2018-12-19 | EXAMINERS AMENDMENT -WRITTEN |
| 2018-12-19 | EXAMINERS AMENDMENT E-MAILED |
| 2018-12-19 | NOTIFICATION OF EXAMINERS AMENDMENT E-MAILED |
| 2018-12-19 | EXAMINER'S AMENDMENT ENTERED |
| 2018-12-19 | APPROVED FOR PUB - PRINCIPAL REGISTER |
| 2019-01-14 | ASSIGNED TO LIE |
| 2019-01-30 | NOTIFICATION OF NOTICE OF PUBLICATION E-MAILED |
| 2019-02-19 | PUBLISHED FOR OPPOSITION |
| 2019-02-19 | OFFICIAL GAZETTE PUBLICATION CONFIRMATION E-MAILED |
| 2019-05-07 | REGISTERED-PRINCIPAL REGISTER |