KIPLING LIVE.LIGHT - Trademark Details
Status: 748 - Statement Of Use - To Examiner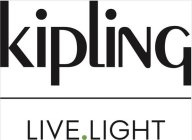 Word Mark
KIPLING LIVE.LIGHT
Status
748 - Statement Of Use - To Examiner
Mark Drawing
3000 - Illustration: Drawing or design which also includes word(s)/ letter(s)/number(s) Typeset
Design Searches
260121, 261701, 261705 - Circles that are totally or partially shaded. Straight line(s), band(s) or bar(s). Horizontal line(s), band(s) or bar(s).
Published for Opposition Date
2019-11-26
Law Office Assigned Location Code
L40
Employee Name
MACFARLANE, JAMES W
Statements
Indication of Colors claimed
The color(s) green and black is/are claimed as a feature of the mark.
Description of Mark
The mark consists of the wording "KIPLING" in a stylized black font appearing over a horizontal black line, beneath which appears the wording "LIVE.LIGHT" in a black stylized font, with the period between the words appearing in the color green.
Goods and Services
Bags adapted for laptops; tablet computer sleeves; laptop sleeves; carrying cases adapted for cellphones
Goods and Services
Key chains; imitation leather key chains; metal key chains; non-metal and non-leather key chains
Goods and Services
Pen and pencil cases
Goods and Services
Travel bags; handbags; schoolbags; sport and athletic bags; carry-all bags; shoulder bags; tote bags; satchel bags; cross body bags; cosmetic bags sold empty; toiletry bags sold empty; suitcases; rucksacks; backpacks; luggage; diaper bags; duffle bags; waist bags; wallets; pouches in the nature of carryall bags; clutches; purses; wristlet bags; and umbrellas
Goods and Services
Retail store and wholesale store services in the field of handbags, luggage and related accessories, namely, key chains; providing consumer product information via the internet; providing an online directory of retail and wholesale store dealers in the field of handbags, luggage and related accessories, namely, key chains
Classification Information
Current Trademark Owners
Party Type
20 - Owner at Publication
Legal Entity Type
03 - Corporation
Trademark Owner History
Party Type
20 - Owner at Publication
Legal Entity Type
03 - Corporation
Party Type
10 - Original Applicant
Legal Entity Type
03 - Corporation
Trademark Events
| | |
| --- | --- |
| Event Date | Event Description |
| 2018-06-04 | NEW APPLICATION ENTERED IN TRAM |
| 2018-06-07 | NEW APPLICATION OFFICE SUPPLIED DATA ENTERED IN TRAM |
| 2018-06-08 | NOTICE OF DESIGN SEARCH CODE E-MAILED |
| 2018-09-19 | ASSIGNED TO EXAMINER |
| 2018-09-27 | NON-FINAL ACTION WRITTEN |
| 2018-09-27 | NON-FINAL ACTION E-MAILED |
| 2018-09-27 | NOTIFICATION OF NON-FINAL ACTION E-MAILED |
| 2018-09-27 | NON-FINAL ACTION WRITTEN |
| 2018-09-27 | NON-FINAL ACTION E-MAILED |
| 2018-09-27 | NOTIFICATION OF NON-FINAL ACTION E-MAILED |
| 2019-02-28 | TEAS REVOKE/APP/CHANGE ADDR OF ATTY/DOM REP RECEIVED |
| 2019-02-28 | ATTORNEY/DOM.REP.REVOKED AND/OR APPOINTED |
| 2019-03-06 | SUSPENSION LETTER WRITTEN |
| 2019-03-06 | LETTER OF SUSPENSION E-MAILED |
| 2019-03-06 | NOTIFICATION OF LETTER OF SUSPENSION E-MAILED |
| 2019-06-12 | ASSIGNED TO EXAMINER |
| 2019-09-26 | ASSIGNED TO LIE |
| 2019-09-26 | SUSPENSION CHECKED ¿ TO ATTORNEY FOR ACTION |
| 2019-10-22 | EXAMINERS AMENDMENT -WRITTEN |
| 2019-10-22 | EXAMINERS AMENDMENT E-MAILED |
| 2019-10-22 | NOTIFICATION OF EXAMINERS AMENDMENT E-MAILED |
| 2019-10-22 | EXAMINER'S AMENDMENT ENTERED |
| 2019-10-22 | APPROVED FOR PUB - PRINCIPAL REGISTER |
| 2019-10-21 | TEAS RESPONSE TO SUSPENSION INQUIRY RECEIVED |
| 2019-11-06 | NOTIFICATION OF NOTICE OF PUBLICATION E-MAILED |
| 2019-11-26 | PUBLISHED FOR OPPOSITION |
| 2019-11-26 | OFFICIAL GAZETTE PUBLICATION CONFIRMATION E-MAILED |
| 2020-01-21 | NOA E-MAILED - SOU REQUIRED FROM APPLICANT |
| 2020-01-22 | TEAS REVOKE/APP/CHANGE ADDR OF ATTY/DOM REP RECEIVED |
| 2020-01-22 | ATTORNEY/DOM.REP.REVOKED AND/OR APPOINTED |
| 2020-07-16 | TEAS EXTENSION RECEIVED |
| 2020-07-16 | EXTENSION 1 FILED |
| 2020-07-16 | EXTENSION 1 GRANTED |
| 2020-07-18 | NOTICE OF APPROVAL OF EXTENSION REQUEST E-MAILED |
| 2021-01-20 | TEAS EXTENSION RECEIVED |
| 2021-01-20 | EXTENSION 2 FILED |
| 2021-01-20 | EXTENSION 2 GRANTED |
| 2021-01-22 | NOTICE OF APPROVAL OF EXTENSION REQUEST E-MAILED |
| 2021-07-21 | TEAS EXTENSION RECEIVED |
| 2021-07-21 | EXTENSION 3 FILED |
| 2021-07-21 | EXTENSION 3 GRANTED |
| 2021-07-23 | NOTICE OF APPROVAL OF EXTENSION REQUEST E-MAILED |
| 2022-01-12 | TEAS CHANGE OF OWNER ADDRESS RECEIVED |
| 2022-01-12 | TEAS CHANGE OF CORRESPONDENCE RECEIVED |
| 2022-01-12 | APPLICANT/CORRESPONDENCE CHANGES (NON-RESPONSIVE) ENTERED |
| 2022-01-12 | TEAS STATEMENT OF USE RECEIVED |
| 2022-01-27 | CASE ASSIGNED TO INTENT TO USE PARALEGAL |
| 2022-01-12 | USE AMENDMENT FILED |
| 2022-01-27 | STATEMENT OF USE PROCESSING COMPLETE |