DR. SEUSS' HOW THE GRINCH STOLE CHRISTMAS! THE MUSICAL - Trademark Details
Status: 807 - SU - Non-Final Action - Mailed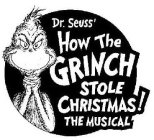 Word Mark
DR. SEUSS' HOW THE GRINCH STOLE CHRISTMAS! THE MUSICAL
Status
807 - SU - Non-Final Action - Mailed
Mark Drawing
3000 - Illustration: Drawing or design which also includes word(s)/ letter(s)/number(s) Typeset
Design Searches
020134, 031101, 031124, 260121 - Other grotesque men including men formed by plants or objects. Monkeys, chimpanzees, gorillas, apes and the like. Stylized primates. Circles that are totally or partially shaded.
Published for Opposition Date
2018-08-28
Law Office Assigned Location Code
N50
Employee Name
AGREDA, SAMANTHA LEIGH
Statements
Indication of Colors claimed
Color is not claimed as a feature of the mark.
Disclaimer with Predetermined Text
"THE MUSICAL"
Description of Mark
The mark consists of the literal element DR. SEUSS' HOW THE GRINCH STOLE CHRISTMAS! THE MUSICAL, partially within a circle which also encompasses the Grinch character.
Goods and Services
Metal key chains
Goods and Services
Decorative magnets; pre-recorded dvds, videos and cds featuring animated movies, musical performances, children's programs, children's entertainment
Goods and Services
Metal key chains
Goods and Services
Children's backpacks
Goods and Services
Adult and children's t-shirts, adult and children's sweatshirts
Goods and Services
Campaign-style buttons
Classification Information
Current Trademark Owners
Party Type
20 - Owner at Publication
Legal Entity Type
13 - Limited Partnership
Trademark Owner History
Party Type
20 - Owner at Publication
Legal Entity Type
13 - Limited Partnership
Party Type
10 - Original Applicant
Legal Entity Type
13 - Limited Partnership
Prior Registrations
| | |
| --- | --- |
| Relationship Type | Reel Number |
| Prior Registration | 3252793 |
| Prior Registration | 3252813 |
Trademark Events
| | |
| --- | --- |
| Event Date | Event Description |
| 2018-04-03 | NEW APPLICATION ENTERED IN TRAM |
| 2018-04-08 | NEW APPLICATION OFFICE SUPPLIED DATA ENTERED IN TRAM |
| 2018-04-10 | NOTICE OF DESIGN SEARCH CODE E-MAILED |
| 2018-06-25 | ASSIGNED TO EXAMINER |
| 2018-07-02 | EXAMINERS AMENDMENT -WRITTEN |
| 2018-07-02 | EXAMINERS AMENDMENT E-MAILED |
| 2018-07-02 | NOTIFICATION OF EXAMINERS AMENDMENT E-MAILED |
| 2018-07-02 | EXAMINER'S AMENDMENT ENTERED |
| 2018-07-06 | APPROVED FOR PUB - PRINCIPAL REGISTER |
| 2018-07-20 | ASSIGNED TO LIE |
| 2018-08-08 | NOTIFICATION OF NOTICE OF PUBLICATION E-MAILED |
| 2018-08-28 | PUBLISHED FOR OPPOSITION |
| 2018-08-28 | OFFICIAL GAZETTE PUBLICATION CONFIRMATION E-MAILED |
| 2018-10-23 | NOA E-MAILED - SOU REQUIRED FROM APPLICANT |
| 2019-04-19 | TEAS EXTENSION RECEIVED |
| 2019-04-19 | EXTENSION 1 FILED |
| 2019-04-19 | EXTENSION 1 GRANTED |
| 2019-04-23 | NOTICE OF APPROVAL OF EXTENSION REQUEST E-MAILED |
| 2019-10-23 | TEAS EXTENSION RECEIVED |
| 2019-10-23 | EXTENSION 2 FILED |
| 2019-10-23 | EXTENSION 2 GRANTED |
| 2019-10-25 | NOTICE OF APPROVAL OF EXTENSION REQUEST E-MAILED |
| 2020-04-20 | TEAS EXTENSION RECEIVED |
| 2020-04-20 | EXTENSION 3 FILED |
| 2020-04-20 | EXTENSION 3 GRANTED |
| 2020-04-22 | NOTICE OF APPROVAL OF EXTENSION REQUEST E-MAILED |
| 2020-10-21 | TEAS EXTENSION RECEIVED |
| 2020-10-21 | EXTENSION 4 FILED |
| 2020-10-21 | EXTENSION 4 GRANTED |
| 2020-10-23 | NOTICE OF APPROVAL OF EXTENSION REQUEST E-MAILED |
| 2021-04-14 | TEAS EXTENSION RECEIVED |
| 2021-04-29 | CASE ASSIGNED TO INTENT TO USE PARALEGAL |
| 2021-04-14 | EXTENSION 5 FILED |
| 2021-04-29 | EXTENSION 5 GRANTED |
| 2021-04-30 | NOTICE OF APPROVAL OF EXTENSION REQUEST E-MAILED |
| 2021-10-07 | TEAS STATEMENT OF USE RECEIVED |
| 2021-10-07 | USE AMENDMENT FILED |
| 2021-10-12 | STATEMENT OF USE PROCESSING COMPLETE |
| 2021-11-09 | SU - NON-FINAL ACTION - WRITTEN |
| 2021-11-09 | NON-FINAL ACTION E-MAILED |
| 2021-11-09 | NOTIFICATION OF NON-FINAL ACTION E-MAILED |