KCMA CERTIFIED RESPONSIBLE SUSTAINABLE CABINET - Trademark Details
Status: 688 - Notice Of Allowance - Issued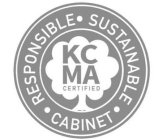 Word Mark
KCMA CERTIFIED RESPONSIBLE SUSTAINABLE CABINET
Status
688 - Notice Of Allowance - Issued
Mark Drawing
3000 - Illustration: Drawing or design which also includes word(s)/ letter(s)/number(s) Typeset
Design Searches
050125, 260115, 260116, 260117, 260120, 260121 - Other trees or bushes. Three circles. Circles touching or intersecting. Two concentric circles. Circles within a circle. Circles that are totally or partially shaded.
Published for Opposition Date
2018-10-09
Law Office Assigned Location Code
N10
Employee Name
FAIRBANKS, RONALD L
Statements
Indication of Colors claimed
Color is not claimed as a feature of the mark.
Certification Mark Statement
The certification mark, as used or intended to be used by persons authorized by the certifier, certifies or is intended to certify that the goods/services provided have met the certifier's standards for environmental sustainability in the manufacture of kitchen and vanity cabinets.
Disclaimer with Predetermined Text
"RESPONSIBLE", "SUSTAINABLE", "CABINET" AND "CERTIFIED"
Description of Mark
The mark consists of circular design in which the literal portion "RESPONSIBLE", "SUSTAINABLE" and "CABINET" appears in the outer band each separated by a circle. In an inner circular field a tree shape appears containing the literal portion "KCMA CERTIFIED" in which the letters "KC" are stacked above the letters "MA" which is stacked above the wording "CERTIFIED" in smaller lettering.
Goods and Services
Kitchen and vanity cabinets
Pseudo Mark
KITCHEN CABINET MANUFACTURERS ASSOCIATION CERTIFIED RESPONSIBLE SUSTAINABLE CABINET
Classification Information
International Class
A
- Goods Certification Mark. - Goods Certification Mark.
Class Status Code
6 - Active
Class Status Date
2018-02-14
Current Trademark Owners
Party Type
20 - Owner at Publication
Legal Entity Type
03 - Corporation
Trademark Owner History
Party Type
20 - Owner at Publication
Legal Entity Type
03 - Corporation
Party Type
10 - Original Applicant
Legal Entity Type
03 - Corporation
Trademark Events
| | |
| --- | --- |
| Event Date | Event Description |
| 2018-02-09 | NEW APPLICATION ENTERED IN TRAM |
| 2018-02-14 | NEW APPLICATION OFFICE SUPPLIED DATA ENTERED IN TRAM |
| 2018-02-15 | NOTICE OF DESIGN SEARCH CODE E-MAILED |
| 2018-03-25 | ASSIGNED TO EXAMINER |
| 2018-03-29 | NON-FINAL ACTION WRITTEN |
| 2018-03-29 | NON-FINAL ACTION E-MAILED |
| 2018-03-29 | NOTIFICATION OF NON-FINAL ACTION E-MAILED |
| 2018-08-09 | TEAS RESPONSE TO OFFICE ACTION RECEIVED |
| 2018-08-09 | CORRESPONDENCE RECEIVED IN LAW OFFICE |
| 2018-08-10 | TEAS/EMAIL CORRESPONDENCE ENTERED |
| 2018-08-31 | APPROVED FOR PUB - PRINCIPAL REGISTER |
| 2018-09-19 | NOTIFICATION OF NOTICE OF PUBLICATION E-MAILED |
| 2018-10-09 | PUBLISHED FOR OPPOSITION |
| 2018-10-09 | OFFICIAL GAZETTE PUBLICATION CONFIRMATION E-MAILED |
| 2018-12-04 | NOA E-MAILED - SOU REQUIRED FROM APPLICANT |