WOODLAND CREEK BE OUTDOOR READY - Trademark Details
Status: 734 - Fifth Extension - Granted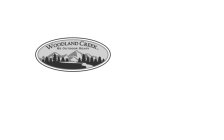 Word Mark
WOODLAND CREEK BE OUTDOOR READY
Status
734 - Fifth Extension - Granted
Mark Drawing
3000 - Illustration: Drawing or design which also includes word(s)/ letter(s)/number(s) Typeset
Design Searches
050101, 050110, 060104, 060308, 260317, 260321 - Evergreens and other trees or bushes of triangular or conical shape. More than one tree or bush; thicket; group of trees. Mountains, mountain landscapes. Rivers, streams, rapids. Concentric ovals and ovals within ovals. Ovals that are completely or partially shaded.
Published for Opposition Date
2018-02-13
Law Office Assigned Location Code
M50
Employee Name
OH, WON TEAK
Statements
Indication of Colors claimed
Color is not claimed as a feature of the mark.
Description of Mark
The mark consists of the stylized words "WOODLAND CREEK BE OUTDOOR READY" and the design of mountains, trees, river, ground and sky all within an oval border.
Goods and Services
flatware, namely, forks, knives and spoons; pocket knives; multi-function hand tools comprised of knives, scissors, bottle openers, saws, screwdrivers, pliers, can openers, hammers, glass breakers, seat belt cutters, files, wire cutter/strippers, fire starters, fishing hooks, compasses, utensil multi tool, fish scalers, magnifiers, carabiners
Goods and Services
battery operated lanterns; solar powered lanterns; flashlights
Goods and Services
wallets; luggage; handbags; pet leashes
Goods and Services
bed pillows; decorative pillows
Goods and Services
melamine dishes; drinkware; pet feeding and drinking bowls; vinyl place mats; non-electric portable coolers; cooking vessels, namely, pots and pans; barbeque grill tools, namely, two-prong forks, spatulas, tongs, basting brushes, grill cleaning brushes for barbeque grills, and storage cases for barbeque grill tools
Goods and Services
kitchen towels, bath towels; bed sheets; bed blankets; pillows; throws; polyester place mats
Goods and Services
hats, t-shirts; pants; scarves; gloves; socks; slippers; outerwear, namely, jackets and vests
Goods and Services
indoor floor mats; outdoor floor mats
Goods and Services
fishing tackle boxes
Goods and Services
trail mix consisting primarily of nuts, seeds, and also including granola and chocolate
Classification Information
Current Trademark Owners
Party Type
20 - Owner at Publication
Legal Entity Type
16 - Limited Liability Company
Trademark Owner History
Party Type
20 - Owner at Publication
Legal Entity Type
16 - Limited Liability Company
Party Type
10 - Original Applicant
Legal Entity Type
16 - Limited Liability Company
Trademark Events
| | |
| --- | --- |
| Event Date | Event Description |
| 2017-07-11 | NEW APPLICATION ENTERED IN TRAM |
| 2017-07-14 | NEW APPLICATION OFFICE SUPPLIED DATA ENTERED IN TRAM |
| 2017-07-15 | NOTICE OF DESIGN SEARCH CODE E-MAILED |
| 2017-10-04 | ASSIGNED TO EXAMINER |
| 2017-10-11 | NON-FINAL ACTION WRITTEN |
| 2017-10-11 | NON-FINAL ACTION E-MAILED |
| 2017-10-11 | NOTIFICATION OF NON-FINAL ACTION E-MAILED |
| 2017-11-07 | TEAS RESPONSE TO OFFICE ACTION RECEIVED |
| 2017-11-19 | ASSIGNED TO LIE |
| 2017-11-20 | CORRESPONDENCE RECEIVED IN LAW OFFICE |
| 2017-11-20 | TEAS/EMAIL CORRESPONDENCE ENTERED |
| 2017-12-08 | EXAMINERS AMENDMENT -WRITTEN |
| 2017-12-08 | EXAMINERS AMENDMENT E-MAILED |
| 2017-12-08 | NOTIFICATION OF EXAMINERS AMENDMENT E-MAILED |
| 2017-12-08 | EXAMINER'S AMENDMENT ENTERED |
| 2017-12-20 | TEAS CHANGE OF OWNER ADDRESS RECEIVED |
| 2017-12-20 | APPLICANT/CORRESPONDENCE CHANGES (NON-RESPONSIVE) ENTERED |
| 2018-01-02 | APPROVED FOR PUB - PRINCIPAL REGISTER |
| 2018-01-24 | NOTIFICATION OF NOTICE OF PUBLICATION E-MAILED |
| 2018-02-13 | PUBLISHED FOR OPPOSITION |
| 2018-02-13 | OFFICIAL GAZETTE PUBLICATION CONFIRMATION E-MAILED |
| 2018-04-10 | NOA E-MAILED - SOU REQUIRED FROM APPLICANT |
| 2018-10-05 | TEAS EXTENSION RECEIVED |
| 2018-10-05 | EXTENSION 1 FILED |
| 2018-10-05 | EXTENSION 1 GRANTED |
| 2018-10-09 | NOTICE OF APPROVAL OF EXTENSION REQUEST E-MAILED |
| 2019-04-09 | TEAS EXTENSION RECEIVED |
| 2019-04-09 | EXTENSION 2 FILED |
| 2019-04-09 | EXTENSION 2 GRANTED |
| 2019-04-11 | NOTICE OF APPROVAL OF EXTENSION REQUEST E-MAILED |
| 2019-09-09 | TEAS EXTENSION RECEIVED |
| 2019-09-09 | EXTENSION 3 FILED |
| 2019-09-09 | EXTENSION 3 GRANTED |
| 2019-09-11 | NOTICE OF APPROVAL OF EXTENSION REQUEST E-MAILED |
| 2020-04-10 | TEAS EXTENSION RECEIVED |
| 2020-04-10 | EXTENSION 4 FILED |
| 2020-04-10 | EXTENSION 4 GRANTED |
| 2020-04-14 | NOTICE OF APPROVAL OF EXTENSION REQUEST E-MAILED |
| 2020-09-30 | TEAS EXTENSION RECEIVED |
| 2020-10-05 | CASE ASSIGNED TO INTENT TO USE PARALEGAL |
| 2020-09-30 | EXTENSION 5 FILED |
| 2020-10-05 | EXTENSION 5 GRANTED |
| 2020-10-06 | NOTICE OF APPROVAL OF EXTENSION REQUEST E-MAILED |