Nº 8 - Trademark Details
Status: 606 - Abandoned - No Statement Of Use Filed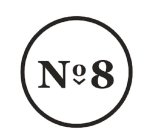 Status
606 - Abandoned - No Statement Of Use Filed
Mark Drawing
3000 - Illustration: Drawing or design which also includes word(s)/ letter(s)/number(s) Typeset
Design Searches
260101, 261712 - Circles as carriers or as single line borders. Chevrons and angles.
Published for Opposition Date
2017-09-12
Law Office Assigned Location Code
N20
Employee Name
JONES, JACQUELYN ANDRE
Statements
Indication of Colors claimed
Color is not claimed as a feature of the mark.
Description of Mark
The mark consists of the stylized wording "NO 8" inside a circle. The letters "NO" are in the form of a numero symbol with a capital letter "N" and a superscript letter "O". A chevron shape resembling a letter V appears below the letter "O".
Goods and Services
Computer e-commerce software to allow users to perform electronic business transactions via a global computer network
Goods and Services
Arranging and conducting business conferences; Business advice and information; Business advisory services, consultancy and information; Business consultation services; Business management consultancy; Business merger consultation; Business planning; Business services, namely, combined strategic goods or services sourcing and cooperative purchasing for others; Business services, namely, developing fundraising campaigns for others; Business strategic planning services; Consultation in the field of business acquisitions; Employment recruiting services; Personnel recruitment
Goods and Services
Financial consulting and advising in the field of mergers and acquisitions; Fundraising for others for the purpose of purchasing companies; On-line business fundraising services; Venture capital funding services to emerging and start-up companies; Venture capital advisory services; Venture capital financing; Financial services, namely, business fundraising for others
Goods and Services
Educational services, namely, providing motivational speaking services in the fields of business startups and entrepreneurship; Providing on-line training courses, seminars, and workshops in the field of business startups and entrepreneurship
Goods and Services
Developing and hosting a server on a global computer network for the purpose of facilitating e-commerce via such a server
Classification Information
Correspondences
Address
Please log in with your Justia account to see this address.
Trademark Events
| | |
| --- | --- |
| Event Date | Event Description |
| 2017-04-13 | NEW APPLICATION ENTERED IN TRAM |
| 2017-04-15 | NEW APPLICATION OFFICE SUPPLIED DATA ENTERED IN TRAM |
| 2017-04-18 | NOTICE OF DESIGN SEARCH CODE E-MAILED |
| 2017-06-29 | ASSIGNED TO EXAMINER |
| 2017-07-06 | NON-FINAL ACTION WRITTEN |
| 2017-07-06 | NON-FINAL ACTION E-MAILED |
| 2017-07-06 | NOTIFICATION OF NON-FINAL ACTION E-MAILED |
| 2017-07-10 | TEAS RESPONSE TO OFFICE ACTION RECEIVED |
| 2017-08-06 | ASSIGNED TO LIE |
| 2017-08-08 | CORRESPONDENCE RECEIVED IN LAW OFFICE |
| 2017-08-08 | TEAS/EMAIL CORRESPONDENCE ENTERED |
| 2017-08-08 | APPROVED FOR PUB - PRINCIPAL REGISTER |
| 2017-08-23 | NOTIFICATION OF NOTICE OF PUBLICATION E-MAILED |
| 2017-09-12 | PUBLISHED FOR OPPOSITION |
| 2017-09-12 | OFFICIAL GAZETTE PUBLICATION CONFIRMATION E-MAILED |
| 2017-10-12 | EXTENSION OF TIME TO OPPOSE RECEIVED |
| 2017-12-13 | TEAS CHANGE OF CORRESPONDENCE RECEIVED |
| 2018-01-21 | EXTENSION OF TIME TO OPPOSE PROCESS - TERMINATED |
| 2018-03-06 | NOA E-MAILED - SOU REQUIRED FROM APPLICANT |
| 2018-10-08 | ABANDONMENT - NO USE STATEMENT FILED |
| 2018-10-09 | ABANDONMENT NOTICE MAILED - NO USE STATEMENT FILED |