WI-FI CERTIFIED HALOW - Trademark Details
Status: 606 - Abandoned - No Statement Of Use Filed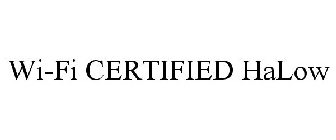 Word Mark
WI-FI CERTIFIED HALOW
Status
606 - Abandoned - No Statement Of Use Filed
Mark Drawing
4000 - Standard character mark Typeset
Published for Opposition Date
2017-04-11
Law Office Assigned Location Code
N30
Employee Name
CALIENDO, COURTNEY MIC
Statements
Certification Mark Statement
The certification mark, as intended to be used by authorized persons, is intended to certify that goods comply with standards related to the incorporation of IEEE 802.11ah technology.
Disclaimer with Predetermined Text
"CERTIFIED"
Goods and Services
Wireless computer peripherals; video monitors; keyboards; computer mice; wireless adapters for computers; printers; notebook computers; laptop computers; video projection devices; computer docking stations; wireless communication devices for voice, data, or image transmission; mobile hotspot devices; network storage devices; wearable computers; wearable computer peripherals; wearable motion tracking devices; wearable cameras; personal digital assistants; speakers; optical disc players; home theater audio and video equipment; video game consoles; digital video recorders; electronic docking stations; handheld game consoles; wireless display receivers; headphones; digital media hubs; digital media servers; digital media receivers; digital media streaming devices; wearable GPS tracking and navigation devices; barcode scanners; patient monitors for monitoring and measuring vital signs; computer hardware for use with medical patient monitoring equipment, for receiving, processing, transmitting and displaying data; chipsets; wireless sensor beacons; radio transmitters and receivers; global positioning system (GPS) devices; electronic sensors for use in transmitting data and information to mobile, wireless, and handheld devices; vehicle-based electronic devices, namely, navigation systems and transmitters of vehicle information; remote control starters for vehicles; interactive digital and electronic billboards; interactive digital and electronic signage; in-vehicle media and entertainment systems; motor vehicle systems comprised of a vehicle-based electronic module for receiving traffic status information and providing directional guidance information in response thereto; motor vehicle diagnostic system comprised of a vehicle-based electronic module for transmitting vehicle diagnostic information via a global computer network; vehicle-based mobile digital computers, cameras, microphones, and computer monitors; vehicle-based electronic modules and computer hardware for receiving and transmitting traffic status information via wireless networks; electronic pedometers; wireless utility meters; industrial automation controls; wearable mobile devices, namely, devices for hands-free use of mobile phones; mobile phones; smartphones; wireless routers; wireless access points; cable, DSL, and broadband gateway devices; wireless local area networking products; wireless network range extenders; cooking ranges; dishwashers; refrigerators; light systems comprising light sensors and switches; thermostats; clothes washing machines; electric coffee makers; water heaters; electric rice cookers; electric slow cookers; electric pressure cookers; water filtration and purification apparatus; home and office automation systems comprising wireless controllers, controlled devices, and software for lighting, HVAC, irrigation, security, safety, and other home and office monitoring and control applications; home and office electrical power automation systems comprising wireless controllers, controlled devices, and software for appliances, lighting, HVAC, security, and other home and office electrical power monitoring and control applications; vacuum cleaners; garage door openers; wireless controllers to remotely monitor and control the function and status of other electrical, electronic, and mechanical devices or systems, namely, energy and utility systems, security systems, and lighting systems; wireless temperature sensors; wireless moisture sensors; wireless motion sensors; wireless irrigation controllers; electronic door locks; cameras; security cameras; tablet computers; portable electronic device for receiving and reading text and images and sound through wireless Internet access and for displaying electronically published materials, namely, books, journals, newspapers, magazines, multimedia presentations; remote controllers for cameras; televisions; set-top boxes
Classification Information
International Class
A
- Goods Certification Mark. - Goods Certification Mark.
Class Status Code
6 - Active
Class Status Date
2016-11-16
Correspondences
Address
Please log in with your Justia account to see this address.
Prior Registrations
| | |
| --- | --- |
| Relationship Type | Reel Number |
| Prior Registration | 2525795 |
| Prior Registration | 3592917 |
| Prior Registration | 4388420 |
Trademark Events
| | |
| --- | --- |
| Event Date | Event Description |
| 2016-11-14 | NEW APPLICATION ENTERED IN TRAM |
| 2016-11-16 | NEW APPLICATION OFFICE SUPPLIED DATA ENTERED IN TRAM |
| 2017-02-16 | ASSIGNED TO EXAMINER |
| 2017-02-23 | EXAMINERS AMENDMENT -WRITTEN |
| 2017-02-23 | EXAMINERS AMENDMENT E-MAILED |
| 2017-02-23 | NOTIFICATION OF EXAMINERS AMENDMENT E-MAILED |
| 2017-02-23 | EXAMINER'S AMENDMENT ENTERED |
| 2017-02-24 | APPROVED FOR PUB - PRINCIPAL REGISTER |
| 2017-03-22 | NOTIFICATION OF NOTICE OF PUBLICATION E-MAILED |
| 2017-04-11 | PUBLISHED FOR OPPOSITION |
| 2017-04-11 | OFFICIAL GAZETTE PUBLICATION CONFIRMATION E-MAILED |
| 2017-06-06 | NOA E-MAILED - SOU REQUIRED FROM APPLICANT |
| 2017-11-30 | TEAS EXTENSION RECEIVED |
| 2017-11-30 | EXTENSION 1 FILED |
| 2017-11-30 | EXTENSION 1 GRANTED |
| 2017-12-02 | NOTICE OF APPROVAL OF EXTENSION REQUEST E-MAILED |
| 2018-06-06 | TEAS EXTENSION RECEIVED |
| 2018-06-06 | EXTENSION 2 FILED |
| 2018-06-06 | EXTENSION 2 GRANTED |
| 2018-06-08 | NOTICE OF APPROVAL OF EXTENSION REQUEST E-MAILED |
| 2018-12-04 | TEAS EXTENSION RECEIVED |
| 2018-12-04 | EXTENSION 3 FILED |
| 2018-12-04 | EXTENSION 3 GRANTED |
| 2018-12-06 | NOTICE OF APPROVAL OF EXTENSION REQUEST E-MAILED |
| 2019-06-06 | TEAS EXTENSION RECEIVED |
| 2019-06-06 | EXTENSION 4 FILED |
| 2019-06-06 | EXTENSION 4 GRANTED |
| 2019-06-08 | NOTICE OF APPROVAL OF EXTENSION REQUEST E-MAILED |
| 2019-12-04 | TEAS EXTENSION RECEIVED |
| 2019-12-06 | CASE ASSIGNED TO INTENT TO USE PARALEGAL |
| 2019-12-04 | EXTENSION 5 FILED |
| 2019-12-06 | EXTENSION 5 GRANTED |
| 2019-12-07 | NOTICE OF APPROVAL OF EXTENSION REQUEST E-MAILED |
| 2020-07-13 | ABANDONMENT - NO USE STATEMENT FILED |
| 2020-07-13 | ABANDONMENT NOTICE E-MAILED - NO USE STATEMENT FILED |