B A G B - Trademark Details
Status: 622 - Misassigned Serial Number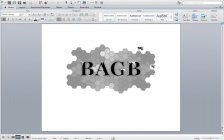 Status
622 - Misassigned Serial Number
Statements
Description of Mark
The mark consists of Back image is a honeycomb. On the right side of the honeycomb there is a bee on the top right and a bee directly on the right. The letters BAGB are written in capital letters in the center of the honeycomb. Honey is dripping on the top of the left side of the letter B, on the top and center on the letter A, on the ending of the letter G, and the top left side of the final B.
Goods and Services
Pants; Baby tops; Baseball caps and hats; Denims; Hooded sweat shirts; Jogging pants; Long-sleeved shirts; Muscle tops; Polo shirts; Short-sleeved shirts; Stretch pants; Sweat pants; T-shirts; Tank tops; Turtle neck shirts
Classification Information
International Class
025
- Clothing, footwear, headgear. - Clothing, footwear, headgear.
Class Status Code
6 - Active
Class Status Date
2016-10-27
Correspondences
Address
Please log in with your Justia account to see this address.
Trademark Events
| | |
| --- | --- |
| Event Date | Event Description |
| 2016-10-27 | NEW APPLICATION ENTERED IN TRAM |