FT. LOS ANGELES - Trademark Details
Status: 606 - Abandoned - No Statement Of Use Filed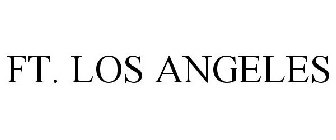 Status
606 - Abandoned - No Statement Of Use Filed
Mark Drawing
4000 - Standard character mark Typeset
Published for Opposition Date
2017-02-07
Law Office Assigned Location Code
L10
Employee Name
RHIM, ANDREW
Statements
Disclaimer with Predetermined Text
"LOS ANGELES"
Goods and Services
Bikinis; Bow ties; Dress pants; Dress shirts; Dresses; Hats; Pants; Sandals; Scarfs; Scarves; Shirts; Shoes; Shorts; Socks; Sweaters; Swim suits; Tuxedos; Underwear; Athletic pants; Athletic shirts; Camouflage jackets; Camouflage pants; Dress pants; Dress shirts; Fabric belts; Fishing shirts; Fur jackets; Hiking jackets; Hunting jackets; Hunting pants; Hunting shirts; Motorcycle jackets; Night shirts; Polo shirts; Rain jackets; Rainproof jackets; Rugby shirts; Safari jackets; Ski jackets; Snowboard jackets; Sports jackets; Sports pants; Sports shirts; Sweat jackets; Sweat shirts; Tee shirts; Track jackets; Wind pants; Wind shirts; Yoga pants; Yoga shirts
Classification Information
International Class
025
- Clothing, footwear, headgear. - Clothing, footwear, headgear.
Class Status Code
6 - Active
Class Status Date
2016-10-06
Correspondences
Address
Please log in with your Justia account to see this address.
Trademark Events
| | |
| --- | --- |
| Event Date | Event Description |
| 2016-10-05 | NEW APPLICATION ENTERED IN TRAM |
| 2016-10-06 | NEW APPLICATION OFFICE SUPPLIED DATA ENTERED IN TRAM |
| 2016-11-23 | ASSIGNED TO EXAMINER |
| 2016-11-28 | EXAMINERS AMENDMENT -WRITTEN |
| 2016-11-28 | EXAMINERS AMENDMENT E-MAILED |
| 2016-11-28 | NOTIFICATION OF EXAMINERS AMENDMENT E-MAILED |
| 2016-11-28 | EXAMINER'S AMENDMENT ENTERED |
| 2016-11-28 | APPROVED FOR PUB - PRINCIPAL REGISTER |
| 2016-12-13 | ASSIGNED TO LIE |
| 2017-01-03 | LAW OFFICE PUBLICATION REVIEW COMPLETED |
| 2017-01-18 | NOTIFICATION OF NOTICE OF PUBLICATION E-MAILED |
| 2017-02-07 | PUBLISHED FOR OPPOSITION |
| 2017-02-07 | OFFICIAL GAZETTE PUBLICATION CONFIRMATION E-MAILED |
| 2017-04-04 | NOA E-MAILED - SOU REQUIRED FROM APPLICANT |
| 2017-11-06 | ABANDONMENT - NO USE STATEMENT FILED |
| 2017-11-06 | ABANDONMENT NOTICE MAILED - NO USE STATEMENT FILED |