SH SUPER HUSTLER - Trademark Details
Status: 601 - Abandoned - Express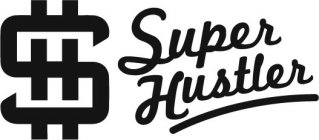 Word Mark
SH SUPER HUSTLER
Status
601 - Abandoned - Express
Mark Drawing
3000 - Illustration: Drawing or design which also includes word(s)/ letter(s)/number(s) Typeset
Design Searches
241703, 261713 - Dollar symbol ($). Letters or words underlined and/or overlined by one or more strokes or lines.
Law Office Assigned Location Code
L60
Employee Name
GOLD, BARBARA A
Statements
Indication of Colors claimed
Color is not claimed as a feature of the mark.
Description of Mark
The mark consists of the word SUPER HUSTLER in stylized italic letters underlined by a curved line, to the right of the letters SH in the form of a dollar sign
Goods and Services
Athletic apparel, namely, shirts, pants, jackets, footwear, hats and caps, athletic uniforms; Business wear, namely, suits, jackets, trousers, blazers, blouses, shirts, skirts, dresses and footwear; Footwear; Hats; Athletic footwear; Baseball caps and hats; Beach footwear; Belts; Eyeshades; Hoods; Jackets; Jerseys; Sports caps and hats; Ties; Tops; Wristbands
Classification Information
International Class
025
- Clothing, footwear, headgear. - Clothing, footwear, headgear.
Class Status Code
6 - Active
Class Status Date
2016-08-11
First Use Anywhere Date
2015-07-21
First Use In Commerce Date
2016-04-20
Correspondences
Name
GREGORY P. BORGOGNONI
Address
Please log in with your Justia account to see this address.
Trademark Events
| | |
| --- | --- |
| Event Date | Event Description |
| 2016-08-11 | NEW APPLICATION ENTERED IN TRAM |
| 2016-08-11 | NEW APPLICATION OFFICE SUPPLIED DATA ENTERED IN TRAM |
| 2016-08-12 | NOTICE OF DESIGN SEARCH CODE E-MAILED |
| 2016-11-02 | LETTER OF PROTEST ACCEPTED |
| 2016-11-17 | ASSIGNED TO EXAMINER |
| 2016-12-04 | NON-FINAL ACTION WRITTEN |
| 2016-12-04 | NON-FINAL ACTION E-MAILED |
| 2016-12-04 | NOTIFICATION OF NON-FINAL ACTION E-MAILED |
| 2017-06-05 | TEAS RESPONSE TO OFFICE ACTION RECEIVED |
| 2017-07-12 | ASSIGNED TO LIE |
| 2017-07-17 | CORRESPONDENCE RECEIVED IN LAW OFFICE |
| 2017-07-17 | TEAS/EMAIL CORRESPONDENCE ENTERED |
| 2017-08-04 | TEAS EXPRESS ABANDONMENT RECEIVED |
| 2017-08-07 | ABANDONMENT - EXPRESS MAILED |
| 2017-08-07 | ABANDONMENT NOTICE MAILED - EXPRESS ABANDONMENT |