SUPER DRY SWIM - Trademark Details
Status: 606 - Abandoned - No Statement Of Use Filed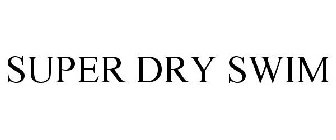 Status
606 - Abandoned - No Statement Of Use Filed
Mark Drawing
4000 - Standard character mark Typeset
Published for Opposition Date
2017-07-25
Law Office Assigned Location Code
L10
Employee Name
KEATING, MICHAEL P
Statements
Disclaimer with Predetermined Text
"SWIM"
Goods and Services
Clothing, namely, hooded sweatshirts; sweatshirts; printed T-shirts; T-shirts; polo shirts; short sleeved and long sleeved shirts; shirts; blouses; shorts; baggy shorts; long sleeved T-shirts; rugby tops; printed and embroidered sweatshirts; cardigans; sweaters; zip tops; joggers; trousers; jeans; knitwear, namely, jumpers, sweaters, cardigans, sweatshirts, T-shirts, shirts, skirts, dresses, vests; jumpers; fleece pullovers; dresses; skirts; tops; lined and unlined jackets; jackets; coats; trench coats; leather jackets; wax jackets; military blazers; gilets; hunting jackets; army jackets; bomber jackets; cagoules; suits; waistcoats; ties; detachable collars; pockets for clothing; leggings; socks; scarves; gloves; swimwear; belts; underwear; camisoles; bras; knickers; boxer shorts; underpants; slips; nightwear; pyjamas; bathrobes; dressing gowns; footwear, namely, sandals; beach shoes; flip flops; canvas shoes; boots; shoes; leather shoes; slippers; football boots; gymnastic shoes; sneakers; ski boots; hats; caps; bandanas; beanies
Classification Information
International Class
025
- Clothing, footwear, headgear. - Clothing, footwear, headgear.
Class Status Code
6 - Active
Class Status Date
2016-06-10
Correspondences
Address
Please log in with your Justia account to see this address.
Trademark Events
| | |
| --- | --- |
| Event Date | Event Description |
| 2016-06-07 | NEW APPLICATION ENTERED IN TRAM |
| 2016-06-10 | NEW APPLICATION OFFICE SUPPLIED DATA ENTERED IN TRAM |
| 2016-06-22 | TEAS VOLUNTARY AMENDMENT RECEIVED |
| 2016-06-29 | ASSIGNED TO LIE |
| 2016-06-30 | APPLICANT AMENDMENT PRIOR TO EXAMINATION - ENTERED |
| 2016-09-15 | ASSIGNED TO EXAMINER |
| 2016-09-19 | NON-FINAL ACTION WRITTEN |
| 2016-09-19 | NON-FINAL ACTION E-MAILED |
| 2016-09-19 | NOTIFICATION OF NON-FINAL ACTION E-MAILED |
| 2017-03-08 | TEAS RESPONSE TO OFFICE ACTION RECEIVED |
| 2017-03-08 | CORRESPONDENCE RECEIVED IN LAW OFFICE |
| 2017-03-08 | TEAS/EMAIL CORRESPONDENCE ENTERED |
| 2017-03-09 | APPROVED FOR PUB - PRINCIPAL REGISTER |
| 2017-03-09 | TEAS REVOKE/APP/CHANGE ADDR OF ATTY/DOM REP RECEIVED |
| 2017-03-09 | ATTORNEY/DOM.REP.REVOKED AND/OR APPOINTED |
| 2017-03-20 | LAW OFFICE PUBLICATION REVIEW COMPLETED |
| 2017-04-04 | WITHDRAWN FROM PUB - OG REVIEW QUERY |
| 2017-04-13 | PREVIOUS ALLOWANCE COUNT WITHDRAWN |
| 2017-04-17 | NON-FINAL ACTION WRITTEN |
| 2017-04-17 | NON-FINAL ACTION E-MAILED |
| 2017-04-17 | NOTIFICATION OF NON-FINAL ACTION E-MAILED |
| 2017-06-07 | TEAS RESPONSE TO OFFICE ACTION RECEIVED |
| 2017-06-07 | CORRESPONDENCE RECEIVED IN LAW OFFICE |
| 2017-06-08 | TEAS/EMAIL CORRESPONDENCE ENTERED |
| 2017-06-09 | APPROVED FOR PUB - PRINCIPAL REGISTER |
| 2017-06-19 | LAW OFFICE PUBLICATION REVIEW COMPLETED |
| 2017-07-05 | NOTIFICATION OF NOTICE OF PUBLICATION E-MAILED |
| 2017-07-25 | PUBLISHED FOR OPPOSITION |
| 2017-07-25 | OFFICIAL GAZETTE PUBLICATION CONFIRMATION E-MAILED |
| 2017-09-19 | NOA E-MAILED - SOU REQUIRED FROM APPLICANT |
| 2018-04-23 | ABANDONMENT - NO USE STATEMENT FILED |
| 2018-04-23 | ABANDONMENT NOTICE MAILED - NO USE STATEMENT FILED |