THE GRINCH DR. SEUSS - Trademark Details
Status: 700 - Registered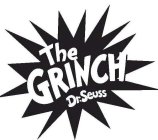 Registration Number
5216399
Word Mark
THE GRINCH DR. SEUSS
Registration Number
5216399
Registration Date
2017-06-06
Mark Drawing
3000 - Illustration: Drawing or design which also includes word(s)/ letter(s)/number(s) Typeset
Design Searches
010105 - Stars with seven or more points.
Published for Opposition Date
2017-03-21
Law Office Assigned Location Code
L50
Employee Name
LAPTER, ALAIN J
Statements
Indication of Colors claimed
Color is not claimed as a feature of the mark.
Description of Mark
The mark consists of the words "THE GRINCH" and "DR. SEUSS" superimposed on a burst design with 16 points.
Goods and Services
Clothing for adults, infants, toddlers, namely, shirts, t-shirts, tops, tank tops, bottoms, sweatshirts, sweatpants, sweaters, sleepwear, pajamas, underwear, boxer shorts and briefs, loungewear, footwear, shoe covers, headgear, namely, caps and hats, decorative head bands, hats, pipe striped hats, caps, scarves, gloves, mittens, leg warmers, arm warmer, suspenders, ties, bow ties, stockings, hosiery, tights, socks, slippers, and Halloween costumes and costume masks
Classification Information
International Class
025
- Clothing, footwear, headgear. - Clothing, footwear, headgear.
Class Status Code
6 - Active
Class Status Date
2016-04-20
First Use Anywhere Date
2011-09-07
First Use In Commerce Date
2011-09-07
Current Trademark Owners
Party Type
30 - Original Registrant
Legal Entity Type
13 - Limited Partnership
Trademark Owner History
Party Type
30 - Original Registrant
Legal Entity Type
13 - Limited Partnership
Party Type
20 - Owner at Publication
Legal Entity Type
13 - Limited Partnership
Party Type
10 - Original Applicant
Legal Entity Type
13 - Limited Partnership
Prior Registrations
| | |
| --- | --- |
| Relationship Type | Reel Number |
| Prior Registration | 2328812 |
| Prior Registration | 4038720 |
| Prior Registration | 4849286 |
Trademark Events
| | |
| --- | --- |
| Event Date | Event Description |
| 2016-04-18 | NEW APPLICATION ENTERED IN TRAM |
| 2016-04-20 | NEW APPLICATION OFFICE SUPPLIED DATA ENTERED IN TRAM |
| 2016-04-21 | NOTICE OF DESIGN SEARCH CODE E-MAILED |
| 2016-07-28 | ASSIGNED TO EXAMINER |
| 2016-08-02 | APPROVED FOR PUB - PRINCIPAL REGISTER |
| 2016-08-16 | WITHDRAWN FROM PUB - OG REVIEW QUERY |
| 2016-09-12 | PREVIOUS ALLOWANCE COUNT WITHDRAWN |
| 2016-09-13 | PRIORITY ACTION WRITTEN |
| 2016-09-13 | PRIORITY ACTION E-MAILED |
| 2016-09-13 | NOTIFICATION OF PRIORITY ACTION E-MAILED |
| 2017-02-08 | TEAS RESPONSE TO OFFICE ACTION RECEIVED |
| 2017-02-08 | CORRESPONDENCE RECEIVED IN LAW OFFICE |
| 2017-02-09 | TEAS/EMAIL CORRESPONDENCE ENTERED |
| 2017-02-11 | APPROVED FOR PUB - PRINCIPAL REGISTER |
| 2017-03-01 | NOTIFICATION OF NOTICE OF PUBLICATION E-MAILED |
| 2017-03-21 | PUBLISHED FOR OPPOSITION |
| 2017-03-21 | OFFICIAL GAZETTE PUBLICATION CONFIRMATION E-MAILED |
| 2017-06-06 | REGISTERED-PRINCIPAL REGISTER |