HORTON HEARS A WHO! - Trademark Details
Status: 700 - Registered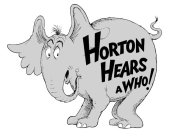 Registration Number
5153704
Word Mark
HORTON HEARS A WHO!
Registration Number
5153704
Registration Date
2017-03-07
Mark Drawing
3000 - Illustration: Drawing or design which also includes word(s)/ letter(s)/number(s) Typeset
Design Searches
030301, 030324 - Elephants, mammoths. Stylized elephants, hippopotami, rhinoceri, giraffes, alpacas, camels and llamas.
Published for Opposition Date
2016-12-20
Law Office Assigned Location Code
M30
Employee Name
TOOLEY, DAVID E
Statements
Indication of Colors claimed
Color is not claimed as a feature of the mark.
Description of Mark
The mark consists of a design of a cartoon elephant with the words "HORTON HEARS A WHO!".
Goods and Services
metal key chains
Goods and Services
Blankets, namely, blanket throws and woven tapestry throws
Goods and Services
Halloween costumes and accessories for adults and children, namely, headbands
Goods and Services
Halloween costume accessories for adults and children, namely, wands
Classification Information
Current Trademark Owners
Party Type
30 - Original Registrant
Legal Entity Type
13 - Limited Partnership
Trademark Owner History
Party Type
30 - Original Registrant
Legal Entity Type
13 - Limited Partnership
Party Type
20 - Owner at Publication
Legal Entity Type
13 - Limited Partnership
Party Type
10 - Original Applicant
Legal Entity Type
13 - Limited Partnership
Correspondences
Name
ANN K. FORD, C/O SAN DIEGO TRADEMARKS DO
Trademark Events
| | |
| --- | --- |
| Event Date | Event Description |
| 2015-09-17 | NEW APPLICATION ENTERED IN TRAM |
| 2015-09-17 | NEW APPLICATION OFFICE SUPPLIED DATA ENTERED IN TRAM |
| 2015-09-18 | NOTICE OF DESIGN SEARCH CODE E-MAILED |
| 2015-12-29 | ASSIGNED TO EXAMINER |
| 2015-12-29 | NON-FINAL ACTION WRITTEN |
| 2015-12-29 | NON-FINAL ACTION E-MAILED |
| 2015-12-29 | NOTIFICATION OF NON-FINAL ACTION E-MAILED |
| 2016-04-25 | TEAS RESPONSE TO OFFICE ACTION RECEIVED |
| 2016-04-25 | CORRESPONDENCE RECEIVED IN LAW OFFICE |
| 2016-04-26 | TEAS/EMAIL CORRESPONDENCE ENTERED |
| 2016-05-04 | EXAMINERS AMENDMENT AND/OR PRIORITY ACTION - COMPLETED |
| 2016-05-04 | COMBINED EXAMINER'S AMENDMENT/PRIORITY ACTION AUTOMATIC ENTRY |
| 2016-05-04 | EXAMINER'S AMENDMENT/PRIORITY ACTION E-MAILED |
| 2016-05-04 | NOTIFICATION OF EXAMINER'S AMENDMENT/PRIORITY ACTION E-MAILED |
| 2016-11-02 | TEAS RESPONSE TO OFFICE ACTION RECEIVED |
| 2016-11-02 | CORRESPONDENCE RECEIVED IN LAW OFFICE |
| 2016-11-03 | TEAS/EMAIL CORRESPONDENCE ENTERED |
| 2016-11-04 | APPROVED FOR PUB - PRINCIPAL REGISTER |
| 2016-11-30 | NOTIFICATION OF NOTICE OF PUBLICATION E-MAILED |
| 2016-12-20 | PUBLISHED FOR OPPOSITION |
| 2016-12-20 | OFFICIAL GAZETTE PUBLICATION CONFIRMATION E-MAILED |
| 2017-03-07 | REGISTERED-PRINCIPAL REGISTER |