ATLANTA UNITED FC - Trademark Details
Status: 700 - Registered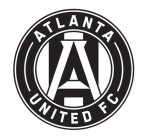 Registration Number
5115376
Word Mark
ATLANTA UNITED FC
Registration Number
5115376
Registration Date
2017-01-03
Mark Drawing
3000 - Illustration: Drawing or design which also includes word(s)/ letter(s)/number(s) Typeset
Design Searches
260117, 260121 - Two concentric circles. Circles that are totally or partially shaded.
Published for Opposition Date
2016-06-21
Law Office Assigned Location Code
M10
Employee Name
WOOD, CAROLINE
Statements
Indication of Colors claimed
Color is not claimed as a feature of the mark.
Disclaimer with Predetermined Text
"ATLANTA" AND "FC"
Description of Mark
The mark consists of the words "ATLANTA UNITED FC" within a circle design with a stylized "A" in the center against a backdrop of stripes.
Goods and Services
Fitted plastic films known as skins for covering and providing a scratch proof barrier or protection for electronic devices, namely, MP3 players, mobile telephones, smart telephones, tablets, laptop, gaming devices, and wireless speakers; computer and video game software and programs; magnets; sunglasses, pre-recorded DVDs in the field of soccer; downloadable image files containing artwork, text, audio, video, games, Internet, weblinks in the field of soccer; downloadable video clips from soccer games via mobile communication devices; computer keyboards; mouse pads; computer memory devices sold empty; USB flash drives
Goods and Services
Posters; decals; trading cards; stickers; bumper stickers; printed paper signs; printed media guides relating to a professional soccer team; souvenir soccer programs; yearbooks in the field of soccer; printed event admission tickets; calendars; paper mats for beer glasses; photo prints; magazines featuring information in the field of soccer; paper hangtags; pencils; notebooks; binders
Goods and Services
T-shirts; fleece tops; jerseys; hats; caps; visors; beanies; shorts; pants, sweat suits; jackets; hooded sweatshirts; scarves, gloves, socks, headbands, wristbands, ponchos, baby bibs not of paper, infant and toddler clothing, namely, one-piece clothing, overalls, socks, and dresses, sleepwear, loungewear, slippers
Goods and Services
Toy figurines; soccer ball bags; soccer balls; plush toys; puzzles; toy foam novelty items, namely, foam heads and fingers; foosball tables and figurines; golf accessories, namely, golf balls, divot repair tools, bag tags, ball markers, tees, gloves; Christmas tree ornaments; building blocks toys; game tables, tailgating games, namely, bag toss game, washer game in the nature of a target game, tumbler towers in the nature of stackable tumbling games, game tables for tailgates
Goods and Services
Entertainment services, namely, soccer exhibitions rendered live in a stadium, and through the media of television and radio and via the Internet; provision of entertainment in the nature of non-downloadable pre-recorded film clips from soccer games, presented via mobile communication devices; provision of information in the field of soccer via the internet and mobile devices
Classification Information
Current Trademark Owners
Party Type
30 - Original Registrant
Legal Entity Type
16 - Limited Liability Company
Trademark Owner History
Party Type
30 - Original Registrant
Legal Entity Type
16 - Limited Liability Company
Party Type
20 - Owner at Publication
Legal Entity Type
16 - Limited Liability Company
Party Type
10 - Original Applicant
Legal Entity Type
16 - Limited Liability Company
Correspondences
Name
Allison Strickland Ricketts
Trademark Events
| | |
| --- | --- |
| Event Date | Event Description |
| 2015-07-10 | NEW APPLICATION ENTERED IN TRAM |
| 2015-07-10 | NEW APPLICATION OFFICE SUPPLIED DATA ENTERED IN TRAM |
| 2015-07-11 | NOTICE OF DESIGN SEARCH CODE E-MAILED |
| 2015-10-01 | ASSIGNED TO EXAMINER |
| 2015-10-05 | NON-FINAL ACTION WRITTEN |
| 2015-10-05 | NON-FINAL ACTION E-MAILED |
| 2015-10-05 | NOTIFICATION OF NON-FINAL ACTION E-MAILED |
| 2016-04-05 | TEAS RESPONSE TO OFFICE ACTION RECEIVED |
| 2016-04-05 | CORRESPONDENCE RECEIVED IN LAW OFFICE |
| 2016-04-05 | TEAS/EMAIL CORRESPONDENCE ENTERED |
| 2016-04-26 | EXAMINERS AMENDMENT -WRITTEN |
| 2016-04-26 | EXAMINERS AMENDMENT E-MAILED |
| 2016-04-26 | NOTIFICATION OF EXAMINERS AMENDMENT E-MAILED |
| 2016-04-26 | EXAMINER'S AMENDMENT ENTERED |
| 2016-04-26 | APPROVED FOR PUB - PRINCIPAL REGISTER |
| 2016-05-10 | WITHDRAWN FROM PUB - OG REVIEW QUERY |
| 2016-05-18 | PREVIOUS ALLOWANCE COUNT WITHDRAWN |
| 2016-05-19 | EXAMINERS AMENDMENT -WRITTEN |
| 2016-05-19 | EXAMINERS AMENDMENT E-MAILED |
| 2016-05-19 | NOTIFICATION OF EXAMINERS AMENDMENT E-MAILED |
| 2016-05-19 | EXAMINER'S AMENDMENT ENTERED |
| 2016-05-19 | APPROVED FOR PUB - PRINCIPAL REGISTER |
| 2016-06-01 | NOTIFICATION OF NOTICE OF PUBLICATION E-MAILED |
| 2016-06-21 | PUBLISHED FOR OPPOSITION |
| 2016-06-21 | OFFICIAL GAZETTE PUBLICATION CONFIRMATION E-MAILED |
| 2016-08-16 | NOA E-MAILED - SOU REQUIRED FROM APPLICANT |
| 2016-10-27 | TEAS STATEMENT OF USE RECEIVED |
| 2016-11-13 | CASE ASSIGNED TO INTENT TO USE PARALEGAL |
| 2016-10-27 | USE AMENDMENT FILED |
| 2016-11-13 | STATEMENT OF USE PROCESSING COMPLETE |
| 2016-11-29 | ALLOWED PRINCIPAL REGISTER - SOU ACCEPTED |
| 2016-11-30 | NOTICE OF ACCEPTANCE OF STATEMENT OF USE E-MAILED |
| 2017-01-03 | REGISTERED-PRINCIPAL REGISTER |
| 2021-01-08 | TEAS CHANGE OF OWNER ADDRESS RECEIVED |
| 2021-01-08 | TEAS REVOKE/APP/CHANGE ADDR OF ATTY/DOM REP RECEIVED |
| 2021-01-08 | ATTORNEY/DOM.REP.REVOKED AND/OR APPOINTED |
| 2021-01-08 | TEAS CHANGE OF CORRESPONDENCE RECEIVED |
| 2021-01-08 | APPLICANT/CORRESPONDENCE CHANGES (NON-RESPONSIVE) ENTERED |
| 2022-01-03 | COURTESY REMINDER - SEC. 8 (6-YR) E-MAILED |