B BELLATORA E·CIGARS - Trademark Details
Status: 780 - Cancellation Terminated - See Ttab Records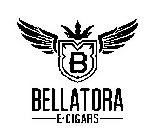 Registration Number
4862553
Word Mark
B BELLATORA E·CIGARS
Status
780 - Cancellation Terminated - See Ttab Records
Registration Number
4862553
Registration Date
2015-12-01
Mark Drawing
3000 - Illustration: Drawing or design which also includes word(s)/ letter(s)/number(s) Typeset
Design Searches
031701, 240103, 241102 - Wings. Shields or crests with letters, punctuation or inscriptions contained therein or superimposed thereon. Crowns open at the top.
Published for Opposition Date
2015-09-15
Law Office Assigned Location Code
L10
Employee Name
MICHELI, ANGELA M
Statements
Indication of Colors claimed
Color is not claimed as a feature of the mark.
Disclaimer with Predetermined Text
"E-CIGARS"
Description of Mark
The mark consists of the literal element "Bellatora E·Cigars", a shield design with two wings, a crown and within which is the letter "B".
Goods and Services
Electronic cigars; Electronic cigarillos; Electronic cigarettes; Electronic cigarette liquid (e-liquid) comprised of flavorings in liquid form used to refill electronic cigarette, cigar, and cigarillo cartridges
Pseudo Mark
B BELLATORA ELECTRONIC·CIGARS
Classification Information
International Class
034
- Tobacco; smokers' articles; matches. - Tobacco; smokers' articles; matches.
US Class Codes
002, 008, 009, 017
Class Status Code
6 - Active
Class Status Date
2015-04-10
First Use Anywhere Date
2015-02-09
First Use In Commerce Date
2015-02-09
Current Trademark Owners
Party Type
30 - Original Registrant
Legal Entity Type
16 - Limited Liability Company
Trademark Owner History
Party Type
30 - Original Registrant
Legal Entity Type
16 - Limited Liability Company
Party Type
20 - Owner at Publication
Legal Entity Type
16 - Limited Liability Company
Party Type
10 - Original Applicant
Legal Entity Type
16 - Limited Liability Company
Trademark Events
| | |
| --- | --- |
| Event Date | Event Description |
| 2015-04-10 | NEW APPLICATION OFFICE SUPPLIED DATA ENTERED IN TRAM |
| 2015-04-11 | NOTICE OF DESIGN SEARCH CODE E-MAILED |
| 2015-07-07 | ASSIGNED TO EXAMINER |
| 2015-07-09 | EXAMINERS AMENDMENT -WRITTEN |
| 2015-07-09 | EXAMINERS AMENDMENT E-MAILED |
| 2015-07-09 | NOTIFICATION OF EXAMINERS AMENDMENT E-MAILED |
| 2015-07-09 | EXAMINER'S AMENDMENT ENTERED |
| 2015-07-29 | APPROVED FOR PUB - PRINCIPAL REGISTER |
| 2015-08-12 | ASSIGNED TO LIE |
| 2015-08-12 | LAW OFFICE PUBLICATION REVIEW COMPLETED |
| 2015-08-26 | NOTIFICATION OF NOTICE OF PUBLICATION E-MAILED |
| 2015-09-15 | PUBLISHED FOR OPPOSITION |
| 2015-09-15 | OFFICIAL GAZETTE PUBLICATION CONFIRMATION E-MAILED |
| 2015-12-01 | REGISTERED-PRINCIPAL REGISTER |
| 2020-01-17 | CANCELLATION INSTITUTED NO. 999999 |
| 2020-12-01 | COURTESY REMINDER - SEC. 8 (6-YR) E-MAILED |
| 2021-04-03 | CANCELLATION DENIED NO. 999999 |
| 2021-04-03 | CANCELLATION TERMINATED NO. 999999 |
| 2021-04-03 | TTAB RELEASE CASE TO TRADEMARKS |