M - Trademark Details
Status: 602 - Abandoned-Failure To Respond Or Late Response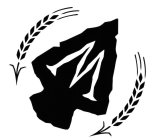 Status
602 - Abandoned-Failure To Respond Or Late Response
Mark Drawing
3000 - Illustration: Drawing or design which also includes word(s)/ letter(s)/number(s) Typeset
Design Searches
050702, 241504 - Clusters and sheaves of other grains, including stalks of grains. Arrowheads.
Law Office Assigned Location Code
L40
Employee Name
MARTIN, CHRISTINE C
Statements
Description of Mark
The mark consists of an illustration of a stylized, antique arrowhead, solid in color, with rough, jagged edges, and featuring a knock-out (absence of color) of a rough, capital letter "M" with the edges of the letter being parallel to the edges of the arrowhead; and two symmetrical, stylized shafts of grain framing the arrowhead with the base of each shaft positioned on either side of the arrowhead's base, then the shafts curve away from the sides of the arrowhead and back in again towards the tip of the arrowhead. The arrowhead is at the center of the mark, and both the arrowhead and the grain are angled clockwise so that the tip of the arrowhead is pointing towards the upper right while the base is positioned towards the lower left.
Goods and Services
Hooded sweat shirts; Shirts; Short-sleeved or long-sleeved t-shirts; Sports caps and hats; Sweat shirts; T-shirts; Tank-tops
Classification Information
International Class
025
- Clothing, footwear, headgear. - Clothing, footwear, headgear.
Class Status Code
6 - Active
Class Status Date
2015-03-19
First Use Anywhere Date
2014-03-12
First Use In Commerce Date
2014-03-12
Correspondences
Address
Please log in with your Justia account to see this address.
Trademark Events
| | |
| --- | --- |
| Event Date | Event Description |
| 2015-03-10 | NEW APPLICATION ENTERED IN TRAM |
| 2015-03-19 | NEW APPLICATION OFFICE SUPPLIED DATA ENTERED IN TRAM |
| 2015-03-20 | NOTICE OF DESIGN SEARCH CODE AND PSEUDO MARK E-MAILED |
| 2015-06-11 | ASSIGNED TO EXAMINER |
| 2015-06-12 | NON-FINAL ACTION WRITTEN |
| 2015-06-12 | NON-FINAL ACTION E-MAILED |
| 2015-06-12 | NOTIFICATION OF NON-FINAL ACTION E-MAILED |
| 2016-01-08 | ABANDONMENT - FAILURE TO RESPOND OR LATE RESPONSE |
| 2016-01-08 | ABANDONMENT NOTICE MAILED - FAILURE TO RESPOND |