FORD - Trademark Details
Status: 700 - Registered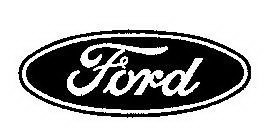 Registration Number
5119949
Registration Number
5119949
Registration Date
2017-01-10
Mark Drawing
3000 - Illustration: Drawing or design which also includes word(s)/ letter(s)/number(s) Typeset
Design Searches
260317, 260321 - Concentric ovals and ovals within ovals. Ovals that are completely or partially shaded.
Published for Opposition Date
2015-08-04
Law Office Assigned Location Code
N10
Employee Name
PRATER, JILL I
Statements
Indication of Colors claimed
Color is not claimed as a feature of the mark.
Description of Mark
The mark consists of the word "FORD" surrounded by a filled in oval, surrounded by two thin contrasting ovals.
Goods and Services
Metal tool boxes; tool chests of metal sold empty
Goods and Services
Power tools and accessories therefor, namely, drills, hammers, grinders, polishers, electric body saws, jig saws, reciprocating saws, screwdrivers, impact wrenches, electric routers, rotary sanders, palm sanders, delta sanders, orbital sanders, hot air guns, multi-function power tools comprised of sanders, multiple blades and cut saws; circular saws, finishing sanders, mouse sanders, triangular sanders, belt sanders, electric shears, concrete mixers, marble cutters, planers, vises, clamps, powered-operated staple guns, shop wet and dry vacuums, electric vacuums, vacuum cleaners for industrial purposes, hydraulic bottle jacks, hydraulic trolley jacks, professional hydraulic garage jacks, jack stands for hydraulic jacks, power floor jacks
Goods and Services
Hand tools, namely, ratchet wrenches, screwdrivers, combination ratchet/screwdriver, socket wrenches, hex keys, leather hole punch tools, grommet setting tools, wrenches, screwdriver accessories, namely, bits, sockets, extensions, adapters, bit holders; socket accessories, namely, bits, sockets, extensions, adapters, bit holders; ratcheting t-driver accessories, namely, bits, sockets, extensions, adapters, bit holders; combination ratchet/screwdriver accessories, namely, bits, sockets, extensions, adapters, bit holders; hand-powered staple guns, knives, multi-function hand tools comprised of cutters, pliers, saws, screwdrivers, knife blade, can opener, bottle opener; spanners, hand-operated tire levers, drainer wrenches, oil filter wrenches; pliers, namely, bent nose, long nose, snap ring, groove joint, slip joint, and universal pliers; cutters, wire strippers, pincers, tin snips, bolt cutters, hammers, augers, chisels, awls, vises, clamps, stands for hand jacks
Goods and Services
Measuring tapes
Goods and Services
Metal tool cabinets; non-metal tool boxes; tool chests not of metal
Classification Information
Current Trademark Owners
Party Type
30 - Original Registrant
Legal Entity Type
03 - Corporation
Trademark Owner History
Party Type
30 - Original Registrant
Legal Entity Type
03 - Corporation
Party Type
20 - Owner at Publication
Legal Entity Type
03 - Corporation
Party Type
10 - Original Applicant
Legal Entity Type
03 - Corporation
Trademark Events
| | |
| --- | --- |
| Event Date | Event Description |
| 2014-11-10 | NEW APPLICATION ENTERED IN TRAM |
| 2014-11-15 | NEW APPLICATION OFFICE SUPPLIED DATA ENTERED IN TRAM |
| 2014-11-18 | NOTICE OF DESIGN SEARCH CODE E-MAILED |
| 2014-11-24 | ASSIGNED TO EXAMINER |
| 2014-12-03 | PRIORITY ACTION WRITTEN |
| 2014-12-03 | PRIORITY ACTION E-MAILED |
| 2014-12-03 | NOTIFICATION OF PRIORITY ACTION E-MAILED |
| 2015-06-03 | TEAS RESPONSE TO OFFICE ACTION RECEIVED |
| 2015-06-03 | CORRESPONDENCE RECEIVED IN LAW OFFICE |
| 2015-06-03 | TEAS/EMAIL CORRESPONDENCE ENTERED |
| 2015-06-04 | APPROVED FOR PUB - PRINCIPAL REGISTER |
| 2015-06-22 | ASSIGNED TO LIE |
| 2015-06-26 | LAW OFFICE PUBLICATION REVIEW COMPLETED |
| 2015-07-15 | NOTIFICATION OF NOTICE OF PUBLICATION E-MAILED |
| 2015-08-04 | PUBLISHED FOR OPPOSITION |
| 2015-08-04 | OFFICIAL GAZETTE PUBLICATION CONFIRMATION E-MAILED |
| 2015-09-29 | NOA E-MAILED - SOU REQUIRED FROM APPLICANT |
| 2016-03-29 | TEAS EXTENSION RECEIVED |
| 2016-03-29 | EXTENSION 1 FILED |
| 2016-03-29 | EXTENSION 1 GRANTED |
| 2016-03-31 | NOTICE OF APPROVAL OF EXTENSION REQUEST E-MAILED |
| 2016-09-29 | TEAS STATEMENT OF USE RECEIVED |
| 2016-09-29 | TEAS EXTENSION RECEIVED |
| 2016-10-22 | CASE ASSIGNED TO INTENT TO USE PARALEGAL |
| 2016-09-29 | USE AMENDMENT FILED |
| 2016-09-29 | EXTENSION 2 FILED |
| 2016-10-27 | EXTENSION 2 GRANTED |
| 2016-10-27 | STATEMENT OF USE PROCESSING COMPLETE |
| 2016-10-28 | NOTICE OF APPROVAL OF EXTENSION REQUEST E-MAILED |
| 2016-12-04 | ALLOWED PRINCIPAL REGISTER - SOU ACCEPTED |
| 2016-12-06 | NOTICE OF ACCEPTANCE OF STATEMENT OF USE E-MAILED |
| 2017-01-10 | REGISTERED-PRINCIPAL REGISTER |
| 2018-05-21 | TEAS REVOKE/APP/CHANGE ADDR OF ATTY/DOM REP RECEIVED |
| 2018-05-21 | ATTORNEY/DOM.REP.REVOKED AND/OR APPOINTED |
| 2019-01-22 | TEAS REVOKE/APP/CHANGE ADDR OF ATTY/DOM REP RECEIVED |
| 2019-01-22 | ATTORNEY/DOM.REP.REVOKED AND/OR APPOINTED |
| 2022-01-10 | COURTESY REMINDER - SEC. 8 (6-YR) E-MAILED |