PARADISE AL FAKHER SPECIAL EDITION - Trademark Details
Status: 602 - Abandoned-Failure To Respond Or Late Response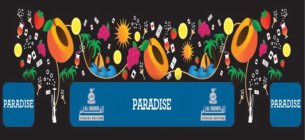 Word Mark
PARADISE AL FAKHER SPECIAL EDITION
Status
602 - Abandoned-Failure To Respond Or Late Response
Mark Drawing
3000 - Illustration: Drawing or design which also includes word(s)/ letter(s)/number(s) Typeset
Design Searches
010504, 011511, 050103, 050104, 050110, 050308, 050901, 050902, 050904, 050913, 050925, 060303, 1001 - Suns with rays. Bubbles, foamy masses. Palm trees. Climbing bushes and plants, including ivy and vines. More than one tree or bush; thicket; group of trees. More than one leaf, including scattered leaves, bunches of leaves not attached to branches. Berries. Grapes (alone or in bunches). Lemons, limes. Slices or quarters of fruits, open fruits. Other fruits including coconuts. Open sea, stretches of water without shore, multiple waves. Water pipes (hookahs). Glasses with stems. Other parts of land vehicles, water vehicles or air vehicles, including license plates. Playing cards, packs of cards; Tarot and other fortune telling cards. Rectangles inside another rectangle. Rectangles that are completely or partially shaded.
Law Office Assigned Location Code
L60
Employee Name
SINGH, TEJBIR
Statements
Indication of Colors claimed
The color(s) Black, dark blue, blue, orange, reddish orange, magenta, red, yellow, green, gray, brown, white is/are claimed as a feature of the mark.
Disclaimer with Predetermined Text
"SPECIAL EDITION"
Description of Mark
The mark consists of a rectangular device with a black background. The bottom portion of the design consists of three rectangular label like designs which appear in the color dark blue and contain the word PARADISE in white in each rectangular design. The center dark blue label design also contains the words AL FAKHER in gray along with the Arabic equivalent and the words SPECIAL EDITION in black (this appears twice). Above the dark blue labels are three half peach designs which appear in the colors orange, redish orange with brown centers and stems with a green leaf at the upper portion. Also appearing in the overall design are lemons which are yellow, strawberries which are red with green leaves at the upper end. There are grapes shaded for the color magenta with green leaves at the upper portion. Palm trees which are green and brown. There are suns appearing in orange and reddish orange. There are glasses appearing in white with red or yellow liquids therin all with circular white bubbles emanating therefrom. There are playing cards with red or black indicia as well as black and white dominoes. Appearing just above the dark blue label designs are sails colored orange and six wave like designs colored blue. Located toward the bottom of the designs are two white hookahs which have circular white bubbles emanating therefrom. Connecting the two hookahs is a vine like strand in the color brown.
Goods and Services
Molasses tobacco, flavored tobacco, hookah parts, namely, hookah foil, hoses, bowls, and accessories, namely, hookah stems, hookah hose tips, and hookah tongs; hookahs; smokers' articles, namely, hookah charcoal, electronic cigarettes
Transliteration Statement
The non-Latin characters in the mark transliterate to al fakher and this means luxury in English.
Classification Information
International Class
034
- Tobacco; smokers' articles; matches. - Tobacco; smokers' articles; matches.
US Class Codes
002, 008, 009, 017
Class Status Code
6 - Active
Class Status Date
2014-10-31
First Use Anywhere Date
2014-09-01
First Use In Commerce Date
2014-09-01
Correspondences
Address
Please log in with your Justia account to see this address.
Trademark Events
| | |
| --- | --- |
| Event Date | Event Description |
| 2014-10-27 | NEW APPLICATION ENTERED IN TRAM |
| 2014-10-31 | NEW APPLICATION OFFICE SUPPLIED DATA ENTERED IN TRAM |
| 2014-11-01 | NOTICE OF DESIGN SEARCH CODE E-MAILED |
| 2015-02-10 | ASSIGNED TO EXAMINER |
| 2015-02-18 | NON-FINAL ACTION WRITTEN |
| 2015-02-18 | NON-FINAL ACTION E-MAILED |
| 2015-02-18 | NOTIFICATION OF NON-FINAL ACTION E-MAILED |
| 2015-10-01 | ABANDONMENT - FAILURE TO RESPOND OR LATE RESPONSE |
| 2015-10-01 | ABANDONMENT NOTICE MAILED - FAILURE TO RESPOND |