CUTBSP SPORT SUPPLIES CUTBSP CUTBSP - Trademark Details
Status: 604 - Abandoned - After Inter-Partes Decision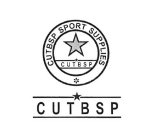 Word Mark
CUTBSP SPORT SUPPLIES CUTBSP CUTBSP
Status
604 - Abandoned - After Inter-Partes Decision
Mark Drawing
3000 - Illustration: Drawing or design which also includes word(s)/ letter(s)/number(s) Typeset
Design Searches
010110, 010113, 260117, 261701, 261705 - Three or more stars. More than one star with five points. Two concentric circles. Straight line(s), band(s) or bar(s). Horizontal line(s), band(s) or bar(s).
Published for Opposition Date
2015-07-28
Law Office Assigned Location Code
M20
Employee Name
EULIN, INGRID C
Statements
Indication of Colors claimed
Color is not claimed as a feature of the mark.
Disclaimer with Predetermined Text
"SPORT SUPPLIES"
Description of Mark
The mark consists of design of an annulus with the wording "CUTBSP SPORT SUPPLIES" across the top. In the center is a star and banner contain the wording "CUTBSP" below a smaller star. On the bottom of the annulus is a 6-petal flower design. Below the annulus is an open banner with the word "CUTBSP" below a shaded star centered on the top border of the banner.
Goods and Services
Canvas shoes; Girdles; Gloves as clothing; Half-boots; Hats; Hosiery; Slippers; Sports jerseys; Sports shoes; Trousers
Classification Information
International Class
025
- Clothing, footwear, headgear. - Clothing, footwear, headgear.
Class Status Code
8 - Abandoned
Class Status Date
2016-09-01
First Use Anywhere Date
2013-03-14
First Use In Commerce Date
2013-03-14
Correspondences
Address
Please log in with your Justia account to see this address.
Trademark Events
| | |
| --- | --- |
| Event Date | Event Description |
| 2014-09-01 | NEW APPLICATION ENTERED IN TRAM |
| 2014-09-11 | NEW APPLICATION OFFICE SUPPLIED DATA ENTERED IN TRAM |
| 2014-09-12 | NOTICE OF DESIGN SEARCH CODE E-MAILED |
| 2014-12-11 | ASSIGNED TO EXAMINER |
| 2014-12-12 | NON-FINAL ACTION WRITTEN |
| 2014-12-12 | NON-FINAL ACTION E-MAILED |
| 2014-12-12 | NOTIFICATION OF NON-FINAL ACTION E-MAILED |
| 2015-06-08 | TEAS RESPONSE TO OFFICE ACTION RECEIVED |
| 2015-06-16 | ASSIGNED TO LIE |
| 2015-06-23 | CORRESPONDENCE RECEIVED IN LAW OFFICE |
| 2015-06-23 | TEAS/EMAIL CORRESPONDENCE ENTERED |
| 2015-06-25 | APPROVED FOR PUB - PRINCIPAL REGISTER |
| 2015-06-25 | LAW OFFICE PUBLICATION REVIEW COMPLETED |
| 2015-07-08 | NOTIFICATION OF NOTICE OF PUBLICATION E-MAILED |
| 2015-07-28 | PUBLISHED FOR OPPOSITION |
| 2015-07-28 | OFFICIAL GAZETTE PUBLICATION CONFIRMATION E-MAILED |
| 2015-08-26 | EXTENSION OF TIME TO OPPOSE RECEIVED |
| 2015-09-17 | OPPOSITION INSTITUTED NO. 999999 |
| 2016-01-06 | OPPOSITION SUSTAINED NO. 999999 |
| 2016-01-06 | OPPOSITION TERMINATED NO. 999999 |
| 2016-01-06 | TTAB RELEASE CASE TO TRADEMARKS |
| 2016-02-16 | REGISTERED-PRINCIPAL REGISTER |
| 2016-04-08 | REQUEST TO CANCEL INADVERTENTLY ISSUED REGISTRATION RECEIVED |
| 2016-04-12 | ASSIGNED TO PETITION STAFF |
| 2016-05-02 | REG. CANCELLED - RESTORED TO PENDENCY |
| 2016-01-06 | ABANDONMENT - AFTER INTER PARTES DECISION |
| 2016-09-01 | ABANDONMENT NOTICE MAILED - INTER PARTES DECISION |