2FIT YOUR FITNESS PARTNER - Trademark Details
Status: 604 - Abandoned - After Inter-Partes Decision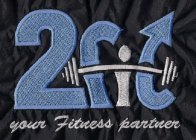 Word Mark
2FIT YOUR FITNESS PARTNER
Status
604 - Abandoned - After Inter-Partes Decision
Mark Drawing
3000 - Illustration: Drawing or design which also includes word(s)/ letter(s)/number(s) Typeset
Design Searches
210307, 260131, 270305 - Weights for lifting, exercise machines. Five or more circles. Representations of objects forming letters or numerals, including punctuation.
Published for Opposition Date
2015-01-06
Law Office Assigned Location Code
L80
Employee Name
BHANOT, KAPIL KUMAR
Statements
Indication of Colors claimed
The color(s) black, blue, and white is/are claimed as a feature of the mark.
Disclaimer with Predetermined Text
"FITNESS"
Description of Mark
The mark consists of number "2" and word "fit" in blue on a black background. In the word "fit" the body of the letter "i" is made by concave lens and circle and the barbell passes through the middle to become part of the letters "f "and "t" and is in white. Below the design this mark has the wording "Your Fitness Partner" in white.
Goods and Services
Goods related to gym, exercise, yoga, martial arts, sports, and fitness, namely, shirts, pants, jackets, warm up suits, weight loss suits, shorts, socks, clothing wraps; and belts
Pseudo Mark
TWO FIT YOUR FITNESS PARTNER; TO FIT YOUR FITNESS PARTNER
Classification Information
International Class
025
- Clothing, footwear, headgear. - Clothing, footwear, headgear.
Class Status Code
8 - Abandoned
Class Status Date
2015-08-15
Correspondences
Address
Please log in with your Justia account to see this address.
Trademark Events
| | |
| --- | --- |
| Event Date | Event Description |
| 2014-07-25 | NEW APPLICATION ENTERED IN TRAM |
| 2014-07-28 | NEW APPLICATION OFFICE SUPPLIED DATA ENTERED IN TRAM |
| 2014-07-29 | NOTICE OF DESIGN SEARCH CODE AND PSEUDO MARK E-MAILED |
| 2014-11-04 | ASSIGNED TO EXAMINER |
| 2014-11-06 | EXAMINERS AMENDMENT -WRITTEN |
| 2014-11-06 | EXAMINERS AMENDMENT E-MAILED |
| 2014-11-06 | NOTIFICATION OF EXAMINERS AMENDMENT E-MAILED |
| 2014-11-06 | EXAMINER'S AMENDMENT ENTERED |
| 2014-11-06 | APPROVED FOR PUB - PRINCIPAL REGISTER |
| 2014-11-25 | ASSIGNED TO LIE |
| 2014-12-03 | LAW OFFICE PUBLICATION REVIEW COMPLETED |
| 2014-12-17 | NOTIFICATION OF NOTICE OF PUBLICATION E-MAILED |
| 2015-01-06 | PUBLISHED FOR OPPOSITION |
| 2015-01-06 | OFFICIAL GAZETTE PUBLICATION CONFIRMATION E-MAILED |
| 2015-01-15 | EXTENSION OF TIME TO OPPOSE RECEIVED |
| 2015-05-05 | OPPOSITION INSTITUTED NO. 999999 |
| 2015-08-15 | OPPOSITION SUSTAINED NO. 999999 |
| 2015-08-15 | OPPOSITION TERMINATED NO. 999999 |
| 2015-08-15 | ABANDONMENT - AFTER INTER PARTES DECISION |
| 2015-08-17 | ABANDONMENT NOTICE MAILED - INTER PARTES DECISION |