PRHYME - Trademark Details
Status: 602 - Abandoned-Failure To Respond Or Late Response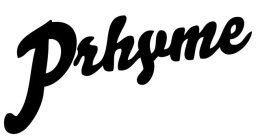 Status
602 - Abandoned-Failure To Respond Or Late Response
Mark Drawing
5000 - Illustration: Drawing with word(s)/letter(s)/number(s) in Stylized form Typeset
Law Office Assigned Location Code
L20
Employee Name
REAMS, CHRISTOPHER THO
Statements
Indication of Colors claimed
Color is not claimed as a feature of the mark.
Disclaimer with Predetermined Text
"PRIME"
Description of Mark
The mark consists of stylized letter P, stylized letter R, stylized letter H, stylized letter Y, stylized letter M, stylized letter E.
Goods and Services
Ankle socks; Athletic shirts; Athletic shorts; Athletic tops and bottoms for MEN, WOMEN, CHILDREN; Baseball caps and hats; Beanies; Business wear, namely, suits, jackets, trousers, blazers, blouses, shirts, skirts, dresses and footwear; Button down shirts; Camouflage shirts; Collared shirts; Dress shirts; Fashion hats; Graphic T-shirts; Gym shorts; Hats; Hats for infants, babies, toddlers and children; Headgear, namely, MEN, WOMEN, CHILDREN; Hooded sweat shirts; Hooded sweatshirts; Hooded sweatshirts for MEN, WOMEN, CHILDREN; Jackets and socks; Knit shirts; Knit tops; Long-sleeved shirts; Men's socks; Muscle tops; Panties, shorts and briefs; Polo knit tops; Polo shirts; Shirts; Shirts and short-sleeved shirts; Socks; Sport shirts; Sports shirts; Sweat shirts; Sweat shorts; Sweatshirts; Sweatshirts for MEN, WOMEN, CHILDREN; T-shirts; Tank tops; Tank-tops; Tee shirts; Thermal socks; Trouser socks; Tube tops; Turtle neck shirts
Classification Information
International Class
025
- Clothing, footwear, headgear. - Clothing, footwear, headgear.
Class Status Code
6 - Active
Class Status Date
2014-07-10
Correspondences
Address
Please log in with your Justia account to see this address.
Trademark Events
| | |
| --- | --- |
| Event Date | Event Description |
| 2014-07-08 | NEW APPLICATION ENTERED IN TRAM |
| 2014-07-10 | NEW APPLICATION OFFICE SUPPLIED DATA ENTERED IN TRAM |
| 2014-08-04 | TEAS VOLUNTARY AMENDMENT RECEIVED |
| 2014-08-04 | TEAS AMENDMENT ENTERED BEFORE ATTORNEY ASSIGNED |
| 2014-10-03 | TEAS VOLUNTARY AMENDMENT RECEIVED |
| 2014-10-06 | ASSIGNED TO LIE |
| 2014-10-15 | ASSIGNED TO EXAMINER |
| 2014-10-15 | CORRESPONDENCE RECEIVED IN LAW OFFICE |
| 2014-10-15 | TEAS/EMAIL CORRESPONDENCE ENTERED |
| 2014-10-17 | NON-FINAL ACTION WRITTEN |
| 2014-10-17 | NON-FINAL ACTION E-MAILED |
| 2014-10-17 | NOTIFICATION OF NON-FINAL ACTION E-MAILED |
| 2015-05-15 | ABANDONMENT - FAILURE TO RESPOND OR LATE RESPONSE |
| 2015-05-18 | ABANDONMENT NOTICE MAILED - FAILURE TO RESPOND |