MIAMI SURGE - Trademark Details
Status: 606 - Abandoned - No Statement Of Use Filed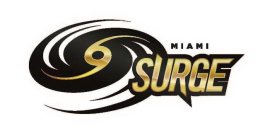 Status
606 - Abandoned - No Statement Of Use Filed
Mark Drawing
3000 - Illustration: Drawing or design which also includes word(s)/ letter(s)/number(s) Typeset
Design Searches
260126 - Spirals, coils and swirls.
Published for Opposition Date
2015-08-18
Law Office Assigned Location Code
L70
Employee Name
LEE, YAT SYE I
Statements
Indication of Colors claimed
The color(s) black and gold is/are claimed as a feature of the mark.
Disclaimer with Predetermined Text
"MIAMI"
Description of Mark
The mark consists of the wording "MIAMI SURGE" with the word "MIAMI" in black and the word "SURGE" in gold and outlined in black, with swirls in gold and black to the left of the words.
Goods and Services
Stickers, trading cards, pens, bumper stickers, posters, decorative decals for vehicle windows, temporary tattoo transfers, wall clings in the nature of vinyl static cling decals on which logos are printed for affixation to walls
Goods and Services
Gym bags, athletic bags, tote bags, backpacks
Goods and Services
Mugs, drinking cups, glass beverageware, cozies, namely, thermal insulated wraps for bottles to keep contents cold, all purpose portable household containers, plastic or leather coasters, shot glasses, bottles with internal agitators for mixing ingredients and shaker cups, travel coffee mugs, thermal insulated beverage containers
Goods and Services
Cloth flags for cars, cloth flags for houses, towels
Goods and Services
Clothing, namely, t-shirts, sweatshirts, athletic shorts, jerseys, jackets, caps, wrist and head bands, compression pants for athletic or other non-medical use, socks, sweat pants, track pants, yoga pants
Goods and Services
Inflatable noise makers; playing cards
Goods and Services
Entertainment services, namely, human performance and pro fitness competitions and exhibitions rendered live, through broadcast media including television, radio, and the Internet; providing information in the fields of sports, entertainment and sports competition related topics
Classification Information
Correspondences
Address
Please log in with your Justia account to see this address.
Trademark Events
| | |
| --- | --- |
| Event Date | Event Description |
| 2014-06-12 | NEW APPLICATION ENTERED IN TRAM |
| 2014-06-19 | NEW APPLICATION OFFICE SUPPLIED DATA ENTERED IN TRAM |
| 2014-06-20 | NOTICE OF DESIGN SEARCH CODE E-MAILED |
| 2014-08-13 | AUTOMATIC UPDATE OF ASSIGNMENT OF OWNERSHIP |
| 2014-09-18 | ASSIGNED TO EXAMINER |
| 2014-09-21 | NON-FINAL ACTION WRITTEN |
| 2014-09-21 | NON-FINAL ACTION E-MAILED |
| 2014-09-21 | NOTIFICATION OF NON-FINAL ACTION E-MAILED |
| 2015-02-23 | TEAS REVOKE/APP/CHANGE ADDR OF ATTY/DOM REP RECEIVED |
| 2015-02-23 | ATTORNEY/DOM.REP.REVOKED AND/OR APPOINTED |
| 2015-02-27 | TEAS CHANGE OF OWNER ADDRESS RECEIVED |
| 2015-02-27 | APPLICANT/CORRESPONDENCE CHANGES (NON-RESPONSIVE) ENTERED |
| 2015-03-18 | TEAS RESPONSE TO OFFICE ACTION RECEIVED |
| 2015-03-18 | CORRESPONDENCE RECEIVED IN LAW OFFICE |
| 2015-03-19 | TEAS/EMAIL CORRESPONDENCE ENTERED |
| 2015-04-10 | SUSPENSION LETTER WRITTEN |
| 2015-04-10 | LETTER OF SUSPENSION E-MAILED |
| 2015-04-10 | NOTIFICATION OF LETTER OF SUSPENSION E-MAILED |
| 2015-04-21 | TEAS RESPONSE TO SUSPENSION INQUIRY RECEIVED |
| 2015-04-21 | CORRESPONDENCE RECEIVED IN LAW OFFICE |
| 2015-04-22 | TEAS/EMAIL CORRESPONDENCE ENTERED |
| 2015-04-23 | APPROVED FOR PUB - PRINCIPAL REGISTER |
| 2015-05-16 | ASSIGNED TO LIE |
| 2015-05-16 | LAW OFFICE PUBLICATION REVIEW COMPLETED |
| 2015-06-02 | WITHDRAWN FROM PUB - OG REVIEW QUERY |
| 2015-07-29 | NOTIFICATION OF NOTICE OF PUBLICATION E-MAILED |
| 2015-08-18 | PUBLISHED FOR OPPOSITION |
| 2015-08-18 | OFFICIAL GAZETTE PUBLICATION CONFIRMATION E-MAILED |
| 2015-08-31 | EXTENSION OF TIME TO OPPOSE RECEIVED |
| 2015-11-11 | ASSIGNMENT OF OWNERSHIP NOT UPDATED AUTOMATICALLY |
| 2016-01-01 | EXTENSION OF TIME TO OPPOSE PROCESS - TERMINATED |
| 2016-02-16 | NOA E-MAILED - SOU REQUIRED FROM APPLICANT |
| 2016-09-19 | ABANDONMENT - NO USE STATEMENT FILED |
| 2016-09-19 | ABANDONMENT NOTICE MAILED - NO USE STATEMENT FILED |