NEW YORK CITY FOOTBALL CLUB NYC - Trademark Details
Status: 700 - Registered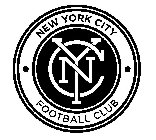 Registration Number
4956398
Word Mark
NEW YORK CITY FOOTBALL CLUB NYC
Registration Number
4956398
Registration Date
2016-05-10
Mark Drawing
3000 - Illustration: Drawing or design which also includes word(s)/ letter(s)/number(s) Typeset
Design Searches
260118, 260121, 261513, 261521 - Three or more concentric circles. Circles that are totally or partially shaded. More than one polygon. Polygons that are completely or partially shaded.
Published for Opposition Date
2015-12-22
Law Office Assigned Location Code
L30
Employee Name
HAYES, GINA CLARK
Statements
Indication of Colors claimed
Color is not claimed as a feature of the mark.
Disclaimer with Predetermined Text
"FOOTBALL CLUB"
Description of Mark
The mark consists of the words "NEW YORK CITY FOOTBALL CLUB" with "NYC" in stylized form with two pentagons on each side encompassed within a double circle design.
Goods and Services
Fitted plastic films known as skins for covering and providing a scratch proof barrier or protection for electronic devices, namely, MP3 players, mobile telephones, smart telephones, computer and video game software and programs; magnets; downloadable video clips from soccer games via mobile communication devices
Goods and Services
posters; decals; trading cards; stickers; bumper stickers; printed paper signs; printed media guides relating to a professional soccer team; souvenir soccer programs; yearbooks in the field of soccer; printed event admission tickets; photo prints; magazines featuring information in the field of soccer
Goods and Services
t-shirts; fleece tops; jerseys; hats; caps; visors; beanies; shorts; sweat suits; jackets; hooded sweatshirts; scarves, socks, headbands, wristbands, baby bibs not of paper, infant and toddler one piece clothing
Goods and Services
toy figurines; soccer ball bags; soccer balls; plush toy animals; puzzles ; toy foam novelty items, namely, foam heads and foam fingers; foosball tables; golf accessories, namely, golf balls, golf bags, carriers and dispensers for golf balls, divot repair tools, bag tags, ball marks, tees, gloves
Goods and Services
Entertainment services, namely, soccer exhibitions rendered live in a stadium, and through the media of television and radio and via the Internet; provision of entertainment in the nature of non-downloadable pre-recorded film clips from soccer games, presented via mobile communication devices; provision of information in the field of soccer via the Internet and mobile devices
Section 2(f) Limitation Statement
As to "NEW YORK CITY FOOTBALL CLUB" and "NYC"
Classification Information
Current Trademark Owners
Party Type
30 - Original Registrant
Legal Entity Type
16 - Limited Liability Company
Trademark Owner History
Party Type
30 - Original Registrant
Legal Entity Type
16 - Limited Liability Company
Party Type
20 - Owner at Publication
Legal Entity Type
16 - Limited Liability Company
Party Type
10 - Original Applicant
Legal Entity Type
16 - Limited Liability Company
Correspondences
Name
Allison Strickland Ricketts
Trademark Events
| | |
| --- | --- |
| Event Date | Event Description |
| 2014-03-13 | NEW APPLICATION ENTERED IN TRAM |
| 2014-03-21 | NEW APPLICATION OFFICE SUPPLIED DATA ENTERED IN TRAM |
| 2014-03-22 | NOTICE OF DESIGN SEARCH CODE E-MAILED |
| 2014-04-21 | ASSIGNED TO EXAMINER |
| 2014-05-01 | NON-FINAL ACTION WRITTEN |
| 2014-05-01 | NON-FINAL ACTION E-MAILED |
| 2014-05-01 | NOTIFICATION OF NON-FINAL ACTION E-MAILED |
| 2014-11-03 | TEAS RESPONSE TO OFFICE ACTION RECEIVED |
| 2014-11-03 | CORRESPONDENCE RECEIVED IN LAW OFFICE |
| 2014-11-04 | TEAS/EMAIL CORRESPONDENCE ENTERED |
| 2014-11-05 | NON-FINAL ACTION WRITTEN |
| 2014-11-05 | NON-FINAL ACTION E-MAILED |
| 2014-11-05 | NOTIFICATION OF NON-FINAL ACTION E-MAILED |
| 2015-05-01 | TEAS RESPONSE TO OFFICE ACTION RECEIVED |
| 2015-05-01 | CORRESPONDENCE RECEIVED IN LAW OFFICE |
| 2015-05-02 | TEAS/EMAIL CORRESPONDENCE ENTERED |
| 2015-05-27 | FINAL REFUSAL WRITTEN |
| 2015-05-27 | FINAL REFUSAL E-MAILED |
| 2015-05-27 | NOTIFICATION OF FINAL REFUSAL EMAILED |
| 2015-09-29 | EXAMINERS AMENDMENT -WRITTEN |
| 2015-09-29 | EXAMINERS AMENDMENT E-MAILED |
| 2015-09-29 | NOTIFICATION OF EXAMINERS AMENDMENT E-MAILED |
| 2015-09-29 | EXAMINER'S AMENDMENT ENTERED |
| 2015-09-29 | APPROVED FOR PUB - PRINCIPAL REGISTER |
| 2015-11-06 | ASSIGNED TO LIE |
| 2015-11-13 | LAW OFFICE PUBLICATION REVIEW COMPLETED |
| 2015-12-02 | NOTIFICATION OF NOTICE OF PUBLICATION E-MAILED |
| 2015-12-22 | PUBLISHED FOR OPPOSITION |
| 2015-12-22 | OFFICIAL GAZETTE PUBLICATION CONFIRMATION E-MAILED |
| 2016-02-16 | NOA E-MAILED - SOU REQUIRED FROM APPLICANT |
| 2016-02-24 | TEAS STATEMENT OF USE RECEIVED |
| 2016-03-30 | CASE ASSIGNED TO INTENT TO USE PARALEGAL |
| 2016-02-24 | USE AMENDMENT FILED |
| 2016-03-31 | STATEMENT OF USE PROCESSING COMPLETE |
| 2016-04-01 | ALLOWED PRINCIPAL REGISTER - SOU ACCEPTED |
| 2016-04-02 | NOTICE OF ACCEPTANCE OF STATEMENT OF USE E-MAILED |
| 2016-05-10 | REGISTERED-PRINCIPAL REGISTER |
| 2021-01-08 | TEAS CHANGE OF OWNER ADDRESS RECEIVED |
| 2021-01-08 | TEAS REVOKE/APP/CHANGE ADDR OF ATTY/DOM REP RECEIVED |
| 2021-01-08 | ATTORNEY/DOM.REP.REVOKED AND/OR APPOINTED |
| 2021-01-08 | TEAS CHANGE OF CORRESPONDENCE RECEIVED |
| 2021-01-08 | APPLICANT/CORRESPONDENCE CHANGES (NON-RESPONSIVE) ENTERED |
| 2021-05-10 | COURTESY REMINDER - SEC. 8 (6-YR) E-MAILED |