UNIWIDE - Trademark Details
Status: 700 - Registered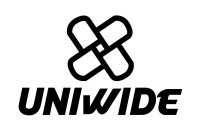 Registration Number
4890034
Registration Number
4890034
Registration Date
2016-01-19
Mark Drawing
3000 - Illustration: Drawing or design which also includes word(s)/ letter(s)/number(s) Typeset
Design Searches
130325, 261114, 261116, 261125 - Other cooking, heating or refrigeration equipment, including space heaters, Bunsen burners, water coolers, fans, ceiling fans and air conditioners. Three or more rectangles. Rectangles touching or intersecting. Rectangles with one or more curved sides.
Published for Opposition Date
2014-09-23
Law Office Assigned Location Code
M70
Employee Name
MARTIN, JENNIFER MCGAR
Statements
Indication of Colors claimed
Color is not claimed as a feature of the mark.
Disclaimer with Predetermined Text
"UNIWIDE"
Description of Mark
The mark consists of a design of a fan blade above the stylized wording "UNIWIDE".
Goods and Services
Christmas tree candles; tapers; perfumed candles; industrial greases; fuel gas; fossil fuel substitutes, namely, biofuels; wax emulsions and wax powders for industrial applications; dust-binding compositions; electrical energy; wicks for candles
Goods and Services
Common metals, unwrought and semi-worked, for further manufacture; works of art of common metal; modular metallic buildings; metal cable wire; nails; metal window casements; Buckles of common metal; water tanks of metal for household purposes; metal locks; wild animal traps
Goods and Services
Mixing machines; dishwashers; power-operated tools, namely, grinders;Disintegrators; Hydraulic presses; vacuum cleaners; Pneumatic pumps; electric food processors; Hand-held electric-powered food processors
Goods and Services
Gardening tools, namely, a manually operated tool for injecting solid fertilizer spikes into the soil; Abrading tools; gaffs; manicure sets; manually-operated jacks; masons' trowels; working knives; Cutlery, namely, forks, spoons, and knives
Goods and Services
Eyeglasses; dry cells and batteries; optical lenses; measurement standard devices for nanometrology, namely, measuring tools having a pattern in the micrometer or nanometer ranges; weighing apparatus and instruments; measuring apparatus, namely, rain gauges; audio electronic components, namely, surround sound systems; electrical plugs and sockets; life-saving rafts
Goods and Services
Electric lighting fixtures; gas lamps; Commercial and industrial cookware, namely, gas and electric boilers, gas and electric broilers, gas and electric roasters, gas and electric braising pans; Electric refrigerators; air conditioning installations; furnaces; hydrants; pipes being parts of sanitary facilities; filters for drinking water; Non-electric pocket warmers, namely, chemically-activated heating packets for warming hands
Goods and Services
Precious metal alloys; small jewellery boxes of precious metals; Ornaments of precious metal in the nature of jewelry; jewellery and precious stones; works of art of precious metal; clocks; mechanical and automatic watches; horological and chronometric instruments and parts thereof; Jade
Goods and Services
Note books; printed matter, namely, vinyl static cling sheets on which prayers are printed for affixation in windows and windshields; stationery; writing instruments; adhesives for stationery and household use; drawing materials for blackboards; sealing stamps; pictures
Goods and Services
Leather; valises; leather cases; Fur pelts; umbrellas; walking sticks; cat o' nine tails; leather for furniture; leather straps; purses
Goods and Services
Furniture; packing containers of plastic material; Mirrors; Wooden craft sticks; furniture fittings, not of metal; pillows; non-metal door handles; back support cushions not for medical purposes; non-metal ladders
Goods and Services
Containers for household or kitchen use; beverage glassware; Earthenware basins; China ornaments; tea sets; trash cans; combs;Toothbrushes; cosmetic brushes; brushes used for cleaning medical instruments
Goods and Services
Ropes; fishing nets; tents;Textile bags for merchandise packaging; horticultural bags and sacks, namely, bags and sacks made of woven synthetic or natural fibers or plastics materials, all for use in growing any type of plant, shrub or tree; padding and stuffing materials not of rubber, paper or plastic; raw textile fibers; Nylon strapping or tie downs; string; hammocks
Goods and Services
Textile goods, namely, a synthetic sheet with fragrance for the purpose of inserting into pillow slip and under fitted sheet to emit fragrance; fabrics for textile use; textile wall hangings; felts; towels of textile; bath towels; bed blankets; tablecloths, not of paper; washing mitts; fabric flags
Goods and Services
Clothing, namely, folk costumes; infant and toddler one piece clothing; bathing suits; shoes; hats; hosiery; gloves; neckties; Belts for clothing; raincoats
Goods and Services
Lace; brooches for clothing; buttons; slide fasteners; false hair; artificial flowers; collar stays; hair clips
Goods and Services
Carpets; Door mats; bath mats; wallpaper; non-textile wall hangings; Carpets, rugs, mats and matting, linoleum for covering existing floors; Floor mats made of rubber plastic, and textiles; floor coverings; reed mats
Goods and Services
Apparatus for electronic games other than those adapted for use with an external display screen or monitor; toys, namely, children's dress-up accessories; Toys, namely, a disk to toss in playing a game wherein other disks are flipped and collected; Toy, namely, battery-powered computer game with LCD screen which features animation and sound effects; chess sets; playing cards; balls for games; body-building apparatus; batting gloves; Christmas tree ornaments; fishing tackle; sports equipment, namely, telescoping caddy for bucket for carrying, storing and transporting baseballs and other sports equipment
Translation of Words in Mark
The wording "UNIWIDE" has no meaning in a foreign language.
Classification Information
Current Trademark Owners
Party Type
30 - Original Registrant
Legal Entity Type
16 - Limited Liability Company
Trademark Owner History
Party Type
30 - Original Registrant
Legal Entity Type
16 - Limited Liability Company
Party Type
20 - Owner at Publication
Legal Entity Type
16 - Limited Liability Company
Party Type
10 - Original Applicant
Legal Entity Type
16 - Limited Liability Company
Trademark Events
| | |
| --- | --- |
| Event Date | Event Description |
| 2014-02-22 | NEW APPLICATION ENTERED IN TRAM |
| 2014-03-03 | NEW APPLICATION OFFICE SUPPLIED DATA ENTERED IN TRAM |
| 2014-03-04 | NOTICE OF DESIGN SEARCH CODE E-MAILED |
| 2014-05-27 | ASSIGNED TO EXAMINER |
| 2014-05-28 | NON-FINAL ACTION WRITTEN |
| 2014-05-28 | NON-FINAL ACTION E-MAILED |
| 2014-05-28 | NOTIFICATION OF NON-FINAL ACTION E-MAILED |
| 2014-06-02 | TEAS RESPONSE TO OFFICE ACTION RECEIVED |
| 2014-06-13 | ASSIGNED TO LIE |
| 2014-06-24 | CORRESPONDENCE RECEIVED IN LAW OFFICE |
| 2014-06-24 | TEAS/EMAIL CORRESPONDENCE ENTERED |
| 2014-06-24 | REPORT UNRESPONSIVE AMENDMENT - COMPLETED |
| 2014-06-24 | NOTICE OF UNRESPONSIVE AMENDMENT - E-MAILED |
| 2014-06-24 | NOTIFICATION OF NOTICE OF UNRESPONSIVE AMENDMENT - E-MAILED |
| 2014-07-09 | TEAS CHANGE OF CORRESPONDENCE RECEIVED |
| 2014-07-09 | TEAS RESPONSE TO OFFICE ACTION RECEIVED |
| 2014-07-15 | CORRESPONDENCE RECEIVED IN LAW OFFICE |
| 2014-07-15 | TEAS/EMAIL CORRESPONDENCE ENTERED |
| 2014-07-31 | FINAL REFUSAL WRITTEN |
| 2014-07-31 | FINAL REFUSAL E-MAILED |
| 2014-07-31 | NOTIFICATION OF FINAL REFUSAL EMAILED |
| 2014-08-13 | TEAS REQUEST FOR RECONSIDERATION RECEIVED |
| 2014-08-13 | CORRESPONDENCE RECEIVED IN LAW OFFICE |
| 2014-08-13 | TEAS/EMAIL CORRESPONDENCE ENTERED |
| 2014-08-13 | APPROVED FOR PUB - PRINCIPAL REGISTER |
| 2014-08-18 | LAW OFFICE PUBLICATION REVIEW COMPLETED |
| 2014-09-03 | NOTIFICATION OF NOTICE OF PUBLICATION E-MAILED |
| 2014-09-23 | PUBLISHED FOR OPPOSITION |
| 2014-09-23 | OFFICIAL GAZETTE PUBLICATION CONFIRMATION E-MAILED |
| 2014-11-18 | NOA E-MAILED - SOU REQUIRED FROM APPLICANT |
| 2015-05-15 | TEAS STATEMENT OF USE RECEIVED |
| 2015-06-12 | CASE ASSIGNED TO INTENT TO USE PARALEGAL |
| 2015-05-15 | USE AMENDMENT FILED |
| 2015-06-17 | STATEMENT OF USE PROCESSING COMPLETE |
| 2015-07-09 | SU - NON-FINAL ACTION - WRITTEN |
| 2015-07-09 | NON-FINAL ACTION E-MAILED |
| 2015-07-09 | NOTIFICATION OF NON-FINAL ACTION E-MAILED |
| 2015-11-23 | TEAS RESPONSE TO OFFICE ACTION RECEIVED |
| 2015-11-23 | CORRESPONDENCE RECEIVED IN LAW OFFICE |
| 2015-11-24 | TEAS/EMAIL CORRESPONDENCE ENTERED |
| 2015-12-11 | ALLOWED PRINCIPAL REGISTER - SOU ACCEPTED |
| 2015-12-12 | NOTICE OF ACCEPTANCE OF STATEMENT OF USE E-MAILED |
| 2016-01-19 | REGISTERED-PRINCIPAL REGISTER |
| 2021-01-19 | COURTESY REMINDER - SEC. 8 (6-YR) E-MAILED |