CHRIS FROOME - Trademark Details
Status: 700 - Registered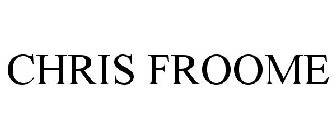 Registration Number
5043509
Registration Number
5043509
Registration Date
2016-09-20
Mark Drawing
4000 - Standard character mark Typeset
Published for Opposition Date
2015-08-18
Law Office Assigned Location Code
M10
Employee Name
PHILLIPS, WENDELL SHAR
Statements
Indication of Colors claimed
Color is not claimed as a feature of the mark.
Goods and Services
Pharmaceutical preparations for the treatment of muscle-ache and sports related injuries; cleaners, namely, antibacterial cleaners; medications for treatment of wounds and skin lesions; medical plasters and bandages for skin wounds; dietetic foods, namely, meal replacement bars, energy bars, and glucose gels, all adapted for medical use; treatments and remedies, namely, preparations for treatment of muscle-ache, sports related injuries, and skin wounds; dietary and nutritional supplements and dietary supplemental drinks; medicated gels, creams and solutions for dermatological use
Goods and Services
Scientific, nautical, surveying, photographic, cinematographic, optical, weighing, measuring, signalling, checking in the nature of supervision, life-saving and teaching apparatus and instruments, namely, speed indicators, camcorders, cameras, speed measuring apparatus; apparatus for recording, transmission or reproduction of sound or images; blank magnetic data carriers and blank recordable optical recording discs; cash registers, calculating machines and data processing equipment and computers; fire-extinguishing apparatus; protective insulated clothing, footwear and headgear for protection against accident or injury; spectacle cases, frames and glasses; sunglasses; eyewear cases; parts and fittings for all the aforesaid goods, namely, eyeglass chains and pince-nez chains, eyeglass cords and pince-nez cords, anti-glare lenses, 3D lenses, structural replacement parts; computer software for database management, word processing, accessing social media services, online exchange of data, all for fitness and training programs
Goods and Services
Bicycles; pedal land vehicles, scooters, electric and electrically assisted bicycles, bicycle carriers for vehicles; air pumps being fitted for bicycles for the inflation of tires; shaped bicycle seat covers made of textile materials; bicycle water bottle cages, water bottle cages for land vehicles, anti-glare sun strips specifically fitted for vehicle windscreens; fittings for bicycles for carrying luggage; luggage carriers for bicycles; baskets and bags adapted for use on bicycles; bags and pouches adapted for use with on bicycles; bicycle wedge bags; bicycle frame bags; wire and wicker bicycle baskets adapted for use on bicycles; panniers adapted for use on bicycles; liners and linings fitted for baskets adapted for use on bicycles; parts and fittings for all the aforesaid goods, namely, structural replacement parts
Goods and Services
Clothing for sporting, leisure, cyclists, women, men, and children, namely, bandanas, bathing suits, bathing trunks, swimwear for bicyclists, belts, gloves; bicycling gloves; jackets, jerseys, t-shirts, shirts, sweaters, knitted sweaters, knitted hats, knitted scarves, tracksuits, training tights, sports bras, leggings, trousers, shorts, scarves, pullovers, sports jerseys, sweat absorbent underclothing, vests, waterproof jackets, waterproof shirts, waterproof pants, waterproof footwear, and, wristbands; sweat bands; footwear; socks; sports footwear; plimsolls; training shoes; headgear, namely, cap peaks, caps, headbands, hoods, and sun visors
Goods and Services
Toys, games and playthings, namely, children's toys, board games, children's toy bicycles, model vehicles, model bicycles, roller skates, in-line skates, toy scooters, scale model kits, scale model vehicles, stuffed toys, teddy bears, pedal-propelled wheeled toys; sporting articles and apparatus, namely, shin guards, elbow guards, stationery exercise bicycles, and machines for physical exercises; children's cycles and scooters, namely, toy bicycles and toy scooters other than for transport; devices for converting bicycles to static stationary exercise bicycles; roller skates and skate boards; sledges for use in down-hill amusement rides; parts and fittings for all the aforesaid goods, namely, structural replacement parts
Goods and Services
Educational services, namely, classes, seminars, workshops in the field of cycling instruction; providing of training in the field of professional cycling; entertainment services, namely, organizing, arranging, and conducting cycling events; organizing community sporting and cultural events; organization of community sports competitions; organizing, arranging and conducting sports cycling events
Classification Information
Current Trademark Owners
Party Type
31 - 1st New Owner Entered After Registration
Legal Entity Type
01 - Individual
Address
Please log in with your Justia account to see this address.
Correspondences
Address
Please log in with your Justia account to see this address.
Foreign Application Information
| | | | |
| --- | --- | --- | --- |
| Filing Date | Application Number | Country | Foreign Priority Claim In |
| 2013-07-24 | 012011821 | EM | True |
Trademark Events
| | |
| --- | --- |
| Event Date | Event Description |
| 2014-01-25 | NEW APPLICATION ENTERED IN TRAM |
| 2014-01-30 | TEAS VOLUNTARY AMENDMENT RECEIVED |
| 2014-01-30 | TEAS AMENDMENT ENTERED BEFORE ATTORNEY ASSIGNED |
| 2014-02-01 | NEW APPLICATION OFFICE SUPPLIED DATA ENTERED IN TRAM |
| 2014-04-26 | ASSIGNED TO EXAMINER |
| 2014-04-26 | NON-FINAL ACTION WRITTEN |
| 2014-04-26 | NON-FINAL ACTION E-MAILED |
| 2014-04-26 | NOTIFICATION OF NON-FINAL ACTION E-MAILED |
| 2014-10-27 | TEAS RESPONSE TO OFFICE ACTION RECEIVED |
| 2014-10-29 | ASSIGNED TO LIE |
| 2014-11-06 | CORRESPONDENCE RECEIVED IN LAW OFFICE |
| 2014-11-06 | TEAS/EMAIL CORRESPONDENCE ENTERED |
| 2014-11-24 | FINAL REFUSAL WRITTEN |
| 2014-11-24 | FINAL REFUSAL E-MAILED |
| 2014-11-24 | NOTIFICATION OF FINAL REFUSAL EMAILED |
| 2015-03-25 | EXAMINERS AMENDMENT -WRITTEN |
| 2015-03-25 | EXAMINERS AMENDMENT E-MAILED |
| 2015-03-25 | NOTIFICATION OF EXAMINERS AMENDMENT E-MAILED |
| 2015-03-25 | EXAMINER'S AMENDMENT ENTERED |
| 2015-03-25 | APPROVED FOR PUB - PRINCIPAL REGISTER |
| 2015-04-06 | LAW OFFICE PUBLICATION REVIEW COMPLETED |
| 2015-04-21 | WITHDRAWN FROM PUB - OG REVIEW QUERY |
| 2015-07-29 | NOTIFICATION OF NOTICE OF PUBLICATION E-MAILED |
| 2015-08-18 | PUBLISHED FOR OPPOSITION |
| 2015-08-18 | OFFICIAL GAZETTE PUBLICATION CONFIRMATION E-MAILED |
| 2015-10-13 | NOA E-MAILED - SOU REQUIRED FROM APPLICANT |
| 2016-04-07 | TEAS DELETE 1(B) BASIS RECEIVED |
| 2016-04-27 | AUTOMATIC UPDATE OF ASSIGNMENT OF OWNERSHIP |
| 2016-05-16 | CASE ASSIGNED TO INTENT TO USE PARALEGAL |
| 2016-04-07 | NOTICE OF ALLOWANCE CANCELLED |
| 2016-06-28 | 1(B) BASIS DELETED; PROCEED TO REGISTRATION |
| 2016-07-01 | ON HOLD - ELECTRONIC RECORD REVIEW REQUIRED |
| 2016-08-15 | ELECTRONIC RECORD REVIEW COMPLETE |
| 2016-09-20 | REGISTERED-PRINCIPAL REGISTER |
| 2020-09-16 | AUTOMATIC UPDATE OF ASSIGNMENT OF OWNERSHIP |
| 2020-11-09 | TEAS CHANGE OF OWNER ADDRESS RECEIVED |
| 2020-11-09 | TEAS REVOKE/APP/CHANGE ADDR OF ATTY/DOM REP RECEIVED |
| 2020-11-09 | ATTORNEY/DOM.REP.REVOKED AND/OR APPOINTED |
| 2020-11-09 | TEAS CHANGE OF DOMESTIC REPRESENTATIVES ADDRESS |
| 2020-11-09 | TEAS CHANGE OF CORRESPONDENCE RECEIVED |
| 2020-11-09 | APPLICANT/CORRESPONDENCE CHANGES (NON-RESPONSIVE) ENTERED |
| 2021-09-20 | COURTESY REMINDER - SEC. 8 (6-YR) E-MAILED |