RISE - Trademark Details
Status: 700 - Registered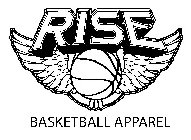 Registration Number
4765328
Registration Number
4765328
Registration Date
2015-06-30
Mark Drawing
3000 - Illustration: Drawing or design which also includes word(s)/ letter(s)/number(s) Typeset
Design Searches
031701, 210320 - Wings. Basketballs.
Published for Opposition Date
2015-02-24
Law Office Assigned Location Code
L10
Employee Name
ABRAMS, JACQUELINE WIL
Statements
Amendment to a Registration/Renewal Certificate
In the statement, Line 7, "SHOES" is deleted. In the statement, Lines 10-11 are deleted. In the statement, Line 13, through line 14, "BELOW THERE IS THE STYLIZED TEXT "RISE BASKETBALL APPAREL"" is deleted. The drawing is amended to appear as follows: PUBLISH NEW CUT
Indication of Colors claimed
Color is not claimed as a feature of the mark.
Disclaimer with Predetermined Text
"BASKETBALL APPAREL"
Description of Mark
The mark consists of the stylized text "Rise" with a basketball in the center and wings on both sides.
Goods and Services
hats, t-shirts, socks, jerseys, sweatsuits, beanies, headbands, pants, jeans, jackets, [ shoes, ] basketball shorts, shorts, tank tops, shooting shirts
Classification Information
International Class
025
- Clothing, footwear, headgear. - Clothing, footwear, headgear.
Class Status Code
6 - Active
Class Status Date
2014-01-27
First Use Anywhere Date
2010-01-01
First Use In Commerce Date
2010-01-01
Current Trademark Owners
Party Type
30 - Original Registrant
Legal Entity Type
16 - Limited Liability Company
Trademark Owner History
Party Type
30 - Original Registrant
Legal Entity Type
16 - Limited Liability Company
Party Type
20 - Owner at Publication
Legal Entity Type
16 - Limited Liability Company
Party Type
10 - Original Applicant
Legal Entity Type
16 - Limited Liability Company
Trademark Events
| | |
| --- | --- |
| Event Date | Event Description |
| 2014-01-27 | NEW APPLICATION OFFICE SUPPLIED DATA ENTERED IN TRAM |
| 2014-01-28 | NOTICE OF DESIGN SEARCH CODE E-MAILED |
| 2014-04-16 | ASSIGNED TO EXAMINER |
| 2014-04-16 | NON-FINAL ACTION WRITTEN |
| 2014-04-16 | NON-FINAL ACTION E-MAILED |
| 2014-04-16 | NOTIFICATION OF NON-FINAL ACTION E-MAILED |
| 2014-11-17 | ABANDONMENT - FAILURE TO RESPOND OR LATE RESPONSE |
| 2014-11-17 | ABANDONMENT NOTICE MAILED - FAILURE TO RESPOND |
| 2014-12-18 | TEAS PETITION TO REVIVE RECEIVED |
| 2014-12-18 | PETITION TO REVIVE-GRANTED |
| 2014-12-18 | TEAS RESPONSE TO OFFICE ACTION RECEIVED |
| 2014-12-18 | CORRESPONDENCE RECEIVED IN LAW OFFICE |
| 2014-12-19 | TEAS/EMAIL CORRESPONDENCE ENTERED |
| 2014-12-19 | NOTICE OF REVIVAL - E-MAILED |
| 2014-12-30 | APPROVED FOR PUB - PRINCIPAL REGISTER |
| 2015-01-20 | ASSIGNED TO LIE |
| 2015-01-22 | LAW OFFICE PUBLICATION REVIEW COMPLETED |
| 2015-02-04 | NOTIFICATION OF NOTICE OF PUBLICATION E-MAILED |
| 2015-02-24 | PUBLISHED FOR OPPOSITION |
| 2015-02-24 | OFFICIAL GAZETTE PUBLICATION CONFIRMATION E-MAILED |
| 2015-04-21 | NOA E-MAILED - SOU REQUIRED FROM APPLICANT |
| 2015-04-21 | TEAS STATEMENT OF USE RECEIVED |
| 2015-05-20 | CASE ASSIGNED TO INTENT TO USE PARALEGAL |
| 2015-04-21 | USE AMENDMENT FILED |
| 2015-05-21 | STATEMENT OF USE PROCESSING COMPLETE |
| 2015-05-26 | ALLOWED PRINCIPAL REGISTER - SOU ACCEPTED |
| 2015-05-27 | NOTICE OF ACCEPTANCE OF STATEMENT OF USE E-MAILED |
| 2015-05-29 | TEAS POST PUBLICATION AMENDMENT RECEIVED |
| 2015-05-29 | TEAS CHANGE OF CORRESPONDENCE RECEIVED |
| 2015-06-30 | REGISTERED-PRINCIPAL REGISTER |
| 2016-07-25 | TEAS CHANGE OF CORRESPONDENCE RECEIVED |
| 2016-08-09 | TEAS CHANGE OF CORRESPONDENCE RECEIVED |
| 2016-08-09 | TEAS SECTION 7 REQUEST RECEIVED |
| 2016-10-31 | CASE ASSIGNED TO POST REGISTRATION PARALEGAL |
| 2016-11-09 | POST REGISTRATION ACTION MAILED - SEC. 7 |
| 2016-12-01 | TEAS SECTION 7 REQUEST RECEIVED |
| 2016-12-06 | TEAS RESPONSE TO OFFICE ACTION-POST REG RECEIVED |
| 2016-12-29 | POST REGISTRATION ACTION MAILED - SEC. 7 |
| 2017-01-04 | TEAS RESPONSE TO OFFICE ACTION-POST REG RECEIVED |
| 2017-01-23 | AMENDMENT UNDER SECTION 7 - ISSUED |
| 2017-05-11 | NOTICE OF SUIT |
| 2017-05-11 | NOTICE OF SUIT |