PIONEER LOG HOMES OF BRITISH COLUMBIA - Trademark Details
Status: 700 - Registered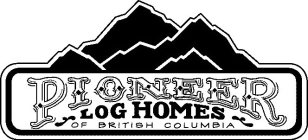 Registration Number
4995687
Word Mark
PIONEER LOG HOMES OF BRITISH COLUMBIA
Registration Number
4995687
Registration Date
2016-07-12
Mark Drawing
3000 - Illustration: Drawing or design which also includes word(s)/ letter(s)/number(s) Typeset
Design Searches
060104, 261120, 261121 - Mountains, mountain landscapes. Rectangles inside another rectangle. Rectangles that are completely or partially shaded.
Published for Opposition Date
2016-01-05
Law Office Assigned Location Code
M70
Employee Name
SNAPP, TINA LOUISE
Statements
Indication of Colors claimed
Color is not claimed as a feature of the mark.
Disclaimer with Predetermined Text
"LOG HOMES OF BRITISH COLUMBIA"
Description of Mark
The mark consists of the words "PIONEER LOG HOMES OF BRITISH COLUMBIA" in a fanciful font in a rectangular box with an image of mountains situated on top of the word "PIONEER".
Goods and Services
novelty items, namely, decals, calendars, postcards, pens and pencils
Goods and Services
Prefabricated log homes; prefabricated timber frame homes; non-metal log home components, namely, railings, stairs and mantles; log home accents, namely, non-metal architectural moldings and finish trim
Goods and Services
Non-metal key rings; log furniture, namely, bedroom, dining room, kitchen, living room, bathroom, outdoor; benches and picnic tables
Goods and Services
glassware, namely, mugs, cups
Goods and Services
Casual clothing and athletic clothing, namely, t-shirts, tank tops, sweatshirts, hooded pullovers, hooded sweatshirts, shorts and scarves; headwear, namely, hats, caps and toques
Classification Information
Current Trademark Owners
Party Type
30 - Original Registrant
Legal Entity Type
03 - Corporation
Trademark Owner History
Party Type
30 - Original Registrant
Legal Entity Type
03 - Corporation
Party Type
20 - Owner at Publication
Legal Entity Type
03 - Corporation
Party Type
10 - Original Applicant
Legal Entity Type
03 - Corporation
Foreign Application Information
| | | | |
| --- | --- | --- | --- |
| Filing Date | Application Number | Country | Foreign Priority Claim In |
| 2013-10-15 | 1,647,819 | Canada | True |
Trademark Events
| | |
| --- | --- |
| Event Date | Event Description |
| 2013-11-01 | NEW APPLICATION ENTERED IN TRAM |
| 2013-11-06 | NEW APPLICATION OFFICE SUPPLIED DATA ENTERED IN TRAM |
| 2013-11-07 | NOTICE OF DESIGN SEARCH CODE E-MAILED |
| 2014-02-13 | ASSIGNED TO EXAMINER |
| 2014-02-14 | NON-FINAL ACTION WRITTEN |
| 2014-02-14 | NON-FINAL ACTION E-MAILED |
| 2014-02-14 | NOTIFICATION OF NON-FINAL ACTION E-MAILED |
| 2014-06-16 | TEAS RESPONSE TO OFFICE ACTION RECEIVED |
| 2014-06-27 | ASSIGNED TO LIE |
| 2014-07-09 | CORRESPONDENCE RECEIVED IN LAW OFFICE |
| 2014-07-09 | TEAS/EMAIL CORRESPONDENCE ENTERED |
| 2014-07-10 | SUSPENSION LETTER WRITTEN |
| 2014-07-10 | LETTER OF SUSPENSION E-MAILED |
| 2014-07-10 | NOTIFICATION OF LETTER OF SUSPENSION E-MAILED |
| 2015-01-12 | SUSPENSION CHECKED ¿ TO ATTORNEY FOR ACTION |
| 2015-01-23 | SUSPENSION INQUIRY WRITTEN |
| 2015-01-23 | INQUIRY TO SUSPENSION E-MAILED |
| 2015-01-23 | NOTIFICATION OF INQUIRY AS TO SUSPENSION E-MAILED |
| 2015-07-20 | TEAS RESPONSE TO SUSPENSION INQUIRY RECEIVED |
| 2015-07-27 | CORRESPONDENCE RECEIVED IN LAW OFFICE |
| 2015-07-27 | TEAS/EMAIL CORRESPONDENCE ENTERED |
| 2015-08-17 | SUSPENSION LETTER WRITTEN |
| 2015-08-17 | LETTER OF SUSPENSION E-MAILED |
| 2015-08-17 | NOTIFICATION OF LETTER OF SUSPENSION E-MAILED |
| 2015-09-16 | TEAS RESPONSE TO SUSPENSION INQUIRY RECEIVED |
| 2015-09-21 | CORRESPONDENCE RECEIVED IN LAW OFFICE |
| 2015-09-21 | TEAS/EMAIL CORRESPONDENCE ENTERED |
| 2015-10-09 | NON-FINAL ACTION WRITTEN |
| 2015-10-09 | NON-FINAL ACTION E-MAILED |
| 2015-10-09 | NOTIFICATION OF NON-FINAL ACTION E-MAILED |
| 2015-11-23 | TEAS RESPONSE TO OFFICE ACTION RECEIVED |
| 2015-11-23 | CORRESPONDENCE RECEIVED IN LAW OFFICE |
| 2015-11-24 | TEAS/EMAIL CORRESPONDENCE ENTERED |
| 2015-11-27 | APPROVED FOR PUB - PRINCIPAL REGISTER |
| 2015-12-03 | LAW OFFICE PUBLICATION REVIEW COMPLETED |
| 2015-12-16 | NOTIFICATION OF NOTICE OF PUBLICATION E-MAILED |
| 2016-01-05 | PUBLISHED FOR OPPOSITION |
| 2016-01-05 | OFFICIAL GAZETTE PUBLICATION CONFIRMATION E-MAILED |
| 2016-03-01 | NOA E-MAILED - SOU REQUIRED FROM APPLICANT |
| 2016-03-16 | TEAS DELETE 1(B) BASIS RECEIVED |
| 2016-04-24 | CASE ASSIGNED TO INTENT TO USE PARALEGAL |
| 2016-03-16 | NOTICE OF ALLOWANCE CANCELLED |
| 2016-06-06 | 1(B) BASIS DELETED; PROCEED TO REGISTRATION |
| 2016-07-12 | REGISTERED-PRINCIPAL REGISTER |
| 2021-07-12 | COURTESY REMINDER - SEC. 8 (6-YR) E-MAILED |
| 2021-09-08 | NOTICE OF SUIT |
| 2021-11-26 | TEAS SECTION 8 & 15 RECEIVED |