1776 STRAIGHT RYE WHISKEY - Trademark Details
Status: 702 - Section 8 & 15-Accepted And Acknowledged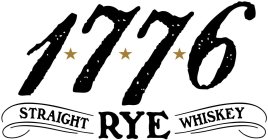 Registration Number
4528599
Word Mark
1776 STRAIGHT RYE WHISKEY
Status
702 - Section 8 & 15-Accepted And Acknowledged
Registration Number
4528599
Registration Date
2014-05-13
Mark Drawing
3000 - Illustration: Drawing or design which also includes word(s)/ letter(s)/number(s) Typeset
Design Searches
010110, 010113, 240907 - Three or more stars. More than one star with five points. Banners.
Published for Opposition Date
2014-02-25
Law Office Assigned Location Code
L70
Statements
Indication of Colors claimed
The color(s) black and gold is/are claimed as a feature of the mark.
Disclaimer with Predetermined Text
"STRAIGHT RYE WHISKEY"
Description of Mark
The mark consists of the number "1776" in a stylized font, with a five-point star between each two numerals therein. Below this are the words "STRAIGHT RYE WHISKEY", with "STRAIGHT" and "WHISKEY" thereof appearing on a heraldry banner design. All the wordings and design elements are in black color, except the three five-point stars appear in gold color.
Goods and Services
Whiskey
Classification Information
International Class
033
- Alcoholic beverages (except beers). - Alcoholic beverages (except beers).
Class Status Code
6 - Active
Class Status Date
2013-08-30
First Use Anywhere Date
2012-07-04
First Use In Commerce Date
2012-07-04
Current Trademark Owners
Party Type
30 - Original Registrant
Legal Entity Type
16 - Limited Liability Company
Trademark Owner History
Party Type
30 - Original Registrant
Legal Entity Type
16 - Limited Liability Company
Party Type
20 - Owner at Publication
Legal Entity Type
16 - Limited Liability Company
Party Type
10 - Original Applicant
Legal Entity Type
16 - Limited Liability Company
Correspondences
Name
GEORGETOWN TRADING CO., LLC
Prior Registrations
| | |
| --- | --- |
| Relationship Type | Reel Number |
| Prior Registration | 4132977 |
Madrid International Filings
Original Filing Date USPTO
2013-10-05
International Registration Number
1181564
International Registration Date
2013-10-05
International Status Code
480
International Renewal Date
2023-10-05
Madrid History Events
Date
Code
Description
2014-08-14
CBPCP
PARTIAL CEASING OF EFFECT TO BE PROCESSED
2013-11-15
CREAT
APPLICATION FOR IR REGISTERED BY IB
2014-08-15
CBNAR
CEASING OF EFFECT REVIEWED - NO ACTION REQUIRED BY OFFICE
2013-10-05
ACERT
AUTOMATICALLY CERTIFIED
2013-10-05
NEWAP
NEW APPLICATION FOR IR RECEIVED
2013-10-05
APPST
IR CERTIFIED AND SENT TO IB
Trademark Events
| | |
| --- | --- |
| Event Date | Event Description |
| 2013-08-26 | NEW APPLICATION ENTERED IN TRAM |
| 2013-08-30 | NEW APPLICATION OFFICE SUPPLIED DATA ENTERED IN TRAM |
| 2013-08-31 | NOTICE OF DESIGN SEARCH CODE E-MAILED |
| 2013-11-22 | ASSIGNED TO EXAMINER |
| 2013-11-26 | EXAMINERS AMENDMENT -WRITTEN |
| 2013-11-26 | EXAMINERS AMENDMENT E-MAILED |
| 2013-11-26 | NOTIFICATION OF EXAMINERS AMENDMENT E-MAILED |
| 2013-11-26 | EXAMINER'S AMENDMENT ENTERED |
| 2013-12-23 | APPROVED FOR PUB - PRINCIPAL REGISTER |
| 2014-01-21 | ASSIGNED TO LIE |
| 2014-01-23 | LAW OFFICE PUBLICATION REVIEW COMPLETED |
| 2014-02-05 | NOTIFICATION OF NOTICE OF PUBLICATION E-MAILED |
| 2014-02-25 | PUBLISHED FOR OPPOSITION |
| 2014-02-25 | OFFICIAL GAZETTE PUBLICATION CONFIRMATION E-MAILED |
| 2014-05-13 | REGISTERED-PRINCIPAL REGISTER |
| 2014-08-02 | TEAS CHANGE OF CORRESPONDENCE RECEIVED |
| 2014-08-02 | TEAS CHANGE OF OWNER ADDRESS RECEIVED |
| 2014-08-02 | APPLICANT/CORRESPONDENCE CHANGES (NON-RESPONSIVE) ENTERED |
| 2019-05-13 | COURTESY REMINDER - SEC. 8 (6-YR) E-MAILED |
| 2019-06-12 | TEAS SECTION 8 & 15 RECEIVED |
| 2019-06-12 | TEAS CHANGE OF CORRESPONDENCE RECEIVED |
| 2019-07-29 | CASE ASSIGNED TO POST REGISTRATION PARALEGAL |
| 2019-07-29 | REGISTERED - SEC. 8 (6-YR) ACCEPTED & SEC. 15 ACK. |
| 2019-07-29 | NOTICE OF ACCEPTANCE OF SEC. 8 & 15 - E-MAILED |