CLIENTS 1ST. COMMUNITY 1ST. - Trademark Details
Status: 710 - Cancelled - Section 8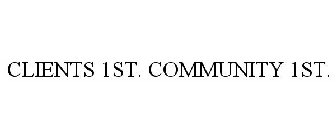 Registration Number
4630763
Word Mark
CLIENTS 1ST. COMMUNITY 1ST.
Status
710 - Cancelled - Section 8
Registration Number
4630763
Registration Date
2014-11-04
Mark Drawing
4000 - Standard character mark Typeset
Published for Opposition Date
2014-08-19
Law Office Assigned Location Code
L10
Employee Name
FALK, ERIN M
Statements
Goods and Services
Banking services; online banking services; mobile banking services; checking account services; savings account services; automated teller machine services; credit card services; credit card processing services; debit card services; commercial and residential financing and lending services; home equity lending services; mortgage lending services; cash advance services; check cashing services; cashiers check and money order services; travelers check services; bill payment services; mortgage brokerage services; lockbox services for property management companies and clients that manage residential associations; escrow account information services; safe deposit box services
Pseudo Mark
CLIENTS FIRST. COMMUNITY FIRST.
Classification Information
International Class
036
- Insurance; financial affairs; monetary affairs; real estate affairs. - Insurance; financial affairs; monetary affairs; real estate affairs.
US Class Codes
100, 101, 102
Class Status Code
2 - Sec. 8 - Entire Registration
Class Status Date
2021-06-11
First Use Anywhere Date
2011-12-00
First Use In Commerce Date
2011-12-00
Correspondences
Address
Please log in with your Justia account to see this address.
Trademark Events
| | |
| --- | --- |
| Event Date | Event Description |
| 2013-06-27 | NEW APPLICATION ENTERED IN TRAM |
| 2013-07-05 | NEW APPLICATION OFFICE SUPPLIED DATA ENTERED IN TRAM |
| 2013-07-06 | NOTICE OF PSEUDO MARK E-MAILED |
| 2013-10-02 | ASSIGNED TO EXAMINER |
| 2013-10-07 | NON-FINAL ACTION WRITTEN |
| 2013-10-07 | NON-FINAL ACTION E-MAILED |
| 2013-10-07 | NOTIFICATION OF NON-FINAL ACTION E-MAILED |
| 2014-05-05 | ABANDONMENT - FAILURE TO RESPOND OR LATE RESPONSE |
| 2014-05-05 | ABANDONMENT NOTICE MAILED - FAILURE TO RESPOND |
| 2014-05-21 | TEAS PETITION TO REVIVE RECEIVED |
| 2014-05-21 | PETITION TO REVIVE-GRANTED |
| 2014-05-21 | TEAS RESPONSE TO OFFICE ACTION RECEIVED |
| 2014-05-21 | NOTICE OF REVIVAL - E-MAILED |
| 2014-06-04 | ASSIGNED TO LIE |
| 2014-06-11 | CORRESPONDENCE RECEIVED IN LAW OFFICE |
| 2014-06-11 | TEAS/EMAIL CORRESPONDENCE ENTERED |
| 2014-07-09 | APPROVED FOR PUB - PRINCIPAL REGISTER |
| 2014-07-11 | LAW OFFICE PUBLICATION REVIEW COMPLETED |
| 2014-07-30 | NOTIFICATION OF NOTICE OF PUBLICATION E-MAILED |
| 2014-08-19 | PUBLISHED FOR OPPOSITION |
| 2014-08-19 | OFFICIAL GAZETTE PUBLICATION CONFIRMATION E-MAILED |
| 2014-11-04 | REGISTERED-PRINCIPAL REGISTER |
| 2016-08-24 | AUTOMATIC UPDATE OF ASSIGNMENT OF OWNERSHIP |
| 2019-11-04 | COURTESY REMINDER - SEC. 8 (6-YR) E-MAILED |
| 2021-06-11 | CANCELLED SEC. 8 (6-YR) |