CANDY CRUSH SAGA - Trademark Details
Status: 700 - Registered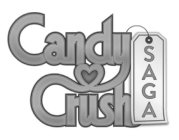 Registration Number
5440807
Word Mark
CANDY CRUSH SAGA
Registration Number
5440807
Registration Date
2018-04-10
Mark Drawing
3000 - Illustration: Drawing or design which also includes word(s)/ letter(s)/number(s) Typeset
Design Searches
021101, 200306, 270104 - Hearts. Hang tags, labels including address labels. Letters or numerals, including punctuation, forming representations of objects, parts of objects, or maps.
Published for Opposition Date
2016-12-20
Law Office Assigned Location Code
L70
Employee Name
SNYDER, NELSON B
Statements
Indication of Colors claimed
Color is not claimed as a feature of the mark.
Disclaimer with Predetermined Text
"CANDY" FOR INTERNATIONAL CLASS 30
Description of Mark
The mark consists of the stylized wording "Candy Crush SAGA" with the letter "y" in "Candy" connected to the letter "C" in "Crush". A heart design also appears in the middle of the line connecting the two words "Candy Crush". The term "SAGA" appears in a hangtag design to the right of the other wording.
Goods and Services
Essential oils; After-shave lotions; Air fragrancing preparations; Antiperspirants; Aromatic oils; Bath salts, not for medical purposes; Beauty masks; Body lotion; Breath freshening sprays; Breath freshening strips; Cakes of toilet soap; Cosmetic creams; Cosmetic dyes in the nature of hair and beard dyes; Make-up kits comprised of cosmetics; Cosmetic pencils; Cosmetic preparations for baths; Cosmetics; Decorative transfers for cosmetic purposes; Deodorant soap; Depilatories; Eau de Cologne; False eyelashes; False nails; Fragrances; Gift sets consisting of fragrances; Hair lotions; Hair spray; Lip glosses; Lipsticks; Lotions for cosmetic purposes; Make-up; Make-up powder; Make-up preparations; Mascara; Mouth washes, not for medical purposes; Nail art stickers; Nail care preparations; Nail polish; Nail varnish; Perfumes; Shampoos and shower gel; Shaving preparations; Skin soap; Cosmetic sunscreen preparations; Tissues impregnated with cosmetic lotions; Toilet water; Non-medicated toiletries
Goods and Services
Metal safes; metal money boxes; Door knockers of metal; Door stops of metal; Key chains of common metal; Locks of metal for bags; Locks of metal, other than electric; Safety cashboxes of metal; Screw tops of metal for bottles; Signs, non-luminous and non-mechanical, of metal; Statues of common metal; Statuettes of common metal; Key rings of common metal
Goods and Services
Downloadable computer game software for video and computer games; Downloadable computer game programs offered via social media; Computer peripheral devices; Downloadable image files containing photographic images and artwork, and text in the field of video and computer games; Downloadable image files containing photographic images and artwork, and text in the field of video and computer games offered via social media; Downloadable music files; Downloadable ring tones for mobile phones; Downloadable electronic publications in the nature of e-books, online magazines, online newspapers, electronic journals, and podcast transcripts in the field of computer and video games; Headphones; Musical juke boxes; Microphones; Baby monitors; Mouse pads; Portable media players; Portable telephones; Sound recording, transmitting and reproduction apparatus; Spectacle cases; Spectacle frames; Sunglasses; Telephone apparatus; Blank USB flash drives; Video game cartridges; Cases for mobile phones, tablets, laptop computers and netbooks, portable media players, cameras and other photographic equipment; Downloadable electronic game software for use on mobile phones, tablets and other electronic mobile devices; Video game software; Downloadable interactive multimedia computer game programs; Downloadable interactive multimedia computer game programs offered via social media; Downloadable computer software for mobile phones, tablets and other electronic mobile devices in the field of social media for the creation and exchange of user-generated content, marketing research, and also for transmission of electronic communications and also for posting advertisements; Downloadable software in the nature of a mobile application for use in the field of social media for the creation and exchange of user-generated content, marketing research, and also for transmission of electronic communications and also for posting advertisements; Downloadable computer application software featuring video and computer games; Computer application software for mobile phones, portable media players, tablets, handheld computers and other electronic mobile devices, namely, software for video and computer games; Computer application software for mobile phones, portable media players, tablets, handheld computers and other electronic mobile devices, namely, software for video and computer games offered via social media; Mobile phone accessories and charms, namely, danglers for mobile phones; Eyewear; Eyeglasses; Mobile phone accessory charms; Mobile phone covers; Radios incorporating alarm clocks
Goods and Services
Alarm clocks; Jewelry, namely, anklets; Badges of precious metal; Bracelets; Brooches; Cases for watches; Jewelry chains; Costume jewelry; Charms; Chronographs for use as watches; Chronometrical instruments; Clocks; Clocks and watches, electric; Cuff links; Earrings; Jewelry; Jewelry cases; Key rings of precious metals; Lockets; Medals; Necklaces; Ornamental pins; Pearls; Rings; Statues of precious metal; Statuettes of precious metal; Stopwatches; Tie clips; Tie pins; Watch bands; Watch cases; Watch chains; Watches; Wristwatches
Goods and Services
Paper, cardboard and goods made from these materials, not included in other classes, namely, boxes of paper or cardboard; Printed matter, namely, paper signs, books, manuals, curriculum, newsletters, informational cards and brochures in the field of video and computer games; Photographs; Stationery; Adhesives for stationery or household purposes; Paint brushes; Printed instructional and teaching material in the field of computer and video games; Adhesive tape dispensers; Adhesive tapes for stationery or household purposes; Printed advertising boards of paper or cardboard; Albums for coins, photographs and stamps; Almanacs; Announcement cards; Bags of paper or plastics, for packaging; Booklets in the field of computer and video games; Bookmarkers; Books in the field of computer and video games; Calendars; Blank Cards; Catalogues in the field of computer and video games; Coasters of paper; Comic books; Book Covers; Decalcomanias; Diaries; Children's activity books; Drawing instruments; Envelopes; Erasers; Face towels of paper; Flags of paper; Flower-pot covers of paper; Informational flyers featuring information about video and computer games; Folders; Fountain pens; Garbage bags of paper or of plastics; Gift wrap paper; Gift bags; Gift boxes made of cardboard; Glue for stationery or household purposes; Graphic art prints; Graphic art representations; Graphic art reproductions; Greeting cards; Handbooks in the field of computer and video games; Handkerchiefs of paper; Index cards; Paper Labels; Luminous paper; Magazines in the field of computer and video games; Modelling clay; Moulds for modelling clays; Money clips; Musical greeting cards; Newsletters in the field of computer and video games; Newspapers; Note books; Note cards; notepads; posters; Packing paper; Paint boxes; Paint trays; Paintbrushes; Paintings, framed or unframed; Painting sets for children; Paper badges; School supply kits containing various combinations of selected school supplies, namely, writing instruments, pens, pencils, mechanical pencils, erasers, markers, crayons, highlighter pens, folders, notebooks, paper, protractors, paper clips, pencil sharpeners, writing grips, glue and book marks; Paper bows for gift wrap; Paper-clips; Paperweights; Paper mâché; Passport holders; Patterns for dressmaking; Patterns for making clothes; Pen and pencil cases; Pencil holders; Pencil sharpeners, electric or non-electric; Pencils; Penholders; Pens; Printed Periodicals in the field of computer and video games; Photograph stands; Pictures; Place mats of paper; Postcards; Posters; Printed publications, namely, books, hand-outs, workbooks in the field of computer and video games; Prints; Rubber erasers; Rubber stamps; Self-adhesive tapes for stationery or household purposes; Song books; Ink Stamps; Stationery; Stencils; Stickers; Table linen of paper; Table napkins of paper; Tablecloths of paper; Tablemats of paper; Printed Teaching materials in the field of computer and video games; Temporary tattoo transfers; Terrestrial globes; Toilet paper; Towels of paper; Trading cards other than for games; Paper Transparencies; Writing instruments; Blank notebooks for Writing or drawing; Writing pads; Writing paper; Writing slates; Non-magnetically encoded gift cards; Printed Gift vouchers
Goods and Services
Animal apparel, namely, apparel for pets; purses; satchels; overnight bags; make-up bags sold empty; wash bags for carrying toiletries; tote bags; backpacks; handbags; suitcases; Umbrellas and parasols; Carry-all Bags; Beach bags; Boxes of leather or leather board; Briefcases; Business card cases; Canvas shopping bags; Cases, of leather or leather-board; Key cases; Pocket wallets; Rucksacks; School bags; Textile shopping bags; Travelling bags; Umbrella covers; Vanity cases, not fitted
Goods and Services
Mirrors, picture frames; Cushions; Deck chairs; Decorations of plastic for foodstuffs; Fans for personal use, non-electric; Pet cushions; Picture frames; Plastic key rings; Bean bag chairs
Goods and Services
Textiles and textile goods, not included in other classes, namely, textile serviettes and tea towels; Bed covers; Plastic table covers; Bath linen, except clothing; Bed blankets; Bed clothes in the nature of bed linen, bed spreads and pillow cases; Bed covers of paper; Bed linen; Coasters of textile; Covers for cushions; Curtain holders of textile material; Curtains of textile or plastic; Face towels of textile; Flags, not of paper, namely, cloth flags; Flannel; Furniture coverings of plastic; Unfitted furniture coverings of textile; Handkerchiefs of textile; Household linen; Unfitted fabric covers for furniture; Mattress covers; Napkins, of cloth, for removing make-up; Non-woven textile fabrics; Pillowcases; Place mats, not of paper; Furniture coverings made of plastic materials; Quilts; Serviettes of textile; Bed sheets; Shower curtains of textile or plastic; Sleeping bags in the nature of sheeting; Table linen, not of paper; Fabric table runners; Tablecloths, not of paper; Tablemats, not of paper; Place mats of textile material; Towels; Towels of textile; Travelling rugs; Wall hangings of textile
Goods and Services
Clothing, namely, Aprons, Babies' pants, Bath robes, Bathing trunks, Belts, Beach clothes, namely, beachwear, bathing suits, swimsuits, and bathing trunks, Bibs, not of paper, Boas, Brassieres, Clothing for gymnastics, namely, leotards, Clothing of imitations of leather, namely, jackets and pants; Clothing of leather, namely, jackets and pants; Coats, Dresses, Dressing gowns, Ear muffs, Gloves, Hosiery; Jackets, Jerseys, Jumper dresses, Knitwear, namely, knit tops, knit skirts, and knit socks; Leggings; Leg warmers; Masquerade costumes, Mittens, Money belts, Neckties, Outer clothing, namely, ear muffs, gloves, pullovers, overcoats, Scarves, Ties, vests, waistcoats; Stockings; Pants, Pullovers, Pajamas, Ready-made clothing, namely, Character costumes for use in children's dress up play, in role-playing games and in the amusement industry, Clothing for sportswear in the nature of sport uniforms, sports shirts, sport coats, sport shirts, sport stockings, sports bras; sports jackets, sports jerseys and breeches for sports, sports over uniforms, tracksuits; sports pants, sports shirts with short sleeves, sports shoes, sports singlets, sports vests, sports caps and hats, jogging suits, warm up suits, rugby tops, rugby shorts, golf shirts; Lingerie, Nightwear in the nature of nightshirts, night gowns and nightdresses; one piece garments for children; jumpsuits; one piece garments for adults, namely, sleepwear and loungewear; t-shirts, sweatshirts, and shorts; Shirts; Shower caps, Skirts, Sleep masks, Socks, Sweaters, Swimwear, Tee-shirts; Tights; Trousers, Underpants, Underwear, Vests, Waterproof clothing, namely, waterproof jackets and pants; footwear, namely, Beach footwear, Bath sandals, Bath slippers, Beach shoes, Boots, Boots for sports, Esparto shoes and sandals, Sandals, Shoes, Slippers; headgear, namely, Bandanas, Bathing caps, Berets, Caps, Hats, Headbands, Paper hats for use as clothing items; Halloween costumes
Goods and Services
Christmas tree ornaments and decorations; coin-operated amusement machines, automatic amusement machines; game apparatus, namely, bases, bats, and balls for playing indoor and out-door games; gymnastic apparatus; arcade video game machines; backgammon games; balls for games; barbells; baseball gloves; batting gloves; bells for Christmas trees; billiard balls; billiard tables; bingo cards; board games; body boards; body-building apparatus; bowling apparatus and machinery; boxing gloves; toy building blocks; building games; checkerboards; chess games; chessboards; chips for gambling; confetti; magic tricks in the nature of a conjuring apparatus; controllers for game consoles; counters for games; darts; dice; dolls; dolls' beds; dolls' clothes; dolls' houses; dominoes; flippers for swimming; flying discs; games, namely, action skill games, arcade games, balls for games or paddle ball games, boule games, card games, coin operated video games, dart games, dice games, electronic board games, hand held units for playing electronic games, educational game units for children in the nature of electronic games for teaching of children, handheld computer games, handheld units for playing electronic games other than those adapted for use with an external display screen or monitor, handheld electronic video games, namely, stand-alone video game machines, handheld games with liquid crystal displays, handheld pinball games, Mah-jong games, musical games in the nature of board games with a musical component; mechanical games, namely, board games involving mechanical components, paddle ball games, party games, Pinball games, card games featuring quizzes, racing car games featuring model racing car bodies, role play games, sports games kits composed of balls, sports whistles, and score books, target games, toy card games; gaming machines for gambling; football gloves, hockey gloves, golf clubs; hockey sticks; ice skates; inline roller skates; jigsaw puzzles; kaleidoscopes; kite reels; kites; machines for physical exercises; mah-jong; Men's athletic supporters; mobiles for children; nets for sports; ninepins; novelties for parties and dances in the nature plastic or rubber toy of bugs in boxes, crackers, toy face masks, toy fake teeth, paper hats, streamers, vampire teeth, foam fingers; ornaments for Christmas trees, except illumination articles and confectionery; pachinkos; paintball guns; paintballs; paper party hats; paragliders; parlor games; play balloons; playing balls; playing cards; plush toys; poles for pole vaulting; portable games with liquid crystal displays; protective padding for playing cricket, field hockey, handball, skates, inline skates, skateboarding, roller skating, football, ice-hockey, roller hockey, volleyball, mountain biking, cycling, polo; punching bags; puppets; quoits; rackets; radio-controlled toy vehicles; baby rattles; ring games; rocking horses; roller skates; roulette wheels; scale model kits; scale model vehicles; toy scooters; skateboards; skis; skittles; playground slides, slot machines; snow globes; snowboards; bubble making wand and solution sets; spinning tops; spring boards; stationary exercise bicycles; stuffed toys; surf boards; swimming belts; inflatable swimming pools, play swimming pools, namely, paddling pools; swings; tables for indoor football; tables for table tennis; targets; teddy bears; tennis nets; toy masks; toy pistols; toy vehicles; toys, namely, action figures, toy air pistols; bath toys, bathtub toys, battery-operated action toys; battery operated toys, namely, mechanical action toys; electric action toys, electronic action toys; electronic activity toys, namely, children's multiple activity toys; infant development toys, inflatable toys, mechanical action toys, miniature car models, model cars, multipart construction toys, musical toys, non-motorized toys for riding, pet toys, baby rattles, puzzles, punching toys, sandbox toys, stuffed toy animals, stuffed bean-filled toys, scale model cars, toy watches, toy whistles, water toys, wooden toys, namely, positionable wooden figures for use in wooden puzzles; toys for domestic pets; trampolines; arcade, mobile and home video game machines
Goods and Services
low-fat potato chips; nuts, prepared; peanuts, processed; potato chips; raisins
Goods and Services
Bread; Ices; Sugar, honey, treacle; Sauces being condiments; Spices; Almond confectionery, namely, sugar-coated almonds; Biscuits; Bread rolls; Buns; Cake mixes being powder; Cakes; Candy; Candies; Caramels; Cereal bars; Cereal-based snack food; Chewing gum; Corn Chips; Chocolate-based beverages; Chocolate and chocolates; Chocolate bars; Chocolate-based beverages with milk; Cocoa-based beverages; Cocoa products, namely, cocoa powder; Cocoa beverages with milk; Flavorings for coffee; Coffee flavored syrup used in making beverages; Confectionary made of sugar for decorating cakes; Confectionery for decorating Christmas trees; Confectionery made of sugar; Cookies; Corn flakes; Cotton candy; Crackers; Custard; Edible ices; Frozen yogurt; Fruit coulis; Fruit jelly candy; Frozen confections, namely, freezer bars; Fudge; Gingerbread; High-protein cereal bars; Ice cream; Ice cream drinks; Jelly beans; Ketchup; Lollipops; Marzipan; Marshmallows; Mayonnaise; Muesli; Noodle-based prepared meals; Oat-based snack food; Oat flakes; Oatmeal; Pancakes; Pasta; Pasta sauce; Pastries; Pastry; Peanut brittle; Pepper; Peppermint sweets; Petitbeurre biscuits; Petits fours; Pies; Pizzas; Popcorn; Powders for ice cream; Pralines; Puddings; Quiches; Ravioli; Rice-based snack food; Rice cakes; Sandwiches; Sauces; Seasonings; Sorbets ; Spaghetti; Spices; Sugar; Sweets; Tacos; Tarts; Toffees; Tomato sauce; Tortillas; Waffles; ice milk and frozen yogurt
Goods and Services
Aerated water; Beer; Mineral water; Table waters; Drinking waters
Goods and Services
Advertising; Data search in computer files for others, namely, information extraction, retrieval and analysis of data for business purposes; On-line advertising on a computer network; Presentation of goods on communication media, for retail purposes; Production of advertising films; Rental of advertising space; Rental of advertising time on communication media; Retail store services featuring computer software, computer game entertainment software, downloadable computer software, downloadable game software, video game software, interactive multimedia computer game programs, video game software for use on mobile phones, smart phones, tablets and other electronic mobile devices, games software downloadable to mobile phones, smart phones, tablets and other electronic mobile devices, and computer software applications featuring computer games; Retail store services featuring virtual goods, namely, clothing, computer and video game currency, computer and video game characters, computer and video game items, extra computer and video game time, toys, sporting goods, watches, drinks, gifts, pets, animals, bombs, hammers, tools, decorations, furniture, music, books, playing cards, rewards, vehicles, plants, boosters and charms for use in online virtual worlds; retail store services featuring computer game software; retail store services featuring gift cards and gift vouchers in the field of general merchandise, clothing, footwear, headwear, games, and toys
Goods and Services
Educational services, namely, conducting classes, seminars, workshops in the field of games; Training in the field of games; Entertainment, namely, providing on-line games; Entertainment, namely, providing on-line computer games available on social media; Entertainment in the nature of computer games, namely, providing temporary use of non-downloadable computer games; Entertainment, namely, providing non-downloadable computer games online; Entertainment services, namely, providing online video games available on social media; Entertainment services, namely, providing temporary use of non-downloadable interactive games; Entertainment services, namely, providing temporary use of non-downloadable electronic games; Entertainment services, namely, providing a website featuring games and puzzles; Entertainment services, namely, providing online video games; Organizing sporting and cultural activities, namely, conducting tournaments, contests and competitions in the field of computer games; Amusement parks; Arranging and conducting workshops for educational purposes in the fields of computers, graphic arts and video games; Entertainment services in the nature of providing casino and gambling facilities; Electronic desktop publishing; Entertainment services, namely, production of live, televised and movie appearances by a professional entertainer; Film production services, other than advertising films; Gambling services; Providing on-line computer games via a computer network; Operating lotteries; Organization of electronic games competitions; Party planning services for others; Production of music; Entertainment, namely, production of television shows; Providing amusement arcade services; Hosting social entertainment events, namely, karaoke parties for others; Non-downloadable electronic publications in the nature of e-books, online magazines, online newspapers, electronic journals, blogs, podcasts and mobile applications in the field of games; Publication of books; Publication of electronic books and journals on-line; Scriptwriting services for non-advertising purposes; Writing of texts for others; Electronic games services provided by means of a global computer network; Entertainment services, namely, providing online electronic games; Entertainment Information; Entertainment services, namely, providing online electronic games for use on mobile phones, tablets and other electronic mobile devices; providing information on-line relating to computer games and computer enhancements for computer games; Entertainment services, namely, providing temporary use of non-downloadable single and multi-player electronic interactive games via the internet, electronic communication networks and via a global computer network; Entertainment services, namely, providing temporary use of non-downloadable single and multi-player electronic interactive games via the internet, electronic communication networks and via a global computer network and on social media; Multimedia publishing of software, specifically of computer game software, electronic games and video game software
Classification Information
Current Trademark Owners
Party Type
30 - Original Registrant
Legal Entity Type
03 - Corporation
Trademark Owner History
Party Type
30 - Original Registrant
Legal Entity Type
03 - Corporation
Party Type
20 - Owner at Publication
Legal Entity Type
03 - Corporation
Party Type
10 - Original Applicant
Legal Entity Type
03 - Corporation
Prior Registrations
| | |
| --- | --- |
| Relationship Type | Reel Number |
| Prior Registration | 4541423 |
| Prior Registration | 4604346 |
| Prior Registration | 4658378 |
Foreign Application Information
| | | | |
| --- | --- | --- | --- |
| Filing Date | Application Number | Country | Foreign Priority Claim In |
| 2013-02-08 | 011560448 | EM | True |
| 2013-06-10 | 011886165 | EM | True |
Trademark Events
| | |
| --- | --- |
| Event Date | Event Description |
| 2013-06-25 | NEW APPLICATION ENTERED IN TRAM |
| 2013-07-03 | NEW APPLICATION OFFICE SUPPLIED DATA ENTERED IN TRAM |
| 2013-07-04 | NOTICE OF DESIGN SEARCH CODE E-MAILED |
| 2013-09-30 | ASSIGNED TO EXAMINER |
| 2013-10-24 | TEAS CHANGE OF OWNER ADDRESS RECEIVED |
| 2013-10-24 | APPLICANT/CORRESPONDENCE CHANGES (NON-RESPONSIVE) ENTERED |
| 2013-11-02 | NON-FINAL ACTION WRITTEN |
| 2013-11-02 | NON-FINAL ACTION E-MAILED |
| 2013-11-02 | NOTIFICATION OF NON-FINAL ACTION E-MAILED |
| 2014-03-12 | TEAS RESPONSE TO OFFICE ACTION RECEIVED |
| 2014-03-12 | ASSIGNED TO LIE |
| 2014-03-19 | CORRESPONDENCE RECEIVED IN LAW OFFICE |
| 2014-03-19 | TEAS/EMAIL CORRESPONDENCE ENTERED |
| 2014-04-07 | SUSPENSION LETTER WRITTEN |
| 2014-04-07 | LETTER OF SUSPENSION E-MAILED |
| 2014-04-07 | NOTIFICATION OF LETTER OF SUSPENSION E-MAILED |
| 2014-10-07 | REPORT COMPLETED SUSPENSION CHECK CASE STILL SUSPENDED |
| 2015-04-14 | LIE CHECKED SUSP - TO ATTY FOR ACTION |
| 2015-04-28 | SUSPENSION INQUIRY WRITTEN |
| 2015-04-28 | INQUIRY TO SUSPENSION E-MAILED |
| 2015-04-28 | NOTIFICATION OF INQUIRY AS TO SUSPENSION E-MAILED |
| 2015-10-17 | TEAS RESPONSE TO SUSPENSION INQUIRY RECEIVED |
| 2015-10-17 | CORRESPONDENCE RECEIVED IN LAW OFFICE |
| 2015-10-17 | TEAS/EMAIL CORRESPONDENCE ENTERED |
| 2015-11-13 | NON-FINAL ACTION WRITTEN |
| 2015-11-13 | NON-FINAL ACTION E-MAILED |
| 2015-11-13 | NOTIFICATION OF NON-FINAL ACTION E-MAILED |
| 2016-05-13 | TEAS RESPONSE TO OFFICE ACTION RECEIVED |
| 2016-05-13 | CORRESPONDENCE RECEIVED IN LAW OFFICE |
| 2016-05-14 | TEAS/EMAIL CORRESPONDENCE ENTERED |
| 2016-06-08 | EXAMINERS AMENDMENT -WRITTEN |
| 2016-06-08 | EXAMINERS AMENDMENT E-MAILED |
| 2016-06-08 | NOTIFICATION OF EXAMINERS AMENDMENT E-MAILED |
| 2016-06-08 | EXAMINER'S AMENDMENT ENTERED |
| 2016-06-08 | APPROVED FOR PUB - PRINCIPAL REGISTER |
| 2016-06-13 | LAW OFFICE PUBLICATION REVIEW COMPLETED |
| 2016-06-28 | WITHDRAWN FROM PUB - OG REVIEW QUERY |
| 2016-10-13 | PREVIOUS ALLOWANCE COUNT WITHDRAWN |
| 2016-10-15 | NON-FINAL ACTION WRITTEN |
| 2016-10-15 | NON-FINAL ACTION E-MAILED |
| 2016-10-15 | NOTIFICATION OF NON-FINAL ACTION E-MAILED |
| 2016-11-07 | EXAMINERS AMENDMENT -WRITTEN |
| 2016-11-07 | EXAMINERS AMENDMENT E-MAILED |
| 2016-11-07 | NOTIFICATION OF EXAMINERS AMENDMENT E-MAILED |
| 2016-11-07 | EXAMINER'S AMENDMENT ENTERED |
| 2016-11-07 | APPROVED FOR PUB - PRINCIPAL REGISTER |
| 2016-11-14 | LAW OFFICE PUBLICATION REVIEW COMPLETED |
| 2016-11-30 | NOTIFICATION OF NOTICE OF PUBLICATION E-MAILED |
| 2016-12-20 | PUBLISHED FOR OPPOSITION |
| 2016-12-20 | OFFICIAL GAZETTE PUBLICATION CONFIRMATION E-MAILED |
| 2017-01-06 | EXTENSION OF TIME TO OPPOSE RECEIVED |
| 2017-06-09 | OPPOSITION INSTITUTED NO. 999999 |
| 2018-03-06 | OPPOSITION DISMISSED NO. 999999 |
| 2018-03-06 | OPPOSITION TERMINATED NO. 999999 |
| 2018-03-06 | TTAB RELEASE CASE TO TRADEMARKS |
| 2018-04-10 | REGISTERED-PRINCIPAL REGISTER |