FOOTHILL SINCE 1969 LOCK & KEY - Trademark Details
Status: 602 - Abandoned-Failure To Respond Or Late Response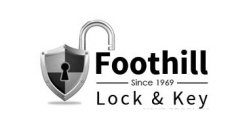 Word Mark
FOOTHILL SINCE 1969 LOCK & KEY
Status
602 - Abandoned-Failure To Respond Or Late Response
Mark Drawing
3000 - Illustration: Drawing or design which also includes word(s)/ letter(s)/number(s) Typeset
Design Searches
141108, 240102, 261701, 261705 - Locks and key holes; padlocks; combination locks. Shields or crests with figurative elements contained therein or superimposed thereon. Straight line(s), band(s) or bar(s). Horizontal line(s), band(s) or bar(s).
Law Office Assigned Location Code
L30
Employee Name
GILBERT, REBECCA L
Statements
Indication of Colors claimed
Color is not claimed as a feature of the mark.
Disclaimer with Predetermined Text
"LOCK & KEY" AND "SINCE 1969"
Description of Mark
The mark consists of the stylized text "Foothill Lock & Key Since 1969", "Foothill" on top of "Lock & Key" with "Since 1969" between such wording centered between two parts of a horizontal line. To the left of this wording, there is an open padlock design comprised of a locking mechanism top and a shield outlined and divided into four sections, with a key hole in the center of the shield portion. There is a shadow of the padlock beneath the padlock.
Goods and Services
Locksmithing, namely, custom fabrication of keys or locks
Pseudo Mark
FOOT HILL SINCE 1969 LOCK AND KEY
Classification Information
International Class
040
- Treatment of materials. - Treatment of materials.
US Class Codes
100, 103, 106
Class Status Code
P - Partially Paid
Class Status Date
2013-08-27
First Use Anywhere Date
2012-06-01
First Use In Commerce Date
2012-06-01
Correspondences
Address
Please log in with your Justia account to see this address.
Trademark Events
| | |
| --- | --- |
| Event Date | Event Description |
| 2012-12-27 | NEW APPLICATION ENTERED IN TRAM |
| 2013-01-09 | NEW APPLICATION OFFICE SUPPLIED DATA ENTERED IN TRAM |
| 2013-01-10 | NOTICE OF DESIGN SEARCH CODE AND PSEUDO MARK MAILED |
| 2013-04-10 | ASSIGNED TO EXAMINER |
| 2013-04-10 | NON-FINAL ACTION WRITTEN |
| 2013-04-10 | NON-FINAL ACTION E-MAILED |
| 2013-04-10 | NOTIFICATION OF NON-FINAL ACTION E-MAILED |
| 2013-08-01 | TEAS RESPONSE TO OFFICE ACTION RECEIVED |
| 2013-08-05 | ASSIGNED TO LIE |
| 2013-08-12 | CORRESPONDENCE RECEIVED IN LAW OFFICE |
| 2013-08-12 | TEAS/EMAIL CORRESPONDENCE ENTERED |
| 2013-08-27 | REMOVED FROM TEAS PLUS |
| 2013-08-27 | FINAL REFUSAL WRITTEN |
| 2013-08-27 | FINAL REFUSAL E-MAILED |
| 2013-08-27 | NOTIFICATION OF FINAL REFUSAL EMAILED |
| 2013-12-11 | TEAS REQUEST FOR RECONSIDERATION RECEIVED |
| 2013-12-11 | CORRESPONDENCE RECEIVED IN LAW OFFICE |
| 2013-12-12 | TEAS/EMAIL CORRESPONDENCE ENTERED |
| 2013-12-13 | ACTION REQ FOR RECON DENIED NO APPEAL FILED COUNTED NOT MAILED |
| 2013-12-13 | ACTION FOR REQ FOR RECON DENIED NO APPEAL FILED E-MAILED |
| 2013-12-13 | NOTIFICATION FOR REQ FOR RECON DENIED NO APPEAL FILED |
| 2014-07-11 | ABANDONMENT - FAILURE TO RESPOND OR LATE RESPONSE |
| 2014-07-11 | ABANDONMENT NOTICE MAILED - FAILURE TO RESPOND |
| 2016-11-11 | TEAS REVOKE/APPOINT ATTORNEY RECEIVED |
| 2016-11-11 | ATTORNEY REVOKED AND/OR APPOINTED |